COLUMBUS – The never-ending offseason for Bradley Roby finally came to a close on the opening kick of Ohio State's 42-7 win against overwhelmed San Diego State on Saturday. But he'll have to wait at least one more week to return to the starting lineup.
The past nine months have been a whirlwind for Roby, considered one of the top lockdown cornerbacks in college football. First came a win over Michigan that finished off an undefeated season. Roby then had to ponder his future. In January, he eventually opted against the NFL draft and returned to school.
But head coach Urban Meyer indicated this week that Roby had buyer's remorse.
"Yeah, I think that happens with everyone who decides to come back when they have a lot of hype to go to the draft," said Roby, following a four-tackle, one-pass breakup performance. "You're used to being in a certain mindset and being treated a certain way. Then, all of a sudden, you're right back in college and getting yelled out. You're thinking, 'Wow, I could be getting paid to do this.' You just have to realize it isn't about you, it's about your teammates."
The bad thoughts continued in late July, though, when Roby was arrested in Bloomington, Ind., for an altercation at a campus bar. The charges were ultimately dismissed, but Roby was still suspended and his image took a hit.
 
During fall camp, he did his part to rebuild his reputation. While brash, Roby has never been considered a prima donna or unlikeable figure. He's popular with teammates and coaches and is considered one of the top leaders on the team.
Roby practiced with the second-team defense and on special teams, displaying that selfless attitude once again. When Armani Reeves, Eli Apple, Gareon Conley and the rest of the young defensive backs had a question, Roby was offering a thorough response.
What has emerged is a more humble Bradley Roby.
"I understood," he said regarding the one-game suspension. "I made the program look bad and I had to pay the consequences for that. Of course I hated not playing, but it was something I understood had to be done."
Ohio State's bowl ban combined with Roby's suspension meant an unusually long offseason. Rust and Roby don't coexist, though. He made an instant impact on special teams and defense. The ball was rarely thrown his direction Saturday, and when it was, he was there to deny the receiver.
"It was a long time coming," Roby said. "Just getting back out there and playing with my friends, it was good. I am glad that I am back out there."
Roby wasn't the only season newcomer to be welcomed back into the secondary. Senior safety C.J. Barnett missed last week's game with a sprained ankle. He and Roby's presence contributed to a more aggressive defense that tallied three sacks for 27 yards, five tackles for loss, two forced fumbles and two interceptions.
"We wanted to be more aggressive and play more man-to-man," co-defensive coordinator Everett Withers said. "We did that today."
For Roby, it was the end of the line in an offseason to forget. Now, he'll push forward in what he hopes is a season to remember. During it all, the lessons he learned will be in the back of his mind.
"You have to be smart with where you're at and who you're around. Perception is reality," Roby said. "Just because it isn't what really happened, people say that and that's what people believe, and that's what people are going to judge you by. You have to be smart throughout, on and off the field."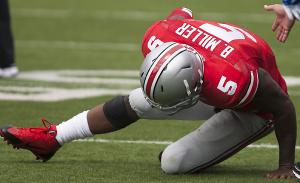 ON WOUNdED KNEE
Easy schedule, loaded offense, improved defense. An undefeated season is a sweat, said many Ohio State fans during the offseason. The one caveat was if quarterback Braxton Miller stayed healthy.
The dynamic signal-caller hasn't played an entire season injury free since early in his high school career at Huber Heights Wayne. Miller started all 12 games last season but missed chunks of plays after hard hits. On Saturday, he played all of seven plays until a knee injury sidelined him.
However, the postgame prognosis from Meyer seemed to indicate he'll be starting once again when the Buckeyes travel to Cal. Meyer said Miller probably could have returned against San Diego State, but he vetoed that plan after Ohio State built a big lead.
"I think there's a chance he'll be ready next week," Meyer said.
Miller was hit hard when he scrambled for a first down on 4th-and-1 inside the red zone early in the first quarter. His helmet flew off after the Aztecs' King Holder Jake Fely delivered a big hit. It originally looked like Miller injured his head.
He was taken to the locker room on a golf cart and then jogged back to the sideline wearing a knee brace. It was reported that he suffered a sprained MCL.
The most action Miller has missed in his Ohio State career was last season's Purdue game. He left after an apparent concussion, and Kenny Guiton rode in and saved the day.
Heroics weren't needed versus San Diego State, but Guiton did his best to create conversation about a quarterback controversy.
When asked if that was a possibility, Guiton flashed a smile and responded, "I don't think so at all."
Hey, Mr. Wilson!
Few first-year players around the country have received as much praise as Ohio State's combo running back/wide receiver Dontre Wilson. When he touched the ball last week, there was a near kick return but also a fumble. Meyer wasn't overly concerned, and Wilson's effort against San Diego State showed why.
Ohio State 42, SDSU 7
He finished with 51 yards rushing and a touchdown, along with a 25-yard kick return. Wilson scored on the first play after Miller left the game, on a seven-yard spring to the corner of the end zone.
"When I saw the end zone, I had to get there," Wilson said. "I'm way faster than a lot of people. Now, I have to go out and prove it."
Wilson said he had added motivation from his parents, who were not in attendance last week.
"Last week, seeing everybody else's parents there kind of made me sad," he said. "My parents being there this week gave me a boost of confidence."
Still, in the first two games, Wilson, perceived to be one of the biggest weapons on the team, hasn't touched the ball near as much as he – and fans – would like to see. After proving he can produce in just his second career game, are more touches in store for the fleet-footed Texan?
"That's up to the coaches," Wilson said. "I would love to touch the ball as many times as I can. Once I touch the ball I get going and I get a little spurt and make plays here and there. But really, it's up to the coaches."