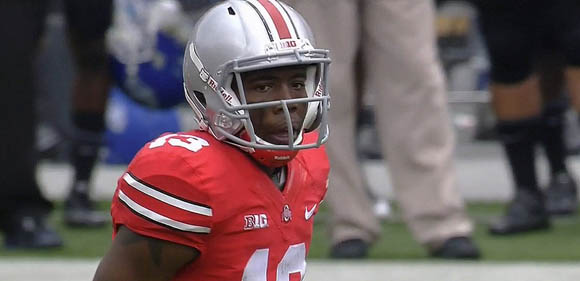 Welcome to your Week 2 debriefing. The San Diego State Aztecs visited the Horseshoe, fresh off a loss to FCS school Eastern Illinois.
Was that San Diego State loss an aberration? Would we see an angry team bent on returning to its 2012 level of play? No, and no. Instead we saw quarterback Adam Dingwell play his way out of a job during the first couple of possessions of the game.
What about Ohio State? Could the Buckeyes put together a complete game after three sloppy quarters against Buffalo? Would we see much of Rod Smith in his return from suspension? Yes and no. Ohio State kept things cranked up a lot longer than last week, but still appeared to take its foot off the pedal late. Smith saw some action but not much, carrying three times for 11 yards and a touchdown. He also caught a pass out of the backfield for 12 yards.
Here are your Cliff Notes on Game 2 against the Aztecs from the Mountain West Conference.
Water Cooler prep (Everything you need to know…in one paragraph)
The Buckeyes started quickly again, taking a 21-0 lead after one and a 35-0 lead by halftime. But they did it without star quarterback Braxton Miller. The Heisman candidate twisted his knee after picking up a first down, and left the game with a left knee injury after only seven plays. Kenny Guiton entered and the Buckeyes didn't miss a beat. Kenny G's smooth, smooth jazz ripped through the San Diego Aztecs, to the tune of 19/28 passing for 152 yards and two touchdowns, with one pick. He also ran for a game-high 83 yards on just nine carries, averaging 9.2 yards per tote and scoring on a 44-yard run. Jordan Hall backed up last week's performance with 75 more yards (5.8 ypc) and a touchdown. Philly Brown caught six passes for 73 yards and two scores. The defense was solid throughout. Ohio State out-gained the Aztecs 309-99 in the first half. The Buckeyes won the turnover battle, 4-2.
Talk before the game 
"This San Diego State team got rolled by an FCS school last week. Ohio State will win big."
"Braxton's going to set the career rushing record for Ohio State quarterbacks today."
VIPs in Attendance
Former Ohio State basketball stars Evan Turner, David Lighty and Mike Conley Jr. were spotted at the game.
Great to see @thekidet, @OSULighty23 and @mconley11 up in the press box today. Three of the best dudes you could ever hope to cover or know.

— Jeff Rapp (@RappUp) September 7, 2013
Buckeye target Noah Brown made the trip to Columbus this week.
'14 WR Noah Brown RT @nb_dosuno: Just landed in Columbus #Buckeyes

— Jordan Wagner (@JWagner11W) September 6, 2013
Massillon freshman quarterback Danny Clark was also inside the Shoe.
Massillon quarterback Danny Clark is wearing an Ohio State shirt. pic.twitter.com/qi8kvaaqqP

— Ari Wasserman (@AriWasserman) September 7, 2013
Talk in the aftermath
"Kenny G was the man, but we need Braxton back on the field."
"This team can't keep up its intensity with a big lead."
"Marcus Hall is J.B. Shugarts Part II."
Give that man a buckeye leaf (Player of the game)
Kenny Guiton did everything you could ever want in a backup quarterback. He was sharp early, with the exception of underthrowing Devin Smith on a long pass, which was intercepted. Kenny G showed outstanding leadership, checked out of bad plays, and made first downs with his arm and his legs, proving the Buckeyes are much more than just Braxton Miller. Guiton especially has a knack for running the option, which Tom Herman used extensively throughout the game. Guiton's option play helped freshman Dontre Wilson finish with 51 yards on five carries. The senior backup signal caller was able to freeze defenders and wait until the last second, before pitching to his back. He also threw two nice long balls to Philly Brown for scores (27- and 24-yarders).
Snot Knocker of the Game
There weren't any true knockout blows in the game, but the Silver Bullets swarmed and made plays all day. The most brutal hit was probably Ryan Shazier's suplex of sophomore running back Chase Price in the second quarter. Price grabbed a swing pass from junior quarterback Quinn Kaehler on the right side and immediately ran into Shazier, who grabbed him and whipped him to the ground with a move that would please WWE fans.
Did you see that?! (Play of the game)
Late in the second quarter, Ohio State lined up with five receivers spreading the field. Guiton kept the ball, ran straight through the left side and did his best Braxton Miller impression — following Jack Mewhort and Andrew Norwell blocks and running untouched down the middle of the field for a 44-yard touchdown. Guiton showed he can run as well as pass.
When you sank into your chair (The moment Buckeye football disgraced your family)
For the second consecutive game, Ohio State was guilty of roughing the punter. Of all the people to make such a mistake and give the Aztecs a free first down, it was fifth-year senior Hall. The Buckeyes led 21-0 and forced a punt at San Diego State's 32 on fourth-and-13, but Hall tried to block the kick and ended up sliding into Joel Alesi's plant leg. Broadcaster Sean McDonough called the penalty on Christian Bryant, but by the way Urban Meyer was tearing into Hall — who also wore No. 2 in this game, swapping his No. 7 with Rod Smith to avoid duplicate special teams numbers — I think it's safe to say it was Hall.
Jim Tressel's Least Favorite Moment of the game
Ohio State 42, SDSU 7
It was early in the fourth quarter, and Tressel was intently working on his stamp collection in front of the television. The former Ohio State coach, who still dearly loves the Scarlet & Gray, was charting the history and geography of his latest additions in his journal. He heard McDonough announce that Ohio State was lining up to go for it on fourth-and-three at the San Diego State 35. The Buckeyes led 42-7 at the time. When Guiton was stopped a yard short, the sweater-vested philatelist dropped his stamp tongs and snorted, "That's a wasted teaching moment for Drew Basil. It's extremely disappointing for that young man."
What you texted your friend at the end of each quarter
First: Kenny G is the best backup QB in the country.
Second: Defense looking great! Even without Adolphus.
Third: Lost the shutout. :(
Fourth: The best thing about being 2-0 is the chance to go 3-0!
It was over when
Guiton galloped 44 yards to put the Buckeyes ahead 28-0 in the play of the game mentioned above. San Diego State was effectively done for the day after that play.
---
That's it. You're now armed with the knowledge you need to speak intelligently about this week's game. On to California for the first road trip of the season.