The linebacker did what the linebacker had done thousands of times in his brief football career. 
See the ball. Find the ball. Stop the ball. The linebacker had no reason to think this time would be any different, but it was different. This was just a scrimmage, but a scrimmage that would significantly alter Kyle Berger's senior season; a senior season that was expected to be a big one for him and his St. Ignatius teammates.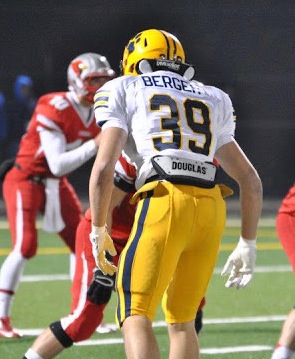 "They ran a screen to Eric Glover-Williams. I was rolling out to follow the play and I cut up field to hit him and I planted with my left leg," Berger told Eleven Warriors about the play that ended his season. "I felt a huge 'pop' and knew right away something was bad."
"(He) cut back after running towards my side of the field and I chased him down and we made eye contact and he fell out of bounds," Berger added about the play involving his future Buckeye teammate. "I still made the tackle, though."
Berger knew right away that the knee injury was serious, but he's trying to maintain a positive attitude in a situation that has beaten others mentally as much as it has beaten them physically.
"I'm doing alright," he said of his emotional frame of mind. "My parents have had a rough time though, especially my mom. I've been trying to not think about it too much. I've worked out as much as possible and ridden a stationary bike at least every day since last Monday, so that's keeping me busy, which is keeping my mind right."
Berger has made it a point to not think about his injury, instead he's counting his blessings. He's been buoyed by family, faith and football — as well as peace of mind knowing that this injury is a setback on his journey — and that it's not his final destination.
"The support I've got in my life is pretty much unbelievable, and that's made things so much easier in what could have been a really tough situation," he said. "My faith has played a huge role in keeping my mind right. I know that God has a plan for me and this is just a small setback. He has His reasons for why things happen the way they do and I know there are bigger and brighter days coming for me down the road. I've definitely learned to not take a single thing in life for granted, even something like a screen pass."
"Everything in life can be taken away from you, just like that. I've come to realize that I am not misfortunate," Berger continued. "Yes, I'm missing my senior year and that's hard to deal with, but there are kids out there who have never been able to play sports before; kids who get hurt and can't ever walk again and stuff like that. I'm losing a number of months in the long run and it definitely could be worse."
The exact severity of Berger's injury is not yet known — he's got his next meeting with the MRI machine Wednesday — but he's got an idea of where things stand and how things will be resolved. 
"The doctor said it's most likely the ACL, the MCL, the LCL and the meniscus that I injured," Berger said about the injury. "My doctor's done a great job and they are doing things in way that's best for the future, like using my patella tendon to replace my ACL as opposed to one from a cadaver or my hamstring."
Berger's football career is temporarily on hold, although he's stayed in regular contact with his future program. He admits that a chance to enroll at Ohio State early might help his rehab moving forward, but St. Ignatius policy prohibits their students from graduating early. He does rest easy knowing that his place in the Buckeyes' plans remains secure.
"My dad's first thoughts after the injury was to try and enroll early, but unfortunately that didn't work out," he said regarding his high school's rules. "I've talked to Ohio State a handful of times since the injury happened and they've been really awesome with it. They have been very supportive and told me and my family I had nothing to worry about with the scholarship offer and their plans for me. They just wished me the best and have been great."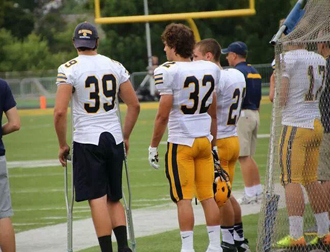 It's not just future coaches that have been in contact with Berger. He's heard from a number of future teammates and even players committed to a few of the Buckeyes' biggest rivals.
"A lot of the guys from the recruiting class have been in touch and it's been great hearing from everyone, getting their support. It's been especially good to hear from Jamarco because he's been going through some stuff of his own with his shoulder injury," Berger said of his fellow Buckeye commitment, Jamarco Jones. "He was really able to relate well and gave me some great advice that I've been able to take along the way. I've also talked to (Michigan commitment) Jared Wangler and (Notre Dame commitment) Quenton Nelson, they have been great to talk to."
With rehab underway and a path to a comeback established, Berger plans to do what he's always done to make sure that this temporary setback is as short-lived as possible.
"I'm going to work my tail off to get back to 100-percent," Berger said when asked about what he'd like to tell the thousands of Buckeye fans supporting him via proxy. "I'm going to come back bigger, strong and faster because I am going to come into Ohio State as a freshman and make a difference for the football team that we all love. I can't wait for the next time I put my helmet on again, and while I wish it was my Ignatius helmet, it'll be scarlet and gray and I will make an impact."