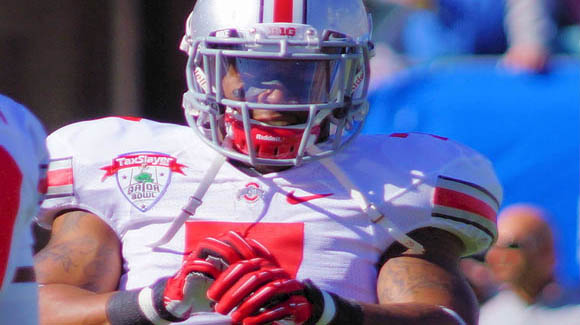 There was no running back competition in the spring. No need after Carlos Hyde nearly rushed for 1,000 yards last season. In doing so, he ended any doubt who the starting running back was.
When Ohio State needed to run out the clock against Michigan State and Michigan, Hyde finished the job. So much was said about Jordan Hall leading up to the 2012 season, but injuries sidelined him for the year, resulting in a medical redshirt.
Now Hall has been thrust into a leading role once again, and head coach Urban Meyer is the ringleader.     
"Jordan Hall is the best running back on our team right now," Meyer said. "And so he'll have to lose that spot. I'm talking next week, the week after, whatever. He's a tailback at Ohio State. He's earned that right."
With Hyde last in line taking reps with the running backs, one has to wonder how long it will take him to catch up. He's suspended the first three games, putting a major dent in his plans for 1,000 yards. Just getting enough carries for 100 yards in a game could be an issue now.
In the spring, Hall spent most of his time at the H-back spot. He got his feet wet and learned the position, caught passes, ran the ball. When Hyde's status became the team's biggest question mark, Hall was ushered to the backfield. His versatility gives the offense the ability to use him at multiple positions.
The running back hierarchy currently reads: Jordan Hall, Bri'onte Dunn, Warren Ball and Ezekiel Elliott. Dontre Wilson will get touches at both running back and wide receiver.
"You feed the guy that needs to get fed, I guess," said offensive coordinator Tom Herman. "The guy that's playing the best will get the ball. We'll determine early who that is.  A running back can't play 75 plays a game, so we'll figure out who goes in next and see how he's doing. If he's not having success, OK, let's try Plan C and let's try Plan D. Beyond Jordan, you certainly want to get those guys some game reps and then just kind of see how they do."
Said Meyer: "It's really neat to have that many spots, have those choices."
For Hyde and Rod Smith, who's suspended for the opener, there's no need to panic. Instead, it's time to put the work boots on and grind away.
Pardon?
One week ago, the President of the United State paid a visit to the University of Buffalo. As is custom, he spoke highly of the Bulls' athletic program, wishing them luck in their upcoming game against Ohio State.
"I also know that everybody here must be fearless, because the football team kicks off against No. 2 Ohio State next weekend," Obama noted. "Good luck, guys. It's going to be a great experience. It could be an upset."
It was the last line that garnered attention. The Buckeyes have lost one game in their history to a MAC program, and that happened during the second Cleveland Administration. For those who aren't history buffs, the year was 1894. Akron beat Ohio State 12-6.
A loss to Buffalo would register as the biggest upset of the Buckeyes and one of the all-time upsets in college football history. Second-ranked Ohio State is a 35-point favorite. The Bulls have improved under head coach Jeff Quinn, but they're still coming off a 4-8 season. 
When Quinn was asked a bout the prospect of beating the highest ranked team Buffalo has ever faced, he didn't shy away from the challenge.
"Our kids are going to line up and they are going to play," Quinn said. "They know who they are, and I know who they are. We have better leadership. These are young men that have played against Tennessee, Georgia and Baylor. These are young men that have grown in our program. They're going to go out there and compete. This is a very confident group. We want to be that complete team.
"We're playing one of the best football teams in the country. They're a tremendous football team. They're well coached. It will be a great environment."
The Bulls ranked in the bottom half of FBS in nearly all offensive and defensive categories for the 2012 season. Both sides of the ball should improve this season, but it's the defense – and one defender in particular – that piqued Ohio State's interest.
Meyer referred to Khalil Mack as "one of the best linebackers." This wasn't just coachspeak. Mack is one of the top NFL linebacker prospects for the 2014 draft.
"Tremendous player," Meyer said.
Herman noted the uniqueness of the Bulls' defense.
"It's something that is a little bit difficult to prepare for because you've been playing against a certain style of defense all fall camp and then you go into your first game and they are a 3 3 stack team that will play three down linemen, three linebackers, three safeties and two corners," he said.
Going against Mack should provide the Buckeyes' up-tempo, highly regarded offense with a good first-game test. Quinn admitted it will yield answers for Mack, as well. Braxton Miller is the best player the Bulls will face all season.  How much does Quinn like him? Enough to declare him the top Heisman contender.
"He is a complete player, without at doubt," Quinn said. "By far one of the best. Braxton Miller is clearly my favorite."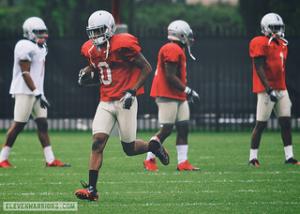 Pick Up The Pace
The excitement that accompanied Meyer's hiring was unprecedented at Ohio State. It brought visions of national championships and even got fans enthusiastic about a season that included no postseason.
However, after one quarter of the Meyer era people were left scratching their heads. Is this really how it's going to be? Miami (Ohio) was in front of the Buckeyes 3-0 after the first quarter. Then the return to normalcy came. Ohio State allowed seven more points while scoring 56 of its own.
Meyer is hoping for another undefeated record, but he doesn't want history to repeat itself with a sluggish opening game.
"I want us to play well. I want us to play clean," Meyer said. "Remember last year the first quarter it was [3-0]. Should have been worse. Could have been worse.  So I just didn't think, really, up until about the third or fourth game that we acted clean."
No one would argue that after scores of 31-16, 35-28 and 29-15 against Central Florida, Cal and UAB. The Buckeyes undefeated record would lead many to believe they played sound football for 12 games. There was never anything in doubt. That is far from reality, though.
Offense, defense, special teams – they all had their share of struggles.  
"I made this comment, many, many times, that fundamentally we were 12 0 and some really great things happened, some incredible leadership, motivation and a team that got really, really close, which is probably more important than everything. Not probably, it is," Meyer said.
"But the second most important part is just blocking, tackling and great football position, and all the great things that we work so hard at. I'm hoping that we leave that field Saturday, obviously, with a win, but you feel good about the fundamentals of your football team. If you do that, that's a real positive. It took us awhile last year."