The 2013 Ohio State football season is a season of not only considerable promise for the team, but also considerable promise for its component players. The Buckeyes are a preseason #2 team with the promise of dethroning the two-time defending national champions in Pasadena, who themselves look like they will again make the trip to the national championship game. Further, the players comprising the team also look like they have rounded into form. Two years removed from a woeful 2011 season where no one looked like they were upper echelon college football players, numerous Buckeyes appear in national award watch lists. This feature will assess the chances of these players bringing home these individual trophies to Columbus. Focus will be afforded to just those Buckeyes recently named to national award watch lists, leaving aside, for the moment, the possibility that Cameron Johnston could force his way into consideration for the Ray Guy Award as the season progresses.
C.J. Barnett and Christian Bryant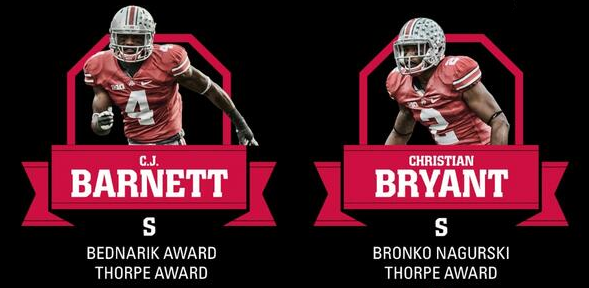 Ohio State's two projected safeties appeared on the watch list for the Jim Thorpe Award, given annually to the nation's top defensive back. In addition, Barnett was named to the Chuck Bednarik Award watch list and Bryant was named to the Bronko Nagurski Trophy watch list. The Bednarik Award is bestowed by the Maxwell Football Club to the player it judges to be the best defender in college football. The Nagurski Trophy is similarly awarded to the best defenseman in college football, as determined by the Football Writers Association of America.
Both Barnett and Bryant seem like long shots for all three of these awards. If any Buckeye wins the Thorpe Award, it will likely be Bradley Roby. He will be discussed later. It is one thing to argue if Barnett or Bryant are better safeties than players like Alabama's Ha'Sean Clinton-Dix, Florida State's Lamarcus Joyner, or Stanford's Ed Reynolds. This omits other quality safeties like Kansas State's Ty Zimmerman and Louisiana State's Craig Loston. It is yet another thing to argue if Barnett or Bryant is the best defensive back on Ohio State's team. Most Buckeye fans would agree that is Bradley Roby.
Though every defender at every position is eligible for the Bednarik and Nagurski awards, there is a bias against defensive backs. Defensive linemen and linebackers usually win these awards. The last defensive back to win the Bronko Nagurski Trophy was Oklahoma's Derrick Strait in 2003. Louisiana State defensive backs won the Bednarik Award in 2010 and 2011 (Patrick Peterson, Tyrann Mathieu), but even these seem like anomalies. Before them, the last defensive back to win the Bednarik was Michigan's Charles Woodson in 1997.
The more interesting question for Barnett and Bryant is not if they are capable of winning one of these three awards, but if they are capable of squeezing out a player like Ha'Sean Clinton Dix or Ed Reynolds from a First Team All-American spot. It would require a marvelous, almost error-free, season from Barnett or Bryant, which they did not provide in 2012. That might be sufficient for a tree in Buckeye Grove, but likely not one of these trophies.
No Buckeye has won the Chuck Bednarik Award. James Laurinaitis (2006) is the only Buckeye to receive the Bronko Nagurski Trophy.
Corey Brown and Devin Smith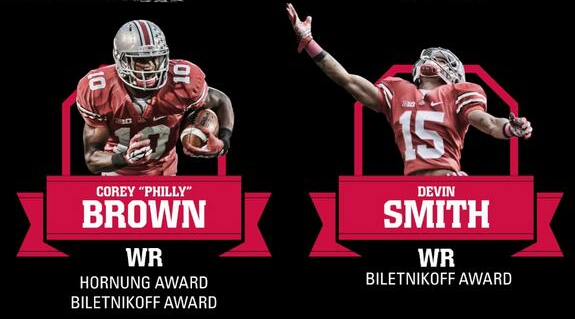 Two Ohio State wide receivers made national award watch lists this preseason. Corey "Philly" Brown and Devin Smith made the Fred Biletnikoff Award watch list, given annually by the TQC Foundation, Inc. to the nation's top wide receiver. Brown was also named to the Paul Hornung Award watch list. The Hornung Award is a new award, inaugurated in 2010, and is given by the Louisville Sports Commission to the college football player judged to be the "most versatile" in the country.
Brown and Smith should be long shots for the Biletnikoff Award. This is not necessarily because their appearance on this list is a token gesture, like I suspect of Barnett and Bryant's appearances on the Bednarik, Nagurski, and Thorpe watch lists. Rather, there are some phenomenal wide receivers in this country who will be bigger focal points of the offense than either Brown or Smith will be for Ohio State. Even if we can reasonably project a much better passing game for Ohio State in 2013 than 2012, Brown or Smith would have to well exceed even those expectations to be a finalist for the Biletnikoff Award.
Keep in mind some of the other wide receivers in the country that are eligible for this award. Provided Max Wittek is at least competent, USC's Marqise Lee is going to get a lot of looks this season for the Trojans' offense. Lee supplanted Robert Woods as the main wide receiver in USC's offense last year, which is no small feat given Woods' 2011 season. Lee had 73 catches for 1,143 yards as a freshman in 2011 and had 118 receptions for 1,721 yards as a sophomore. This is astounding, considering that USC's offensive line could not keep Matt Barkley upright last season. By comparison, Corey Brown and Devin Smith combined for 1,287 yards, short of Lee's output last year by 434 yards.
Clemson's Sammy Watkins is another likely favorite for this award. He was the second wide receiver for Tajh Boyd last year behind DeAndre Hopkins. Hopkins had 82 catches for 1,405 yards to Watkins' 57 catches for 708 yards. Hopkins is gone; that production from the wide receiver position should be all for Watkins now.
Two other candidates should be kept in mind. Though Alabama's offense is far from pass-happy, it runs the ball well enough to make Amari Cooper a touchdown threat on a nine route on any play-action passing play. Cooper had 59 catches for 1,000 yards for Alabama last season on a team that had two 1,000 yard rushers. Almost every weapon for Alabama returns, beside the offensive line and Eddie Lacy. The question of the offensive line is a little more pressing, but Eddie Lacy is expendable. Cooper should have a big season for Alabama.
Penn State's Allen Robinson is a dark horse candidate for this award, just among Big Ten wide receivers. This statement assumes that Matt McGloin could be easily replaced by a true freshman (Christian Hackenberg) or a JUCO transfer (Tyler Ferguson), and that Penn State's scholarship crunch will not hurt Penn State any more than it already has, but I think most fans, even those in the Big Ten's footprint, forgot how good Robinson was last year. Allen Robinson had 77 receptions for 1,013 yards last year. That was best in the Big Ten by 155 yards.
In short, Corey Brown and Devin Smith as first team All-Big Ten performers is a plausible scenario at the end of the season. Either one winning the Biletnikoff Award is unlikely.
Similarly, Corey Brown as a recipient of the Hornung Award is unlikely. Brown performed well down the stretch as a return specialist, capped with punt return touchdowns against Nebraska and Wisconsin. If he is to match the "versatility" of last year's Hornung Award recipient, West Virginia's Tavon Austin (1,287 receiving yards, 165 punt return yards, 813 kick return yards), he would need to show much more in the punt return game than his 221 yards from last year. Fans remember his punt return touchdown against Nebraska, but may forget Urban Meyer quipping to him that week that he is allowed to make guys miss when returning punts. It was a source of frustration for Meyer in the first half of last season.
Despite Ohio State's NFL wide receiver pedigree, which now includes two Pro Football Hall of Famers, only one Buckeye has won the Biletnikoff Award (Terry Glenn, 1995). The Hornung Award is not limited to just skill players who double as return specialists. Stanford's Owen Marecic won the inaugural award in 2010 for playing fullback and linebacker for the Cardinal.
Jeff Heuerman​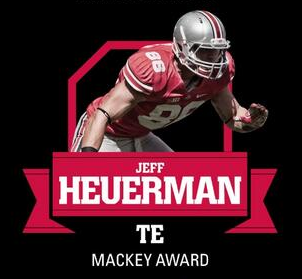 Jeff Heuerman was named to the John Mackey Award watch list. The Mackey Award is given annually to the top tight end in the country.
I am more intrigued by Heuerman's Mackey Award prospects than I am by most of the other preseason national award watch lists involving Ohio State players. Three years ago, when Jim Tressel was still head coach, a Buckeye tight end as a Mackey Award candidate would have seemed as likely as Jim Tressel growing a mustache and ditching his gameday sweater vest in exchange for a tank top.
Times have changed. When Urban Meyer gushes about his tight ends, Heuerman included, he means it. He believes they can be as valuable as the wide receivers in the downfield passing game. When the run game is working, it is very easy for linebackers to lose sight of tight ends in play action. This burned Nebraska all game long in 2012.
The problem is Mackey Award winners these days need to have more receiving yards than we can reasonably project for Heuerman. Notre Dame's Tyler Eifert, last year's winner, had 50 catches for 685 yards. Clemson's Dwayne Allen, who won the award in 2011, had 49 catches for 592 yards. By comparison, Jeff Heuerman had eight catches for 94 yards. If we add in all of Jake Stoneburner's production from last year (16 catches, 269 yards), and round up (363 yards to 400 yards) as an estimate of Ohio State's improved offense in 2013, the prospects for Heurman look better, but not much better.
This omits Nick Vannett, who should see an increase in opportunities as well. This is a great problem for Ohio State to have, as it will experiment more with two tight end sets, but it is a particular problem for Jeff Heuerman if he covets that Mackey Award.
Washington's Austin Seferian-Jenkins is the odds-on favorite to win this award. He had 69 catches for 852 yards and seven touchdowns last season. Unsurprisingly, no Ohio State tight end has won this award. It was first awarded in 2000, suggesting that Rickey Dudley would have won this award easily in 1995 if it were available. An Urban Meyer-coached tight end won the award in 2009 (Florida's Aaron Hernandez).
Corey Linsley, Jack Mewhort, and Andrew Norwell​

The three anchors of Ohio State's offensive line were all named to preseason award watch lists germane to their position. Corey Linsley was named to the watch list for the Dave Rimington Trophy, awarded annually to the country's top collegiate center. Jack Mewhort and Andrew Norwell were named to the Outland Trophy watch list, given to the country's top offensive lineman. Andrew Norwell was also put on the Rotary Lombardi Award watch list, which is given annually to the country's top lineman or linebacker.
I am optimistic about Linsley's chances to take home the Rimington Trophy. Linsley was not named to any preseason All-America team, but his play on a spectacular offensive line was mostly consistent through last season. The only qualification of Linsley's play last year came down the stretch. As Linsley played the second half of last season on a tweaked ankle, his shotgun snaps became more erratic. He hurried the snap in order to more quickly get into his set. If we assume, reasonably, that these erratic snaps were entirely the function of playing through that injury, Linsley could be a finalist for the award. If he is playing well, and Ohio State's offensive line is playing to expectations, Linsley looks better by association. His major competition will be B.J. Finney of Kansas State, Gabe Ikard of Oklahoma, and Hroniss Grasu of Oregon.
Jack Mewhort and Andrew Norwell were among the best offensive linemen in the country last year. Like the Biletnikoff Award candidates, there are spectacular candidates for the Outland Trophy across the country that could prevent Mewhort or Norwell bringing home some deserved hardware in December. Regrettably for Mewhort and Norwell, it will be very difficult for either Buckeye to establish himself as even the best offensive lineman in the Big Ten. Taylor Lewan, who Buckeye fans may remember well for being clowned by true freshman Adolphus Washington early into that game last year, decided to return to Michigan for 2013 in order to pursue more glory for himself and a Michigan team that finished last season with a disappointing 8-5 record. Ohio State fans can rank Jack Mewhort or Andrew Norwell vis-a-vis Taylor Lewan as they please, but outsider perception of Taylor Lewan as the class of the Big Ten should persist.
Further, Texas A&M's Jake Matthews and Stanford's David Yankey will also be stiff competition for the Outland Trophy. Alabama's Cyrus Kouandijo is another player who could challenge for the award if Alabama's offense is as much the juggernaut in 2013 as it was in 2012. All signs point to that being the case.
Norwell winning the Rotary Lombardi Award seems highly unlikely. Awarded to the top lineman or linebacker, the award usually goes to a player on the other side of the ball. The last offensive lineman to win the Lombardi Award was Ohio State's Orlando Pace, who won the award in 1995 and 1996.
Like Barnett and Bryant, a more interesting question about Mewhort and Norwell is not if one can bring home the Outland Trophy or Lombardi Award to Columbus. Rather, could one play to the level of a First Team All-American selection, which would merit a tree in the Buckeye Grove? This seems plausible. Corey Linsley is the most likely of the three to win a national award, of which he was selected to the preseason watch list.
LeCharles Bentley last won the Rimington Trophy for Ohio State in 2001. Jim Parker (1956), Jim Stillwagon (1970), John Hicks (1973), and Orlando Pace (1996) won the Outland Trophy while at Ohio State. Ohio State players have won the Lombardi Award more than players from any other program. These recipients include Jim Stillwagon (1970), John Hicks (1973), Chris Spielman (1987), Orlando Pace (1995, 1996), and A.J. Hawk (2005).
Bradley Roby​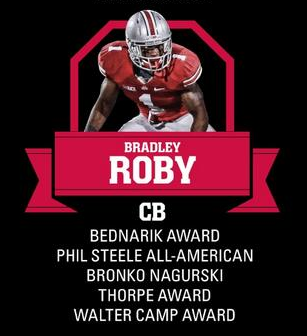 Bradley Roby was named to the watch lists for the Chuck Bednarik Award, Bronko Nagurski Trophy, Jim Thorpe Award, and the Walter Camp Award.
I have already given reasons why it is unlikely that Roby wins the Bednarik Award or Nagurski Trophy. These awards just do not go to defensive backs, on average. A more interesting question to ask is why Patrick Peterson and Tyrann Mathieu won the Bednarik Award and what it might mean for Bradley Roby.
It is not quite clear. Peterson and Mathieu were barely in the top hundred in 2010 and 2011 in passes defended, a category in which Bradley Roby led the country in 2012 (in passes defended per game, excluding a one-game injury last season and the bowl ban). Neither had a significant number of interceptions in either year. In Mathieu's case, his forced fumbles may have been the deciding factor. Mathieu was top five nationally among all defenders in forced fumbles with six in 13 games. A few of these were memorable, including the ones against Oregon and West Virginia. It gave rise to that dreadful "Honey Badger" meme, a standard to which Mathieu played through December. Hype and image matter in obtaining these awards.
I also wonder if Bednarik voters were dazzled by Peterson and Mathieu's accolades as return specialists, though I am not sure if that is supposed to be a metric in voting for the award. Mathieu was a top ten punt returner in 2011 and Peterson may have been the best in the country in 2010. Bradley Roby is not a significant contributor in punt returns, though more blocked punts, like his blocked punt against Michigan State, may help him.
Roby winning the Walter Camp Award assumes he has a season with multiple pick-sixes and blocked punts. The Walter Camp Award is an overall award like the Heisman Trophy and Maxwell Award. This means it is an award that typically goes to offensive players and not defensive players. Manti Te'o won the award last year, which underscores what type of season a defender must have in order to win that award. Charles Woodson won the Walter Camp Award in 1997, though he also returned punts and played some wide receiver for Michigan that year. Before Te'o, the last defense-only player to win the award was Pittsburgh's Hugh Green in 1980. Green also finished second in the Heisman voting that year.
For these reasons and more, I do not expect Roby to win the Bednarik Award, Nagurski Trophy, or the Walter Camp Award. The more interesting question for Ohio State fans is if he wins the Jim Thorpe Award. This is an intriguing possibility, assuming that Roby, at the most, sits out the Buffalo game for his summer incident in Bloomington, Indiana. Leading the league in passes defended in 2012 will help Roby's reputation in 2013. That is a stat of interest for the voters on the board of the Jim Thorpe Association.
Even if Roby plays on an island to himself, absent attention from opposing quarterbacks (which Roby fears may happen), that may not matter. Antoine Winfield won the Thorpe Award in 1998 largely on reputation. He helped himself by being a sure and enthusiastic tackler, but won the award on the reputation of quarterbacks being afraid to throw the ball anywhere near him. Ahmed Plummer was tested that year much more than Antoine Winfield was.
Ohio State defensive backs have won the Thorpe Award twice. The last Buckeye to win the award was Malcolm Jenkins in 2008.
Ryan Shazier​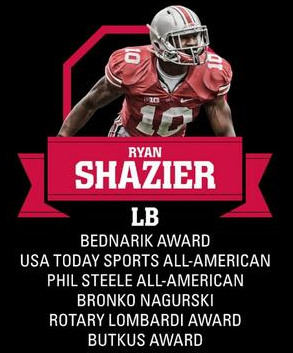 Ryan Shazier was named to the watch list for almost all trophies for which he is eligible. These are the Bednarik Award, the Dick Butkus Award, the Bronko Nagurski Trophy, and the Rotary Lombardi Award.
I am a bit skeptical he brings home the Bednarik Award, the Nagurski Trophy, or the Lombardi Award. All three awards are more "general" awards, given to either the best defenseman (Bednarik, Nagurski), or the best among several similar positions, including both sides of the ball (Lombardi). These awards routinely go to linebackers, so that is not the issue. Shazier winning any one of these awards means that Jadaveon Clowney would not win one of these awards. Clowney could be a preseason favorite to win all of these accolades.
The hype around Clowney is about as big as it could get for a defensive player. He is even projected as a Heisman finalist. That much is premature. In order for Clowney to secure the Heisman as a defensive lineman, he would actually have to exceed the hype. It is unlikely that Clowney does this. As much as fans remember his awe-inspiring demolition of Vincent Smith, they forget that Michigan ran him over the very next drive for a touchdown. Clowney disappears from games. If he played every down like he did in stretches of that Outback Bowl, South Carolina would be a near impossible team against which to score. This is not the case, though. Clowney's disappearing act may prohibit him from getting enough Heisman votes, but he should still tally enough statistics to secure most, if not all, of these other aforementioned national awards at the expense of Ryan Shazier.
The more intriguing question is if Ryan Shazier wins the Butkus Award. Like Roby, he may be considered a preseason favorite for this position award.
I see two main competitors for Shazier. One is Kyle Van Noy of Brigham Young University. Van Noy could have left school after his junior season and declared for the 2013 NFL Draft after a Poinsettia Bowl in which he turned in arguably the best defensive performance of the entire bowl season. Among returning linebackers, Van Noy led the country last year in tackles for loss (22) and sacks (13). Brigham Young has the advantage of playing a schedule that could be "just right" for Van Noy to both pad his statistics against weaker teams and play well against tougher teams. For every Middle Tennessee, Utah State, Houston, and Idaho State on the schedule, there is a Virginia, Texas, Wisconsin, and Notre Dame.
Finally, every sportswriter in America is enamored with Alabama to the point where any one of its players is a preseason favorite to win some national award. C.J. Mosley, in particular, could compete for the Butkus Award after a 2012 season in which he had 107 tackles.
I think Shazier is a safe preseason projection for a First Team All-American selection, provided Ohio State's defensive tackles can play to the level where is not being routinely harassed by offensive linemen (like he was against Wisconsin). His sophomore season last year, in which he tallied 115 tackles, 12 tackles, and 11 passes broken up, is a nice platform for 2013's preseason hype. The Butkus Award, or any other general defense award, is obtainable, but a challenge nonetheless.
Braxton Miller​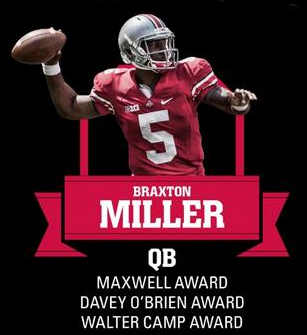 Ohio State's starting quarterback made the watch lists for the Walter Camp Award, Maxwell Award, Davey O'Brien Award and is a preseason favorite for the Heisman Memorial Trophy. Even taking off rose-colored glasses, Miller is a reasonable pick at the moment to take home every one of these awards.
That is not to say it will be easy. However, quarterbacks disproportionately win these general awards over players from other positions. Since Ron Dayne won the award in 1999, a running back has won the Heisman only twice (Reggie Bush [vacated], 2005; Mark Ingram, 2009). The last wide receiver to win the trophy was Desmond Howard in 1991. Wide receivers have won the award only three times overall (Johnny Rodgers, 1972; Tim Brown, 1987; Desmond Howard, 1991). This bias toward quarterbacks (and, well, against wide receivers) is generalizable to the Camp and Maxwell awards.
Running backs have fared much better than wide receivers in challenging the supremacy of the quarterback in winning outstanding overall player awards, but it does not seem like it will happen this year. T.J. Yeldon (Alabama), De'Anthony Thomas (Oregon), and Lache Seastrunk (Baylor) should all have exceptional years, but likely not enough to get an invite to New York City.
I see three main challengers to Braxton Miller picking up these awards, all quarterbacks.
One certain challenger is the defending Heisman winner, Johnny Manziel. The Manziel skeptic in me says that Manziel's Heisman Trophy last year is a function of two important factors. One, he won the right game, against the right team, at the right time. That Alabama win made Heisman voters forget about some underwhelming performances against Louisiana State and Florida at home. It also helped pad his overall statistics that came against less than worthy competition. Manziel set several SEC records once held by the likes of Tim Tebow and Cam Newton, but no one has yet explained to me what was so special about the SEC West last season to where those records are substantively meaningful. Arkansas, Auburn, Mississippi, and Mississippi State were all woeful last year. The other SEC East team it played was Missouri.
Texas A&M's non-conference schedule last year included teams like Southern Methodist, South Carolina State, Louisiana Tech, and Sam Houston State. Texas A&M's non-conference schedule this year includes Rice (7-6 in 2012), Sam Houston State (FCS), Southern Methodist (7-6), and Texas El Paso (3-9). This non-conference schedule may hurt Manziel. In the interest of fairness, a similar comment can be made about Ohio State's schedule in 2013.
Second, college football trophy voters — perhaps Heisman voters, in particular — are easily distracted by the new hotness. I am not sure any one of the past four Heisman winners were given any preseason hype for the award — at all. This is certainly true for Mark Ingram, Cam Newton, and Johnny Manziel. Robert Griffin III forced his way into the conversation after the season-ending win against Texas in 2011, more than he did in a 7-6 campaign in 2010 that ended in a 38-14 mauling by, and not of, Ron Zook's Fighting Illini team.
Perhaps sportswriters' collective proclivities to be drawn to bright, shiny things may actually work against Manziel in 2013. Leaving aside, for the moment, his "eventful" offseason, it is unclear if anything Manziel could do in 2013 could match, let alone top, what he did the year prior. Losing Luke Joeckel and three of the top four receivers from last year are challenges for the Aggies. Comparisons to last year will be hard for Manziel to shake.
The other challenger is a quarterback who should be given more praise than he gets: Louisville's Teddy Bridgewater. Bridgewater's issue last year is that he played in a virtual vacuum since no one wanted to watch Big East football. That Sugar Bowl against Florida mattered a lot. No matter what cheap shot Florida's defenders leveled against him in hopes of rattling him, Bridgewater rose above it. Leading the Cardinals to a convincing 33-23 win against the Florida Gators on the heels of a 22/32 passing performance made sportswriters pay attention to him. That he is the current favorite to be the first quarterback selected in the 2014 NFL Draft will only help him.
The final challenger is last season's clear leader in quarterback rating: A.J. McCarron of Alabama. That McCarron led the country in quarterback rating last season gives a clear indication of what he is tasked to do for Alabama's offense, which is not much, comparatively speaking. McCarron's job is to punish defenses that commit to stopping the run with play-action bombs to talented receivers like Kenny Bell, Amari Cooper, and Christion Jones. His job was made easier last season by playing behind an offensive line that could not only win five-on-five, but routinely open running lanes for Eddie Lacy and T.J. Yeldon against stacked fronts. Alabama's offensive line for the past two seasons has been otherworldly. McCarron, now in his third year as starter, has quarterbacked two national champion teams by being asked to proverbially manage the game at the position. He did just that in 2012 with considerable fanfare. Alabama even won a national championship in 2011 almost despite McCarron. That is how talented Alabama is at almost every position, especially the offensive line, of late.
Still, McCarron's 2012 season saw him throw for 2,933 yards and 30 touchdowns to just three interceptions. Those stats are very hard to ignore on paper, even if they are easy to qualify with a qualitative glance at Alabama's offense. Should McCarron put up similar numbers this season, he will get that elusive trip to New York City for the Heisman ceremony. The Heisman votes he gets will be multifaceted. Some will be votes as if the Heisman Memorial Trophy were a lifetime achievement award. Despite a relatively limp senior season, Tim Tebow got precisely that opportunity in 2009. Still others will be votes because McCarron looks like a "leader who just wins games". Remember when A.J. McCarron had his "Heisman moment" last season against Louisiana State for throwing a game-winning screen pass to T.J. Yeldon when the Tigers' defense sold out on a cover-zero blitz? That is the type of Heisman buzz McCarron will get, and consideration for the O'Brien Award as well.
Braxton Miller's main competition for these national accolades will be the defending Heisman winner, the consensus top NFL quarterback prospect in the country, and a two-time defending national champion quarterback with only two losses in his collegiate career to date. With all this in mind, Miller is a pre-season favorite for all these awards, including the coveted Heisman. What would Miller have to do in order to achieve these goals?
For one, Ohio State may have to win all of its games. The Heisman Memorial Trophy is as much a team accolade as it is an individual award. The greatest players in the country on bad teams do not get the award. Paul Hornung, who won the Heisman in 1956 while playing on a 2-9 Notre Dame team, is unique in Heisman lore for precisely this reason. Only three Heisman winners since Ron Dayne's 1999 award have won the trophy while not playing in the BCS National Championship Game that same season. Ohio State's schedule is not challenging enough for Heisman voters to be forgiving of losses against teams like California, Northwestern, or Michigan.
Second, Miller may still have to rush for over 1,000 yards, though Tom Herman and Urban Meyer are wanting to find ways to ease the number of his carries. A lot of this requires Miller to be better at reading option plays. Braxton Miller had 1,271 net rushing yards, but was not particularly adroit at executing option plays. A more qualitative viewing of Miller's film shows several occasions where he picked up positive yardage despite missing the read to give to his tailback. If Miller has improved on reading the option play, he should be more efficient rusher. He could still surpass 1,000 rushing yards, but also lighten his work load in the running game. A lot of the sacks he took last year were because of ill-advised scrambles. The Wisconsin game comes to mind.
Finally, he may need to increase his passing output by at least 1,000 yards. His main competition will be guys who are all easy projections to throw for 3,000 yards. Miller will need to distance himself from the pack by doing it all like Manziel did in 2012. He needs to match the passing output of some of the country's top quarterbacks while also being a bigger part of the run game than Bridgewater or McCarron will be in 2013.
Alas, these are the expectations of not only Heisman voters, but Ohio State's coaching staff and Braxton Miller himself. Early reports from fall camp look promising toward that end. If this is the case, Miller could bring home Ohio State's eighth Heisman Memorial Trophy, distancing Ohio State from Notre Dame and Southern California as home to some of the most talented players in the history of college football. It would be enough to make the Ohio State fan base very happy as it hopes to conclude that season with a national championship as well.