The Big Ten is the oldest Division I collegiate athletic conference in the country. Established in 1896 as the "Western Conference", when the Midwest was the Western frontier of college football, the very character of the conference seems vintage. The conference is comprised of flagship institutions across the Midwestern United States, of which The Ohio State University is currently the youngest (and one of the later additions to the Big Ten Conference). Its composition will only get older when the conference expands to the Eastern Seaboard to include programs like Maryland and Rutgers. Not only will Rutgers be the oldest university in the Big Ten next year (founded in 1766), but it will also have the distinction of playing the first ever college football game in 1869.
The age and vintage of the Big Ten Conference, both actual and perceived, belie just how young and untenured the head coaches are of its football programs. With Jim Tressel and Joe Paterno's respective dismissals in 2011, Kirk Ferentz became the dean of head coaches in the conference. Ferentz is entering his 15th year as head coach of the Iowa Hawkeyes. Just behind Ferentz in the category of experience in the Big Ten is Pat Fitzgerald, who was playing for the Northwestern Wildcats in the mid-1990s before later being thrust into a position of head coach in 2006. The second longest tenured coach in the Big Ten is only 38 years old.
The lack of seasoned head coaches, entrenched in their position, is more pronounced in the Leaders Division than the Legends Division. Though Urban Meyer is entering his 12th year as a head coach, he is starting only his second year in the Big Ten. He last coached in the conference in 1987. In fact, the longest tenured head coach in the division is surprisingly Kevin Wilson at Indiana. Entering his third year as head coach, Wilson won his first league game only at the end of October last year. It was his first Big Ten win in 13 tries.
The Leaders Division also has the distinction of welcoming the two newest coaches to the conference. Darrell Hazell, a longtime assistant for Jim Tressel at Ohio State, returns to the Big Ten after finding some immediate success coaching Kent State for the past two years. Gary Andersen is a legitimately new face to the Big Ten, having no preexisting ties to the conference or region. In what follows, I introduce both Darrell Hazell and Gary Andersen to Ohio State fans, detailing what Ohio State fans can expect of both coaches, and their respective programs, in 2013.
Darrell Hazell at Purdue
Darrell Hazell is an adopted Ohioan and a natural addition to the Big Ten. Hailing from Cinnaminson Township, a Philadelphia-area suburb in South Jersey, Hazell started his path to being a football coach by playing for three years at Muskingum College in Ohio. Upon graduation, Hazell immediately entered the coaching profession by coaching running backs at Oberlin College, also in Ohio. He did not deviate that far from the regional footprint since, though other assistant coaching stints included the University of Pennsylvania and the United States Military Academy. Arguably his first break into major college football came in 1999, when he accepted a job as a running backs coach on the legendary Don Nehlen's staff at West Virginia. Nehlen retired after the 2000 season and Hazell was not retained in 2001 when Rich Rodriguez took over the program. He landed at Rutgers the next year as part of Greg Schiano's first coaching staff. Three years later, he accepted a gig as wide receivers coach for Jim Tressel at Ohio State.
Ohio State fans may remember well how Hazell thrived as an assistant coach at Ohio State. His success in coaching players like Santonio Holmes, Ted Ginn Jr., Anthony Gonzalez, Brian Hartline, Brian Robiskie, Dane Sanzenbacher, and DeVier Posey stands in contrast to the style that Jim Tressel dictated for the offense. Despite matriculating many of these players to the NFL, often early in the NFL Draft, the closest Ohio State had to a 1,000 yard receiver during this time was Brian Robiskie's 55 catches, 935 yards campaign in 2007.
It would be easy to dismiss the relatively meager receiving stats for Ohio State as something that does not bode well for Purdue football going forward, though this prima facie dismissal of Hazell's time at Ohio State does not square with a more nuanced understanding of how important he was as an assistant to Jim Tressel. He only thrived when Joe Daniels was regrettably forced into retirement after being diagnosed with cancer. Ohio State fans missed him dearly when he accepted his first head coaching position at Kent State in 2011.
The Golden Flashes were 5-7 in Hazell's first year, but were threatening a BCS at-large selection in 2012. The winner of the MAC Championship Game was going to force its way into the Orange Bowl, though that happened to be Northern Illinois in a 44-37 double overtime contest. That season also included a high profile win at #15 Rutgers in non-conference play. Hazell parlayed all this into the head coaching position at Purdue.
Despite Hazell's promise, and almost universal praise from his former players at Ohio State when he accepted the position in West Lafayette, Purdue's roster and schedule do not set up favorably in the short term. Purdue's cupboard is not entirely devoid of talent, but both the non-conference and conference schedules for Purdue are challenging in 2013.
Maybe it is easy for fans to forget how tough Purdue was last year. It finished last year 6-7, but was two plays removed from beating both Notre Dame and Ohio State. Notre Dame defeated Purdue last season on a game-winning field goal as time expired. Ohio State beat Purdue last season in overtime after it needed to score a touchdown and two-point conversion with under ten seconds to spare in regulation. The Boilermakers nearly beat two teams, on the road, that finished the 2012 college football season with a combined 23-1 record.
Purdue looks to have a veteran offense in 2012. Robert Marve and Caleb TerBush graduated from the program, but Rob Henry will return for a senior season. Henry had 38 passing attempts in 11 games last season (21 completed), but was Purdue's main quarterback as a freshman in 2010. He was sidelined in 2011 with an ACL tear.
Henry will have some familiar weapons around him. Akeem Hunt will be the featured tailback in 2013 after Akeem Shavers graduated. Hunt is a talented tailback, even having 100 yards rushing in the second half against Indiana. However, at 5-9, 184 pounds, durability as the featured tailback is suspect. Purdue should start three wide receivers as a base set in Darrell Hazell's offense. Projected starters are seniors Gary Bush and OJ Ross, as well as sophomore Dolapo Macarthy. All three combined for 1,066 receiving yards. Bush had seven receiving touchdowns. Akeem Hunt even had 207 receiving yards last year from the tailback position.
Defensively, Purdue has standouts on the defensive line and at cornerback. Bruce Gaston is a first team All-Big Ten-caliber performer. He has 29 starts under his belt and had 26 tackles and 4.5 TFLs last year. Ricardo Allen is another potential all-conference performer. Allen has 25 career starts and led the team in passes defended in 2012. Purdue's issue may be that it does not have many great players on defense, though each unit seems to be anchored by a quality player. Bruce Gaston and Ricardo Allen would be welcome starters on most teams in the conference. Even the linebacker corp, the big question mark of the defense, has a decent player in Will Lucas. However, the players surrounding them are either suspect or are unknown commodities. Hazell, and defensive coordinator Jon Heacock, will ask a lot of the senior leaders of these respective units.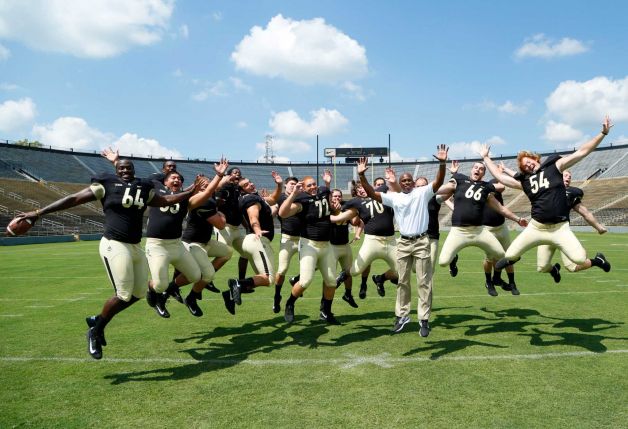 While Purdue has the talent to make it to a bowl game in Darrell Hazell's first year in West Lafayette, the schedule does no favors for Hazell. Michigan and Minnesota both cycle from the Legends Division rotation. In exchange, Purdue draws Michigan State and Nebraska, two teams that will be competing in November for a trip to Indianapolis. Even Minnesota, which may seem like a reprieve by comparison, walloped the Boilermakers last season. Purdue will host Nebraska, as well as Ohio State, but has to travel to Madison, East Lansing, and Happy Valley. The regular season ends with a trip to Bloomington to play what could be a resurgent Hoosiers program.
Purdue's non-conference schedule also features an upgrade in degree of difficulty. Last season's non-conference schedule included Eastern Kentucky, Eastern Michigan, Marshall, and a trip to Notre Dame. This season, Purdue will host Notre Dame, but begins the season at Cincinnati and will host Northern Illinois. Indiana State will be Purdue's designated FCS snack.
In short, Purdue's non-conference schedule includes last season's BCS Championship Game loser, a 10-win Cincinnati team expected to compete with Louisville for the first American Athletic Conference championship, and a 12-win Northern Illinois team that beat Hazell's Golden Flashes the year prior to make it to the Orange Bowl. A trip to Madison is sandwiched by both the Notre Dame and Northern Illinois games.
Gary Andersen at Wisconsin​
Gary Andersen is a curious addition to the Big Ten. This is not to discount his success as head coach of the Utah State Aggies for four seasons. Two 4-8 seasons in 2009 and 2010 were followed with two Potato Bowl campaigns in 2011 and 2012. Even his 4-8 season in 2010 was underlined by an upset of Brigham Young for the first Utah State win in the series since 1993 (and only the second Utah State win since 1982). His coaching exit at Utah State was a 41-15 smashing of the Toledo Rockets. A week later, Andersen accepted the Wisconsin position and called every one of his players at Utah State, individually, to inform them of his decision to leave for Madison.
His arrival at Madison is not curious because of his coaching accolades, which should project well enough from the former Western Athletic Conference to the Big Ten. Further, his reputation is sterling from people who know him well or have vouched for him previously, such as Utah's Kyle Whittingham and Ohio State's Urban Meyer. Rather, his arrival is interesting because he has no prior connection to the Big Ten. He never served as an assistant in the league, nor does he appear to have any meaningful connection to the Midwest. His coaching stops were almost entirely in Utah. He also did not appear to be mentioned at any point in conjunction with the open Wisconsin job while Barry Alvarez was busy preparing to announce himself as the interim head coach for Wisconsin's trip to the 2013 Rose Bowl. The only connection to Wisconsin before being announced by Alvarez as the next head coach was Utah State's trip to Madison in the 2012 season. It was a game Utah State should have won, but ended up losing, 16-14.
Unlike Darrell Hazell, Gary Andersen does have the favorable schedule and talent to win many games in his coaching debut. Ten wins is a reasonable projection, as is another trip to Indianapolis to compete for its fourth straight conference championship and Rose Bowl trip. The last team to pull off that was Ohio State between 1972 and 1975.
Wisconsin's non-conference schedule has a bad reputation regionally for being underwhelming, at best. That is improving in the near future when Wisconsin plays teams like Alabama and Louisiana State. For now, that bad reputation will carry through 2014 as a function of a 2013 non-conference schedule that includes Massachusetts and Tennessee Tech. Tennessee Tech is an FCS squad. Massachusetts was a FCS team just two years ago.
Perhaps these comments undersell how intriguing the trip to Arizona State is. The Badgers play the Sun Devils in Week 3 in a night game on national television. The Sun Devils should be a 10-win team in 2013 and should challenge USC for the Pac-12 South crown. In November, the Badgers will host Brigham Young, an 8-win team from 2012 that is returning a very tough defense.
The Badgers cycle off Michigan State and Nebraska from the Legends Division in exchange for Northwestern and Iowa. Northwestern may be the top of the division and is one of the most intriguing teams in the entire conference. Wisconsin will get to host Northwestern in 2013. It travels to Iowa this season, but more questions surround Kirk Ferentz' Hawkeyes than Gary Andersen's Badgers.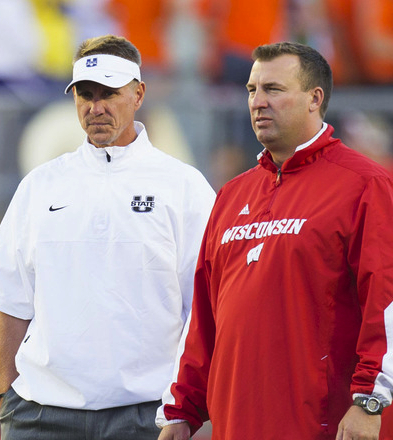 I have two questions regarding the Badgers in 2013, other things held constant. First, Wisconsin's defense under Bert was never necessarily talent-rich (with the exception of J.J. Watt, who transferred into the program). The defense consisted almost entirely of "lunch pail" guys that were capable of doing their job, and doing it tough and smart. Wisconsin did not hold Ohio State to 14 points in regulation because of the talent difference, which clearly favored the Buckeyes in that contest. Rather, the Badgers stymied the Buckeyes' offense through proper technique, gap discipline, and a defensive game plan designed to complicate Ohio State's base running plays. This made the Badgers a formidable defense, even if Taylor Martinez' touchdown run in the Big Ten Championship Game reveals that the Badgers's defense is not comprised of great athletes or playmakers.
Much of that returns in 2013, even if the transfer of David Gilbert to Miami is a big loss for Gary Andersen. Ethan Hemer, Beau Allen, and Pat Muldoon are solid defensive linemen. Ethan Armstrong and Chris Borland are capable linebackers as well. My question concerns the secondary, which I thought was the strength of the defense for the past few years under Bielema. The Badgers lost three-fourths of the secondary to graduation. All three defensive backs -- Marcus Cromartie, Shelton Johnson, and Devin Smith -- were very good players. Dezmen Southward returns, but the rest of that secondary looks very green at the moment. If I were a Badgers fan, this would make me nervous for the trip to Tempe.
Second, how important is the quarterback running threat for Gary Andersen's offense? Andersen runs a "spread" offense, and is already recruiting "spread" quarterbacks tailored for what he wants from the position. Last season, Utah State's quarterback, Chuckie Keeton, was second on the Aggies' team in rushing with 619 rushing yards and 8 touchdowns. He averaged almost five yards a carry and almost 50 yards a game.
Some footage from Wisconsin's spring game suggests that read option plays will be an important part of the offense. Regrettably for Wisconsin fans, the two quarterbacks likely to get almost the entirety of the snaps are ill-suited for that style of offense. Curt Phillips is the more mobile of the two, but had three reconstructive knee surgeries in his past. Joel Stave is as mobile as a tree.
It would be one thing if the Badgers' quarterbacks were not "great" at running this style of offense. My question is if they are even credible running that style of offense. If they are not credible as run threats, then those four yards that they are supposed to gain on option plays becomes two yards. Opposing defenses do not have to respect that part of the offense. This puts the Badgers behind down and distance and makes third down situations predictable and one-dimensional. The Badgers would be forgoing the opportunity to make the most of their offensive weapons, such as Melvin Gordon, James White, Jacob Pedersen, and Jared Abbrederis. Even Wisconsin's offensive line can be considered an offensive weapon, but their task becomes more difficult under these circumstances.
Best and Worst Cases for 2013​
It seems unlikely that Darrell Hazell makes it to a bowl game in 2013. The schedule begins at Cincinnati. The Boilermakers return home the next week to play Indiana State (an FCS team), but the schedule just gets worse into November. After Indiana State, Purdue hosts Notre Dame, plays at Wisconsin, hosts Northern Illinois, Nebraska, travels to Michigan State, and hosts Ohio State. That Indiana State game should be the only game in which Purdue is favored. It is highly likely the Boilermakers begin the 2013 season 1-7. A loss to Ohio State at the beginning of November could guarantee a losing season before Purdue has the opportunity to host teams like Iowa and Illinois. Road trips to Penn State and Indiana are still on the schedule in November.
A best case scenario does not look much better for Darrell Hazell. I can envision Purdue upsetting Cincinnati on the road in Week 1, or beating Northern Illinois at home. I cannot envision Purdue doing both this season. I can certainly fathom Purdue playing tough games against Notre Dame and Ohio State again, but winning both (or either one) is a long shot. Even if Penn State feels the crunch of further scholarship reducations in 2013, I still think it has enough to beat Purdue in Happy Valley. A possible win in Bloomington may not be enough to secure a trip to a bowl game. Purdue plays Iowa and Illinois too late for any momentum in 2013.
A worst case projection has Purdue winning three games in 2013 -- Indiana State, Iowa, Illinois, all at home. A best case scenario has Purdue winning five games, though this may hinge on beating Indiana in Bloomington and upsetting either Cincinnati or Northern Illinois. This would still make 2013 a rebuilding season for Darrell Hazell, much like 2011 was in his first year at Kent State. I am bullish on Darrell Hazell as a successful head coach of the Purdue Boilermakers, but the rewards may be deferred to 2014.
Phil Steele's 2013 College Football Preview has Iowa as having the greatest volatility in preseason projections. These projections include Iowa as a three-win team and Iowa as a 10-win team. I think such volatility in preseason projections can also be afforded to Wisconsin, contingent on growing pains in Gary Andersen's offense and the overall transition from Bielema to Andersen. Wisconsin's schedule is easier than Purdue's schedule, but I think Wisconsin faceplants hard in Tempe in Week 3. Even my best case scenario assumes the Badgers lose that game.
Wisconsin should be favored in most of its games. Assuming, reasonably, that the Badgers do not find their rhythm under Andersen until after the Ohio State game, losses to Arizona State and Ohio State could be the only regular season blemishes on a 10-win regular season in Gary Andersen's debut in Madison. This could still lock out the Badgers from a third consecutive trip to the Big Ten Championship Game, but it would make them a very attractive program for the Capital One Bowl committee. The Badgers toughest games from October forward (Northwestern, Brigham Young, Indiana, and Penn State) are all games in Camp Randall. Camp Randall may be the toughest place to play in the conference precisely because the Badgers play exponentially better at home than they do on the road.
A worst case scenario has the wheels fall off the Badgers' wagon because of the growing pains involved in the transition from Bielema to Andersen. The Badgers could not only lose its night games at Arizona State and Ohio State, but have a letdown against Northwestern in its next game. If the questions I have for the secondary are borne out, the games against Indiana and Penn State (the two best passing offenses in the Big Ten in 2012) could be losses as well. A crushing upset loss to Brigham Young may not be beyond the realm of possibility as well. A potential 10-win team could lose five, or even six, games in 2013. Such a difference between best and worst case scenarios could be the difference between Orlando or Detroit in Gary Andersen's first year in Madison.