Some topics tend to get played out and avoiding them altogether would be delightful. In particular, there's a player whose surname rhymes with "Clanfell" who had an eventful offseason. That player's coverage in media has been oversaturated, to the point where much Johnny Manziel coverage is about the coverage itself. Like it or not, when that player keeps making headlines, he must stay in the news.
One of the rhetorical devices I most admire is apophasis, a sly way of referencing something without technically referring to it, in the style of "I could say it, but I won't". By saying you won't mention it, you're drawing just as much attention to the subject. As one of few self-defeating rhetorical devices, apophasis is pretty cool.
So far be it from your author to mention that the continuing Outside The Lines investigation on Manziel autographs claims that he has signed memorabilia for at least two more dealers in addition to the zero dealers to whom we've proven Manziel has given memorabilia. Until definitive proof that Manziel was paid for autographs comes out, whoop-de-doo, yet another chapter in the telenovela that is Manziel's life.
Your author would never make snide comments like Manziel being the most prolific doodler since Jigglypuff, and nothing about the Manziel family tree's sordid history will ever sully this Skull Session. A Cal football player regaining limb control after a scary collision during Cal's scrimmage sounds more engaging. Buckeye coverage does, too: let's talk about that.
 FALL CAMP CONTINUES. The Chase continues for the Ohio State football team with moderate progress as Joey Bosa and Ezekiel Elliott became the fourth and fifth Buckeyes to lose their black stripes. The timing works well for Elliott, who was the subject of a glowing profile from Doug Lesmerises yesterday afternoon.
Assuming that a few more Buckeyes will lose the black stripe today, don't be surprised if Vonn Bell or Gareon Conley are among them. Unfortunately, we won't know what's going on because Ohio State media isn't allowed inside:
Considering that Ohio State said the practice would be open tomorrow, to disallow media from attending with no explanation is strange. Unless they're planning to install a super-secret formation to use in the Michigan game, why bar media on such short notice? The program is more transparent now than it was under Jim Tressel or Luke Fickell, but this kind of jerking around is unbecoming of the whoever made the decision to shut off media.
At least we got a few good photos out of yesterday, like punter Cameron Johnston giving the 340 pound Chris Carter a quality hoist and a human pyramid.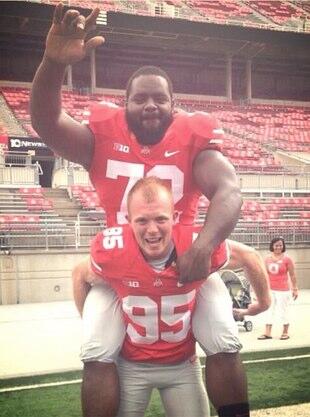 AJ HARRIS IS MATTA'S FIRST 2015 COMMIT. The big news from last night occurred in men's basketball, as AJ Harris committed to Ohio State to become the first recruit in the class of 2015. Not surprisingly, the staff were excited. What could make it sweeter? Beating out Michigan for a prospect that two weeks ago wanted to emulate Trey Burke.
Harris is a 3 or 4 star recruit, depending on which scouting services you rely on. As a point guard, Harris is relatively undersized at 5'9" but has some nice moves. The Ohio native and Dunbar High School junior would presumably be backing up D'Angelo Russell, though his place in the rotation is still undetermined because of the remaining room in the 2015 class. Four more spots remain for the class, so OSU's recruiting preferences are wide open.
 AMERICAN BISON > COLORADO BUFFALOES. The Pac-12 is grappling with DirecTV over its carriage of the Pac-12 regional networks.  In the grand tradition of cable dispute bickering, the Pac-12 has produced a number of commercials criticizing DirecTV and asking whether you'd rather watch the real-life version of a mascot or the team's football.
For the USCs and Oregons, the commercials make sense. But isn't the Pac-12 forgetting the dregs of the conference? Colorado fans don't want to be reminded of their bleak existence. Watching Ralphie run free is far more entertaining than the ineptitude on the field. Nevertheless, going through that hassle with BTN coverage was stressful but helped the Big Ten in the end. Good luck, Pac-12 bros.
 THE TROLL-KING TRIUMPHANT. After a six month absence, the Paul Finebaum Show is back on the air. Finebaum, whose caller-oriented program is known for pandering to his southeastern constituency in matters of college football, providing a platform for the worst 1% of any fanbase to share their brand of crazy, and inspiring Harvey the Tree Slayer, will have a national radio platform from 2-6 PM every weekday.
Whatever one's problems with Anthony Rothman or Beau Bishop or Mike Ricordati, say this for them: their presence keeps the Paul Finebaum Show off of Columbus's airwaves and away from Finebaum's pollution. Keep me as far away from this man as possible:
"The shows on the air now stink all across America," Jim said. "They're boring. Horrible hosts. They interview each other, not the callers. That's what's so great about Finebaum. He puts himself second most of the time. You couldn't get me to listen to ESPN radio for five seconds if Finebaum wasn't coming on."
 LINKS AHOY. Deadspin's Why Your Team Sucks series is cathartic for long-suffering Bengals and Browns fans... How do exceptional athletes become exceptional? In part, by not overtraining as American athletes commonly do... OSU women's volleyball ranks 23rd in the AVCA preseason poll... Relive the hilarity of the 2002 US Men's National Soccer Team's glamour photo shoot... This documentary on Japanese pro wrestling is a great introduction to puroresu and other wrestling styles... "OCD" is a compelling argument for poetry slams... "Literally" is now officially useless in spite of CM Punk's best efforts... the most cacophonous website on the Internet... Did you know the onomatopoeia BAMF has its own Wikipedia page?... and Badger's Star Trek eating contest, animated.