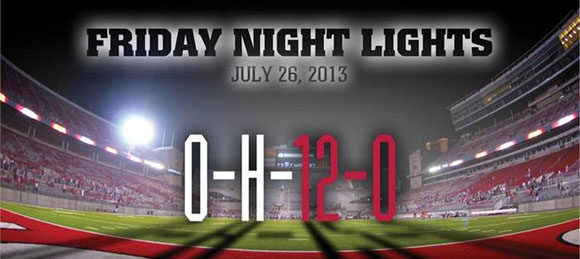 The second annual Friday Night Lights camp is over, but the coverage has just begun. Many of Ohio State's commitments were in attendance, but chose not to workout. However, Friday Night Lights gave us a sneak peek of many of Buckeyes top 2015 recruiting targets. We had the chance to chat with several of them.
Eric Glover-Williams - 2015 ATH. Canton McKinley (OHio)
Sporting a red "S" on his chest, Eric Glover-Williams was the talk of the camp with many fans asking who superman was. Working out with the receivers, Glover-Williams flashed his speed and sure hands on Friday. Late in camp he moved over to DB and recorded an interception. He is a competitor, which the staff has taken note of. Kerry Coombs told (yelled) campers that Ohio State wants competitors, players that refuse to lose. The rising junior showed that he was scared of no one, repeatedly going up against Ohio State commitment cornerback Damon Webb in 1-on-1 drills. Webb and Glover-Williams both beat each other in 1-on-1's a few times. I caught up with EGW after the camp had concluded:
Eleven Warriors: How much of a performer do you like to be out there?
Eric Glover-Williams: I just like to compete out there to my highest ability. Show out for whoever is watching.
11W: What were you hoping to accomplish?
EGW: Just to see who I was going against, to see who is going to be in my class. 
11W: You were out there going head to head with Damon (Webb). Describe your battles with him. 
EGW: He is a great player, a great corner. He told me he was coming up here. We kind of went at it every time I went up and I told him to go against me so we could go at it and battle. 
11W: Who won?
EGW: We both competed to the highest level. We both did what we could do, back and forth. I'm not sure who got the highest edge, that is for the public to decide who won the battle. 
11W: What is Ohio State telling you?
EGW: Ohio State wants me to be the face of the program for my class (2015). They just keep telling me to come up here and get comfortable with the coaches and players. 
11W: Are you comfortable with the coaches and players?
EGW: Yeah, I'm very comfortable with Vrabel and Meyer. We keep in contact every other week. I talk to some of the players. Some of them are from where I am from. 
11W: Do you have a timeline for a commitment?
EGW: I'm not sure. I've been talking it over with my parents. I was thinking about maybe next fall. It's a thing that I'm going to talk more with my parents. 
11W: How much better do you think you got tonight going against Damon?
EGW: I think I made him a lot better and he made me a lot better. He just showed me what I have to do to get off the line faster and I was working on that. 
Andrew dowell - 2015 rb st. edward (OHio)
Andrew Dowell was impressive working out at running back. He has the frame to add 15-20 pounds to his current 205 pound playing weight. He showed good speed in beating the defensive players to the outside in a toss drill. His route running was solid for a running back, but he did drop a ball that probably should have been caught. His brother, David Dowell, worked out with the corners at camp. According to their father, David previously worked out at receiver, but Coach Coombs wanted him to workout with the defensive backs. The 6'1 David Dowell has the size, long arms, and ball skills that Coach Coombs is looking for at corner. David was recently offered by Tennessee. After camp we were able to catch up with Andrew: 
11W: What did the coaches tell you?
Andrew Dowell: I spoke with Coach Drayton and he told me he was going to 'recruit the mess out of me' and told me he really means it. 
11W: Was this camp different than the other camps you've been to?
AD: It was a great way to end the camp season. It was a great competing atmosphere. The music helped with that. It was great. 
11W: What are your thought on Ohio State? 
AD: I love Ohio State. It's an offer any player from Ohio would covet. Hopefully I showed enough to get that offer. 
11W: Do you feel you showed them enough to get an offer?
AD: I think I furthered my recruitment today at camp. I made some nice plays. 
11W: Who is showing interest and who else is sticking out?
AD: Everywhere I camped at is showing interest. Everyone is pretty even right now. 
Jordan Whitehead - 2015 DB Central Valley (Pa.)
I didn't get to see too much of Jordan Whitehead, but the little I did see I came away impressed. He had a very nice pass breakup in the endzone. A lot of the corners were falling for the double moves, but Whitehead did not in the few times I saw him. It was previously reported that he had an OSU offer, but he did not indicate that when we caught up with him after camp. 
11W: What were your thoughts on the camp?
Jordan Whitehead: It was a fun camp. It was good coaching and everything. The intensity when we went 1-on-1 was crazy. 
11W: Did you speak with any of the coaches after? 
JW: I talked to Coach Coombs and Coach Luke Fickell. I was supposed to talk to Coach Meyer, but he was busy. They said they want to get me up to a game and they said they're going to be recruiting me hard. 
11W: What offers do you have?
JW: West Virginia, Pitt, Penn State, Virginia Tech, Rutgers, Illinois. Ohio State, Michigan are interested, and a couple letters from Alabama and Florida State. 
11W: What would an Ohio State offer mean to you?
JW: It would mean a lot to me, because in the future I'd plan to put them in my top five list. It's a great place to play and I love it. 
11W: What is Ohio State recruiting you as?
JW: CB. Coach Coombs is recruiting me. 
11W: What do you think of Coach Coombs?
JW: High intensity. I had a baseball coach like that. Screams, but it doesn't bother me. I love coaches like that. I appreciate that. 
David Moorman - 2015 OT Northville (MICH.)
I didn't get to watch the lineman very much because they were on the other side of the field, but we were able to catch up with David Moorman after camp. 
11W: What did you think of Friday Night Lights?
David Moorman: It was crazy. I've never been to a camp like this. Playing in the Shoe under the lights was an awesome experience and I had a great time. 
11W: Was this your first time at Ohio State?
DM: Second. I came down in early June. Hopefully I'll be down a couple more times if they'll have me. 
11W: What do you think of Ohio State?
DM: It's overwhelming. The first thing you see in the main building is the Heisman trophies and the glitz and glamor of Ohio State. Then you come here and meet the coaches and learn from them. It was awesome. The program is awesome. The brotherhood is awesome. I'm blessed to be in the position I am in. 
11W: What coach did you talk to today?
DM: Coach Coombs. He recruits my area. We have a good relationship, we talk on the phone a lot. Coach Warriner said he very interested in me. He told me I improved a lot, I worked my butt off. 
11W: Do you think an offer is coming anytime soon?
DM: I would be really blessed if Ohio State offered me. Ultimately it's there decision. I would be thrilled if they extended an offer to me. 
11W: What offers do you have? 
DM: Central Michigan offered me first and Eastern Michigan offered me in June. I'm talking to a few other schools, but I like Ohio State a lot right now. 
11W: Would they be at the top of your list if they offered?
DM: Yeah, for sure. 
11W: Do you plan on making any return trips to Ohio State?
DM: I'm going to try to come down for a couple games this fall. I'm excited to see what the Shoe looks like filled. 
Mike Williams - 2015 DT Alliance (OHio)  
Since the offensive and defensive lines were working out on the far side of the field, I didn't get to watch Mike Williams too much. He has good size and the frame to grow into the defensive tackle spot. We briefly spoke with Mike after FNL concluded:
11W: Thoughts on camp?
Mike Williams: It was a good camp. It's business. It was fun and everything. A little bit of competition. It was fun, hard work as always. 
11W: Did you get any feedback from the coaches?
MW: I talked with Mike Vrabel. He told me I did good. I still need to work on my footwork, but other than that I did fine. 
11W: Was this camp different than other ones?
MW: I could feel a lot more energy. It was like hyper. It was fun. It pushed me a lot. I want to be here one day. 
11W: Any other schools showing interest?
MW: Toledo, Arkansas, and Michigan. 
Gabe Megginson - 2015 OT Jacksonville (ILl.)
Gabe Megginson was left speechless by the Friday Night Light camp. He had a huge smile on his face during the whole interview and let us all know that he was speechless. Vrabel is his main contact since he recruits the Illinois area. After camp, Mike Vrabel told Megginson that he enjoyed watching him out there. Gabe Megginson, who has offers from Illinois, Wisconsin, Vanderbilt, and Akron, said that Ohio State was everything that he expected. It was awesome. He loved the highlights and the music. He was one of the camps top performers at offensive tackle. 
Tyree Kinnel - 2015 DB Wayne (OHio)
Kinnel is listed as a safety, but Ohio State is recruiting him as a CB. The 6'0 Kinnel is exactly what Coombs is looking for in a corner since Coombs has told Tyree that he loves big corners. Kinnel was impressive in 1-on-1 drills and showed that he can cover some of the best receivers. He was jamming receivers at the line and recovering with ease. The highly regarded Ohio prospect has offers from Kentucky and Arkansas, while Michigan State is close to offering. A school that makes him feel at home is what he wants and is one of the reasons he is very interested in Ohio State.
C.J. Conrad - 2015 TE  Keystone (OHio)
C.J. Conrad, a 6'5, 225-pound tightend, was the top performer at his position. Conrad showed he could catch the ball, but I didn't get to see him block. Tim Hinton spoke with C.J. following the camp and told him he did a really nice job and he is very interested in him. The staff wants to see early film and go from there in terms of a potential offer. Stan Drayton recruits the area and he also plans to recruit the big tightend prospect. 
Jerome Baker - 2015 ATH Cleveland Benedictine (OHio)
One of my favorite players from camp, Jerome Baker, worked out as a running back. Baker was very impressive at running back, but more than likely he will end up at linebacker. He was very quick in running back toss drills and flashed the ability to make one move and get up field. I watched him quite a bit and I didn't see him drop a pass and he showed very good route running skills. On one play he made the corner look silly and scored with an easy touchdown grab. In the camp scene, I couldn't find a single weakness. Baker, Webb, and Glover-Williams were probably the three most impressive players that I saw working out. 
Reggie Gallaspy - 2015 RB Southern Guilford (N.C.)  
Gallaspy was another running back that stood out. The North Carolina prospect is a back that the staff is high on. He has early offers from North Carolina, Virginia, and Duke. The 5'11, 205-pound back showed some speed in drills. I didn't see him in 1-on-1's, but like Baker he showed the ability to make a guy miss during a toss drill. Showed good hands as well. 
Other Notes
* Marcelys Jones, Kyle Trout, Lonnie Johnson, and Damon Webb were the commitments that worked out. I was impressed with Webb and Johnson and I heard good things about Trout and Johnson. 
* Rivals.com's Josh Helmholdt mentioned 2014 running back Marcus Bagley of Cleveland Heights as one of the top running backs he saw at FNL. 
* 2014 receiver Braxton Berrios told Eleven Warrior's Jeremy Birmingham that he'll "have some serious thinking" after earning an Ohio State offer. We'll have more on Berrios soon. 
* Glenville safety Erick Smith worked with Everett Withers on the side while the other campers were huddled at midfield watching an Eddie George highlight. Urban Meyer was watching from a distance. 
* Dublin Scioto's 2015 linebacker Nick Conner has the frame to grow into the middle linebacker position. I'll be looking for some early film on him. He has an Illinois offer. 
* Zach Smith's energy during positional drills stood out to me. You could also hear Kerry Coombs "talking" to the campers. 
* Nice to see Ted Ginn Sr. back. He spoke with Curtis Samuel for a little bit. Ginn Sr. spent the night chatting with current and former players. 
* We'll have more coverage in the coming days including pictures from the event. If you have any questions, feel free to post in the comment section.