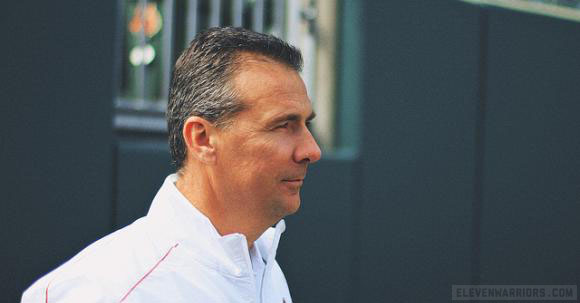 When college football coaches aren't coaching, they become salesmen. Preaching the positive nature of the program to boosters, recruits and the media is all part of the job.
Walking into living rooms is not all about football. Parents want a father figure who can watch over their sons for the next four years, and while the NFL is the light at the end of the tunnel, a minute percentage actually accomplish that mammoth target. That brings academics into the equation. A prestigious degree combined with a football playing past often leads to employment.
At Ohio State, Urban Meyer is making sure that's the case. He's started a series of events called "Real Life Wednesdays" that culminates with a first of its kind job fair that invites major companies to campus to meet with football players and student-athletes from all 36 varsity sports.
A full Ohio Stadium is a familiar sight, but not in the summer and certainly not with scores of people wearing suits, ties and dresses. But on June 20, that scenario came to fruition – much to the delight of Meyer. The athletes came armed not with playbooks but binders full of resumes.  
"I was easily excited about the program," Ohio State athletic director Gene Smith told Eleven Warriors. "It is consistent with all of the life skills programming we implemented with all of our student-athletes: etiquette training, financial literacy, apartment shopping and lease management, etc.
"I knew it would be successful because there are numerous Buckeyes willing to assist our student-athletes with improving their interviewing skills."
Nearly 60 businesses – and Ohio governor John Kasich – were represented at the first-ever Ohio State student-athlete job fair at the Horseshoe. And they weren't your mom and pop store on Main Street. Heavy hitters such as Nike, ESPN, Big Ten Network, IMG, Wal-Mart, the FBI, Kroger, State Farm Insurance and Columbus-based Limited Brands, Cardinal Health, Bob Evans, Net Jets and the Columbus Zoo were present, among other regional, national and worldwide entities.
All who attended – athletes, business leaders and coaches – were impressed, including Vice President of NFL Player Engagement Troy Vincent, who starred in the league for 15 years after being a standout at Wisconsin.
The NCAA is heavily criticized, and rightfully so 99 percent of the time. The tagline "there are over 400,000 NCAA student-athletes, and most of us will go pro in something other than sports" might be the biggest truism when it comes to the bloated, bungling organization.
Athletes come in all shapes and sizes, but the most common trait is perfection. Competition fuels them, which carries over into the workplace. For the Buckeyes who participated in the job fair, it was an eye-opening experience that let them take a brief look at a different world.
"This was real life and this was great," junior defensive tackle Joel Hale said. "I have ideas now about how I want to prepare myself, and I've got a list of key contacts that I will email a 'thank you' to tomorrow and possibly reconnect with once I graduate."
The buildup to the job fair began more than three months ago when the football team listened to a different speaker every week. They ranged from Limited chairman Les Wexner, to retired FBI Special Agent Harry Trombitas, to 1993 Indiana Mr. Basketball Kojak Fuller, who fathered three children before he graduated high school and later spent nearly a decade in prison. Each delivered different messages with the central theme spotlighting the importance of college and making the right decisions for the future.
Family, job interviews and parenting were all discussed, and numerous former Buckeyes were part of the process: Clark Kellogg (CBS), Chris Spielman (ESPN), Ryan Miller (M2Marketing), Mike Doss (DePuy Orthopedics), Dee Miller (State Farm) and Jeff Logan (McCloy Financial Services) spoke to the team about how their careers shaped their post-playing lives.
"This really shows how much Coach Meyer and this football staff care about us and our life and careers after football." 
It's a lot different than making a read on a coverage, getting separation from a defender or kicking a field goal. But at the same time, the similarities are striking, namely preparation. No matter the task, preparing and executing is essential.

"Every football player had to have a new resume," coordinator of player development Ryan Stamper said. "Every player learned about resumes and key components of them, and then our staff, support services staff and academic advisors helped each one update their existing resume or create a new one.
"And every one of our players, including freshmen, had to have a list going into the job fair of four business areas or interests that they would like to speak with reps about and learn about."
Stamper, a two-time captain at Florida and a member of the Gators' 2008 national title team, was put in charge of helping organize the "Real Life Wednesdays" sessions. Meyer operated a condensed version in Gainesville.
"Over the years we have continued to improve what we do to help our student-athletes be the best they can be academically, and athletically," Smith said. "That focus, coupled with initiatives to develop the whole person has helped us create a culture where everyone understands what is most important. We are proud our graduation rate has risen from 62 percent (in 2005) to 81 percent and all our teams are doing outstanding with their APR scores. Increasing the number of student-athletes receiving post graduate scholarships, the study abroad program and Bucks Go Pro initiative are just a few of the most recent efforts. But having an individual academic game plan for each student-athlete that we started in 2006 was the most critical."
Said Marcus Hall, a senior offensive lineman: "This really shows how much Coach Meyer and this football staff care about us and our life and careers after football."
Senior center Corey Linsley, an economics major, sought out Miller, who is an entrepreneur. Linsley would like to use his degree to get into investing, financial advising or banking. But he's also interested in starting a business.
"No one in the country does this," he said. "This is a revolutionary idea. No one thought to do it. It's an awesome idea and a credit to Coach Meyer. It's awesome to see how the program is going in that area. Coach Meyer has done a great job of connecting academics and football."
Many of the student-athletes don't have the same ability as other students at the university to obtain internships and summer jobs. Athletics in the Big Ten is not just something fun to do. It becomes all-consuming, sometimes fraying the boundary of where the student and athlete coexist.
"The coaches want us to succeed after football, and that's the big question mark for us. 'What is after football?'" senior left tackle Jack Mewhort said. "The speakers we've heard and the people we've spoken to tonight have given us real insight into the opportunities and careers we can strive for."
The process begins with a head coach sitting on the couch in the living room promising parents he'll watch over their son. Playing time might not be guaranteed, but a college degree from Ohio State can be had. For those going pro in something other than sports, it's a piece of paper that carries much more value than a multi-million dollar NFL contract.