Buckeye fans can riddle off dozens of reasons to be optimistic about the Ohio State's chances for The Chase in 2013, but the national media is beginning to catch on as well.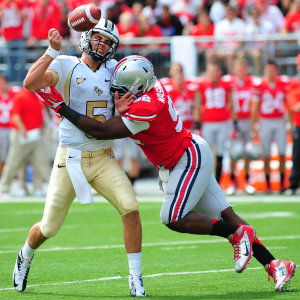 In particular, writers are noticing that the Buckeyes are full of All American-caliber superstars like Braxton, Shazier, Noah Spence, Adolphus Washington, and Roby.
Ohio State placed the second-most players (5) on Phil Steele's preseason All American team, second only to Alabama (8). Steele had eight offensive Buckeyes and six defensive guys on his All-Big Ten list. 
However, does a team with this many superstars guarantee that the Buckeyes will be favored in, let alone win, all of their regular season games this season? Of course not. 
If we want to begin making predictions and simulations for how the 2013 season will shake out, then preseason top-25 and All American lists are a place to start, but they don't really clue us in to what's really important - matchups between units. I decided to break down the Buckeyes' schedule for next season by comparing offensive and defensive statistical matchups (except Florida A&M - I'll leave it to you guys to sort that one out).
I normalized offensive and defensive yards per play (YPP) data for my comparison. That is, I found each team's offense and defense average YPP and put these scores on a bell curve to see how much better or worse the units were than average. 
The middle of the road offense averaged 5.7 yards per play with a standard deviation of .66 yards per play. The average defense gave up 5.54 yards per play with a standard deviation of .64 yards.
Ohio State averaged 6.08 yards per play, while the defense gave up an average of 5.08 yards. That means that the Ohio State offense was (obviously) better than average, but did not noticeably separate itself from the other "good" offenses. It's almost the same story for the defense, which was among the top-30 teams in defensive yards per play, but not among the elite. 
Yards per play (YPP) isn't an all-encompassing statistic, but a quick look at the top of the offensive YPP rankings does include the usual suspects: Georgia, Alabama, Baylor, Oklahoma State, Oregon, and Texas A&M, for instance.
The following scores are in number of standard deviations from the mean. That means it is good to have a positive number for offense and a negative number for defense, but either way you want the number to be as far from zero as possible. 
Buffalo
| OSU Offense vs. Buffalo Defense | OSU Defense vs. Buffalo Offense |
| --- | --- |
| .61 vs. -.57 (Push) | -.72 vs. -.69 (Ohio State) |
Yes, Buffalo is receiving a sizeable check to come to Ohio State, but Buffalo is not terrible. They gave Georgia a little first-half scare last season and their defense is better than average. In fact, the matchup between Ohio State's offense and Buffalo's defense is statistically pretty similar in terms of normalized yards per play.  
Honestly though, don't think for a second that Buffalo will be shutting down Braxton and company. This might be a case where the statistics are a little misleading. 
The Buckeye defense should be able to contain the Buffalo offense, which is on the other (bad) side of the bell curve. 
San Diego State
| OSU Offense vs. SDSU Defense | OSU Defense vs. SDSU Offense |
| --- | --- |
| .61 vs. -.60 (Push) | -.72 vs. .20 (Ohio State) |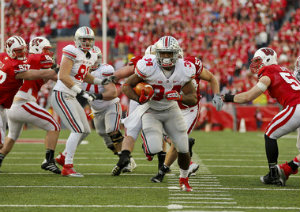 Once again, the Buckeye offense and the San Diego State defense looks like a push matchup. 
The San Diego State defense has a couple of All-Mountain West contenders (woo hoo!), but the Buckeye offensive line should be just fine handling the Aztecs' relatively weak defensive line and Braxton can pick on their green cornerbacks.
The Buckeye defense wasn't exactly Silver Bullet quality last season, but it was still much better than average in terms of limiting defensive yards per play. This bodes well for limiting the Aztec offensive attack, which is led by running back Adam Muema. 
With both defenses' numbers suggest a low-scoring game, it's hard to imagine this game being anything but lopsided in Ohio State's favor. 
Cal 
| OSU Offense vs. Cal Defense | OSU Defense vs. Cal Offense |
| --- | --- |
| .61 vs. .19 (Ohio State) | -.72 vs. .12 (Ohio State) |
The Buckeye offense catches a break. The Cal defense was worse than average last season and I expect the rematch to involve more Buckeye offensive fireworks. Cal gave up close to 6 yards per play last season. 
While the Cal offense is breaking in to a new air raid scheme, they will have a ways to go in order to match the Buckeye defense. 
Wisconsin 
| OSU Offense vs. Wisconsin Defense | OSU Defense vs. Wisconsin Offense |
| --- | --- |
| .61 vs. -1.13 (Wisconsin) | -.72 vs. .42 (Ohio State)  |
Wisconsin was known more for their offense in 2012, but the defense rated very highly in terms of yards per play (just 4.82). For a comparison, the Buckeye defense held an also respectable 5.08 yards per play. That's what happens when you allow 49 points to Indiana. 
Though it's not what I would have predicted, the Buckeyes should be well positioned to handle the Wisconsin offense once again. The Badgers, while certainly better than average, weren't mind-blowingly above the pack with Montee Ball in the backfield. 
Northwestern
| OSU Offense vs. Northwestern Defense | OSU Defense vs. Northwestern Offense |
| --- | --- |
| .61 vs. -.46 (Ohio State) | -.72 vs. -.53 (Ohio State) |
Some are saying that this Northwestern squad could be the Buckeyes' toughest game in 2013 until Michigan, but the Buckeyes should be favored on both offense and defense. Northwestern's two-QB offense was nonetheless below average, gaining 5.32 yards per attempt.
Ohio State's offense should also have the edge against the Wildcat defense, but the margin isn't as extreme in favor of the Buckeyes. 
Next week I will take a look at the second half of the season, but my initial impressions are that either the Buckeye offense wasn't as great as we might have thought (at least relative to other offenses in the country) or yards per play isn't a fantastic statistic. There is some evidence that YPP does make a lot of sense, but it's possible that yards per play allowed is more correlated with winning. Either way, I like the Buckeyes' chances in the first half of the season.