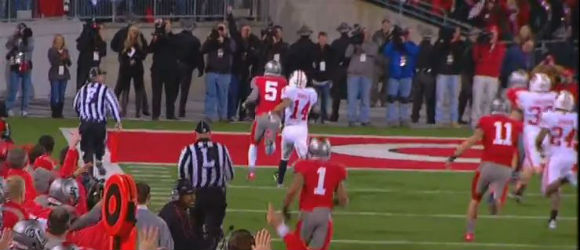 Two days ago, I found myself watching a tape-delayed soccer game from France's Ligue 1. Yeah, not only was I watching French soccer; I was watching French soccer that wasn't even live.
Realizing what was going on, I cursed the college football off-season for the umpteenth time and turned my thoughts toward the fall of 2013.
Recently, both ESPN/ABC and BTN released their slates of B1G night games for 2013. There are some outstanding games scheduled to start after dark this fall, and some not-so-good ones as well. We'll still watch them all, or as many as our schedules will allow, of course.
Looking at how good some of these games are and how others appear to be some kind of Gitmo torture device, my mind naturally started shuffling them around by quality. Of course, things can, and do, change when footballs are kicked, carried, and thrown, so what appears to be a good game now may not be as swell later. Likewise, those contests that appear to be stinkers now may actually turn out to be pretty good in the end.
Still, it can be helpful in determining your priorities this upcoming football season to rank these games from best to worst. You are busy and planning your schedule in advance is just good time management.
Let's do this countdown style:
18. Indiana State at Indiana — Aug. 29, 7 p.m. (BTN)
The Hoosiers open the season against an in-state FCS school that went 7-4 last season (5-3 in the Missouri Valley Conference). Kevin Wilson's Indiana team seems to be getting better each year. Still, the Hoosiers only slipped past the Sycamores, 24-17 last season.
The Sycamores will be under new direction, former UNLV head coach Mike Sanford. His resume consists of five years in Las Vegas, where he compiled a record of 16-43 (8-32 in the Mountain West Conference). This should be a pretty horrible game and there is nothing to be gained from its existence, except to give people in backwater Indiana towns something other than the weather  to discuss for a day or two.
17. UNLV at Minnesota — Aug. 29, 7 p.m. (BTN)
This matchup features two teams that combined to go 8-18 last season. The Gophers finished 6-7 in 2012, starting the year 4-1 and going 2-6 in B1G play. The Rebels finished 2-11 (2-6 in the Mountain West).
The teams met in 2012 in a three-overtime affair that Minnesota won 30-27 in Las Vegas. I'm not sure you can call the game a "thriller," considering that each team scored a single touchdown in regulation. Both squads scored more in overtime than in four quarters of regulation. There were five turnovers and 18 penalties in the game.
16. Southern Miss at Nebraska — Sept. 7, 6 p.m. (BTN)
The Eagles travel to Lincoln for the second consecutive year. Last year's game set the tone for Southern Mississippi's season. The Eagles were blasted 49-20 at Memorial Stadium, en route to a dreadful 0-12 year (0-8 in Conference USA).
Nebraska should contend for the Legends (or is it Leaders?) Division title in 2013, and this year the Huskers will have a game under their belts before meeting the Eagles. It could get ugly again.
15. W. Michigan at Michigan State — Aug. 30, 8 p.m. (BTN)
Sparty opens the season with a night game in East Lansing against a directional Mitten State squad. None of Michigan's directional schools were very good last season, with Western finishing 4-8 (2-6 in MAC play). This put the Broncos in between Central and Eastern, near the bottom of the Division basement.
The Broncos didn't face the Spartans last year, but they did go 0-2 against the B1G. Western Michigan fell by three scores at Illinois and lost 28-23 at Minnesota. Michigan State last faced Western in the 2010 opener, winning 38-14.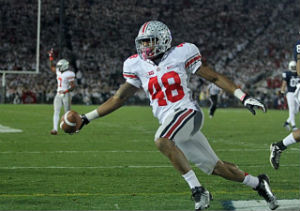 14. W. Michigan at Northwestern — Sept. 14, 9 p.m. (BTN)
A week after visiting Sparty, the Broncos head to Evanston to face the Wildcats. Northwestern is a favorite to challenge Nebraska and Michigan in the Legends (Leaders? Bah, I don't care. Why learn them now?) Division. The Cats won't be any easier for the MAC alsorans.
The Broncos have never played the Wildcats. Western Michigan has suffered nine straight losses to teams currently in the B1G, dating back to a 2008 home win over Illinois. You may recall that the Illini were coming off a Rose Bowl trip the previous season. /Zook'd
13. Wyoming at Nebraska —Aug. 31, 8 p.m. (BTN)
The Cornhuskers open their season against the Wyoming Cowboys, who went 4-8 in 2012 (3-5 in the Mountain West Conference). The teams have met six times in the all-time series, with Nebraska holding a decisive 6-0 advantage. The teams haven't even played a game with a single-digit margin of victory since 1968.
The most recent meeting was Nebraska's 38-14 win in Laramie in 2011. The Cowboys won't have to face Rex Burkhead this time, but I don't imagine the score line will change much from the last meeting.
12. Navy at Indiana — Sept. 7, 6 p.m. (BTN)
The Midshipmen bring their option attack to Bloomington for an early non-conference night game. Navy went 8-5 in 2012, with one of those wins coming at the Hoosiers' expense in a 31-30 comeback win in Annapolis. Indiana allowed 10 points in the game's final 5:30 to turn a 30-21 lead into a loss.
There might be a little intrigue in the rematch at Indiana, but Navy is 0-2 all-time in Bloomington. The Midshipmen lost at Indiana in back-to-back years in 1985 and 1986.
11. Washington at Illinois (at Soldier Field) — Sept. 14, 6 p.m. (BTN)
The 2013 season will be the second under Illini Head Coach Tim Beckman. Unless there's some improvement in Champaign, it could be his last. Illinois finished 2-10 in Beckman's first season, without winning a B1G contest (0-8). The Illini will host mid-table Pac-12 squad Washington at Soldier Field for a game under the lights.
The schools haven't met since 1972, but have gone head-to-head nine times. Washington holds a 5-4 edge, including wins in five of the last six meetings. Significantly for Illinois, the one Illini win in that span was the 1964 Rose Bowl. This game probably won't be like that one.
10. UCF at Penn State —Sept. 14, 6 p.m. (BTN)
Central Florida is a team you'll remember well from seeing them last season. The Citronauts Golden Knights went 10-4 overall and 7-1 in Conference USA, winning the East Division. UCF lost the conference championship game against Tulsa in overtime, then beat Ball State in the Beef O'Brady Bowl.
The Knights will take on Beef O'Brien's (sic, let's start this nickname) Nittany Lions in a mid-September matchup in Happy Valley. UCF lost two previous meetings (2002 and 2004) but those results were vacated after the Jerry Sandusky fallout. The Lions will be breaking in a new quarterback, while the Harry Potter character-sounding Blake Bortles (h/t @Sarbucks) returns for UCF. This could be a decent game with a lot riding on it for the Knights, which are bowl eligible once again because, NCAA.
9. Syracuse at Northwestern — Sept. 7, 6 p.m. (BTN)
Northwestern and Syracuse opened the 2012 season with one of the better non-conference games the B1G had to offer. The Wildcats scored the winning touchdown with 44 seconds remaining in the game.
This season, Northwestern won't have to deal with Ryan Nassib, who threw four touchdown passes in last year's contest. Nassib was drafted by the Giants just a few weeks ago. If Nassib was back, this game would be ranked higher.
The Sept. 7 meeting will snap a 5-5 tie in the all-time series. The Wildcats are 3-2 against the Orange in Evanston and should improve on that with a good squad returning under Pat Fitzgerald.
8. Wisconsin at Illinois — Oct. 19, 8 p.m. (BTN)
The first all-B1G night matchup of our countdown probably won't be one of the better games of the year, nor should it have much divisional race significance — although it may later, when the East/West split comes. Gary Andersen leads the Badgers this year after Woo Bert Sooie's departure to Arkansas. Bret Bielema's Badger bunch throttled Beckman's Illini last season, 31-14.
Maybe I've got this game a bit higher than it should be, but it will be interesting to see how the Badgers fare in their first road night game under Andersen. The Illini have lost seven of the last eight in this series, including three straight. Wisconsin is 36-37-1 in the all-time series and will look to even things up. There's a good chance Beckman will still be looking for his first B1G win that night and crazy things can happen after sundown.
7. Missouri at Indiana — Sept. 21, 8 p.m. (BTN)
The Hoosiers close the non-conference slate with their third night game in a month, facing a team that's s'posed to be SEC. The Tigers were 5-7 a year ago, including a 2-6 mark in their first season of Southeastern Conference football.
Indiana has played Missouri 10 times, holding a 6-2-2 mark in the all-time series. But the teams haven't met since a 20-10 win by the Hoosiers in Bloomington in 1992. This should be a pretty high scoring game, as well as a chance for the B1G to put one over on the SEC.
6. Notre Dame at Purdue — Sept. 14, 8 p.m. (ESPN/ABC)
Notre Dame rallied around its star linebacker's fake dead girlfriend in 2012 to reach the BCS National Championship Game against Alabama. The house of cards fell for Manti Te'o and the Irish in a major way in January at Miami's Sun Life Stadium. The Crimson Tide put the smack down on Notre Dame's dream season and perhaps exposed Te'o's flaws as a linebacker.
Along the way, Purdue played a surprisingly close game at Notre Dame Stadium, rallying from a 10-point deficit in the fourth quarter to tie the game at 17 with 2:12 to play. Then the Boilermakers remembered who they were, and Tommy Rees (!) came off the bench to engineer a winning drive. Kyle Brindza's field goal with seven seconds to play won it.
Purdue is just 26-56-2 in the all-time series against the Irish, losing each of the last five meetings. New Purdue coach Darrell Hazell will try to put a stop to that on Sept. 14.
5. Michigan at Penn State — Oct. 12, 5 p.m. (ESPN/ABC)
The Nitts and Wolverines at night may be a really fun one, particularly if Penn State's quarterback situation is both stable and viable by Oct. 12. This will be the first game in the series for both Bill O'Brien and Brady Hoke, as the teams haven't met since 2010. Michigan has lost three straight overall and the last two at Beaver Stadium, but those three games have since been vacated.
The Wolverines hold a 10-6 advantage in the all-time series officially, and 10-9 on the field in games that were played despite what the NCAA recognizes.
4. Penn State at Ohio State — Oct. 26, 8 p.m. (ESPN/ABC)
The Buckeyes finally make an appearance on our countdown. Circling back to that Penn State quarterback situation, this game could also be a big one, particularly in the Leaders (?) Division. These were the two best teams in the division last season, and probably the two best teams in the B1G. This series is 15-13 in favor of Ohio State (counting vacated game results on both sides).
You'll recall last year's fun evening tilt in University Park. Matt McGloin won't be around to throw touchdowns to Ryan Shazier, but otherwise, this game could be a lot like the 2012 meeting. The Buckeyes have won three of the last four and five of the last seven in the series.
3. Notre Dame at Michigan — Sept. 7, 8 p.m. (ESPN/ABC)
While you may be rooting for the meteor during this annual non-conference rivalry game, these two teams generally manage to generate some viewing entertainment, even though sometimes the excitement boils down to turnovers and jump balls.
Michigan is 23-16-1 in the all-time series, and has won five of the last seven meetings. The Wolverines have won six of the last seven meetings at home. Denard Robinson won't be throwing interceptions to Te'o (or his teammates), as both players have taken their skills to the NFL, with one of them changing positions to do so.
2. Ohio State at Northwestern — Oct. 5, 8 p.m. (ESPN/ABC)
Some might even place this at No. 1. After all, it could be a preview of the B1G championship game. The Buckeyes are 59-14-1 in the series, winning the last four meetings against the Wildcats and 28 of the last 29. Still, this will be the best Northwestern squad Ohio State has faced in many years. It will also be the first Northwestern team Ohio State has played since 2008 — a 45-10 road win in Evanston.
The Buckeyes will be coming off a home game against Wisconsin. If Ohio State secures an emotional win in that game, there could be a potential letdown the following week. The Scarlet & Gray will have to be sharper than usual to come out of Evanston with a win in 2013. The Wildcats are coming off a 10-win season and a 34-20 win over the SEC's Mississippi State in the Taxslayer.com Gator Bowl. This might be Ohio State's toughest regular-season game.
1. Wisconsin at Ohio State — Sept. 28, 8 p.m. (ESPN/ABC)
My pick for the top night game features Leaders (probably) Division rivals Ohio State and Wisconsin. These two schools and their fans have developed a pretty healthy hate in recent years, fueled by back-and-forth results in both football and men's basketball. That kind of hate makes things like this even sweeter, and you didn't even need to click the link to know what that was.
The Buckeyes are 55-18-5 in the all-time series, winning five of the last six meetings. That lone loss was a painful one in 2010, but it would have been vacated anyway, so, whatevs. Ohio State has taken the last three meetings in Columbus.
The Buckeyes will also try to keep their perfect Eat Too Brutus record alive, and improve to 2-0 over the Badgers on E2B Day.