It's Wednesday, April 24, 2013, and Ohio State is halfway through their quest to fill up what will most assuredly end up as a third straight top-five class for Urban Meyer and his Buckeyes.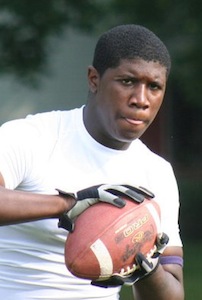 That quest has seen the Buckeye coaches flying from coast to coast, attempting to "plant flags" in all corners of the country with the hopes of removing the SEC's firm grip on the national championship trophy.
One trip this week was to North Potomac, Maryland's Quince Orchard High School, the home of 6-foot-2, 260-pound sophomore defensive lineman Adam McLean. McLean has the size and speed to be a high-level national recruit by the time his high school career is finished, and has already garnered offers from powerhouse programs Florida State and Nebraska.
"Coach (Luke) Fickell by came to visit me, and they told my coach that they really like me," McLean said. "It was the first time I'd heard from them. They say they want me, so maybe the offer comes soon, but it hasn't come yet."
Because of NCAA rules, the Buckeyes were not able to talk to the sophomore star directly, but they were pretty clear in the message that they were relaying.
"(Coach Fickell) told my coach that they heard about me and they had checked out my tape out and loved it, and wanted to meet me," he said. "He said that they will definitely be in touch and that they would like to come down and visit me again in the spring."
McLean is one of many very exciting prospects from around the state of Maryland, and made sure that he was a part of the "Next Level Nation" combine in Frederick, Maryland. The "NLN" is one of the finest football prep programs on the East Coast and makes an annual trip to Columbus for Ohio State's summer camps. McLean stood out among the prospects in attendance. 
"I was named the #1 ranked defensive lineman at the combine and Ranked #3 overall best performance," McLean continued. "My first-step quickness and power, combined with my aggressiveness off the ball and hand techniques, are my strengths. I think have really good awareness, things slow down when I play," he added while pondering what still needs work in his game. "I need to work on constantly bettering my awareness on the field, and overall working the talents I already do have every single day."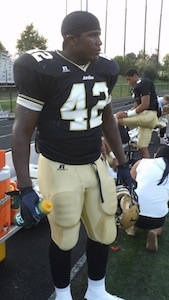 Early interest and offers from top programs has McLean pondering his future a bit more than he anticipated at this stage of his high school career, but he's not surprised by the attention. He's confident in his game and looks forward to the recruiting process picking up even more.
"I have a lot of people that keep me focused and on the right path and don't let me get sucked in to all the recruitment hype," McLean said. "I'm humble about the process and work everyday in the classroom, on the field and in the weight room just like I would be if no one was recruiting me. I feel like (the attention) is a blessing from God that this is happening to me and I appreciate it a lot. I'm just trying to stay focused on what's at hand and that's finishing out this year with a high GPA and training hard for the up-and-coming season."
Some schools, though, will always be at or near the top of the list thanks to their long-standing tradition and history of success.
"Ohio State is in the top 10 schools I like, I know that," he said. "They will always be up there, no matter where my recruitment goes. I've always watched OSU and I feel like they have traditions and beliefs that I value. From what I've seen, their guys work hard and Coach Meyer is really good with getting to know you as a person and the guys there really enjoy the fans and the entire Ohio State community."
With so much time left in the recruiting process, McLean is in no hurry. He wants to see what opportunities come his way and make sure that he gives each school who offers him a chance to state their case.
"I want to let the entire process play out," he added. "Maybe I'll decide at an All-Star game my senior year if I get invited to one. There's no reason to hurry. I'm just going to take things one step at a time.
With two-plus years until signing day for this sophomore rising star, he's on the right track. 
You can check out some of his highlights here.