The last seven days have not been particularly kind to the Ohio State recruiting efforts at wide receiver as three Buckeye targets – Thaddeus Snodgrass, Drake Harris and Dallis Todd – all made their college decisions, and none of them chose the Scarlet and Gray.
The Buckeye recruiting efforts, however, are most certainly not going to be derailed by the choice of a few players, no matter how good they may be. Rather, the relentless coaching staff will press on and move on to the next viable – and more importantly, qualified – candidate.
One of those candidates is Scottsdale (Ariz.) Desert Mountain's Mark Andrews, a 6-foot-6, 225-pound wideout that burst onto the national recruiting scene in the last year, and he made the trek from the Valley of the Sun to Columbus today.
Despite playing football only for two years, Andrews has made himself one of the most sought-after wide receiver targets in the country with his big frame, soft hands and sneaky speed. He's got the size to potentially play tight end or a hybrid role, but will be difficult for most linebackers to cover downfield. Where he plays is not really as important to him as what he does – and the Buckeyes stressed that point to him today. He is the type of player who can disrupt defenses from multiple spots. All this new attention is a bit startling to the junior, but he's taking it in stride.
"To be regarded so highly by many people is very humbling, and I am not taking it for granted. I'm always working on my craft and learning so many nuances of the game that get me a step ahead," Andrews said. "Being new (to the game) gives me a lot motivation to learn everything and work that much harder. Coach Meyer and I talked a lot about what it takes to win and what's expected at the Ohio State University.
"He sees me fitting a role in their offense where I would really be able to move around and provide mismatches for the defense, whether it be against linebackers, corners or safeties."
With scholarship offers from Ohio State, Michigan and Notre Dame, Andrews had plenty of reason to make the trip east and is happy that he finally found the time to do, because the Buckeyes have been trying to get him on campus for a while. 
"I've always been interested in Ohio State, and I've talked to coach Herman about it for quite a while," he said. "I just recently found some time in my schedule that I could make this trip possible."
Now that he was able to make it campus, Andrews says that Ohio State was a bit more than he expected, and he expected a bit.
"I started Thursday morning off with a tour, seeing all the Heisman trophies and national championship trophies," he continued. "Then I got to see the facilities and hang out with Coach (Tom) Herman and Coach (wide receivers coach Zach) Smith. The weight room and all the systems they have in place for the athletes were amazing.
"After (the facilities tour) I went around campus and met with the president of the university, Dr. Gee. He was a great guy and I had an amazing talk with him. I got to talk to their academic support staff as well, and see all their majors and the whole academic side was very impressive," he added. "Overall I had an amazing experience and Ohio State far exceeded any of my expectations coming in."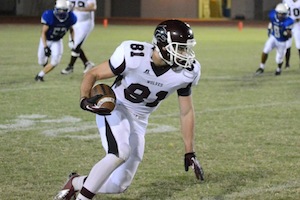 As glowing a review as he gives, Andrews is keenly aware that this is just the beginning of his recruiting journey – and really, his football career – and he intends to see the recruiting process through for a while, but he's also very aware of what he's looking for in a school choice.
"These trips (Ohio State, Michigan and Notre Dame) are going to really help me narrow it down, but I don't have a top list right now," Andrews explained. "But I know what's important to me: the coaches I interact with and how sincere they are and my relationship with them, the academic opportunities and where they see me in the offense.
"It's about where I feel comfortable and see myself living for four years. I feel Coach Herman is a real genuine guy and coach and we talk a decent amount and that helps. Overall, he's a guy I could see myself playing for and that's huge."
Andrews departs Ohio State and heads north to check out the Sun and Blue, but he does so armed with a much greater appreciation and knowledge of what Ohio State is about, something that he could not have gained without this trip to the Midwest.
"Before this trip I had known really only about most the coaching staff and a lot about Coach Meyer," he said. "He's very prestigious and has been a lot of places and been very successful, but I didn't know much else. Now I know about the entire school and that they are really trying to get a consistent passing game in place to go along with their running game.
"They could definitely be one of my official visits this fall. I really loved it and I am definitely interested."