The transition from winter to spring is a catalyst for optimism on many levels. The weather that keeps us predominantly indoors begins to improve, paving the way for things like weekend tee times, drinks on patios, sundress season, and of course, an Ohio State spring game that gives us just enough to keep talking about football until pads start to pop in August.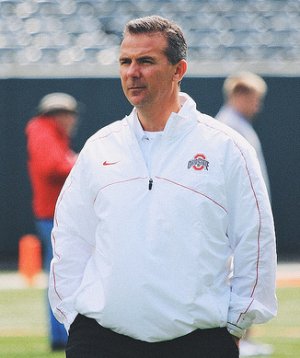 This year, I didn't feel as much hype surrounding spring drills. The newness of Urban has had some time to settle, the basketball team's run gave us something else to pay attention to and staging the scrimmage in Cincy seemed to calm the buzz inside the C-Bus outerbelt just a bit. 
But then the game kicked off and we remembered just how lucky we are to pull for an elite program oozing with talent. 
When the gun sounded, the Scarlet team beat the Gray to the tune of 31-14 but the score is meaningless unless you're a member of the Gray team and you aren't particularly a fan of gardening. 
For the rest of us, the scrimmage provided an exciting glimpse of what's to come this fall. With that, I give you the first Five Things of the 2013 season, one that could prove even more special than what we got in 2012. 
BRAX ON BRAX ON BRAX
Sporting a no-contact jersey that makes him half the player he truly is, Braxton Miller still showed why he's a front-runner for the Heisman.  
While completing 64% of your passes is nothing to sneeze at, that number was hampered by Miller's adjustment to the scrimmage rules in that he often scrambled only to buy more time to throw and potentially force something or create a jump ball situation, just because he couldn't be as effective as usual in chewing up rushing yards off designed pass plays under the two-hand touch rule. His stat line was solid as he completed 16 of 25 passes for 217 yards and a pair of scores along with another touchdown on the ground, but those numbers could've been outrageous if defenders were forced to tackle him.  
As a result, he threw at least four passes that he otherwise would've tucked and ran – for huge yardage. Also, to his credit, he had three throwaways after going through his progressions only to discover nobody was open. 
I'm no Whitfield but Miller's feet looked calm in the pocket, his general mechanics looked fluid and he simply looked more comfortable in his knowledge of the offense and what he wanted to do with the ball. I thought his accuracy, especially on timing or catch-and-run type routes was strong. He hit receivers in the numbers on a couple crossing routes, allowing them to maintain full momentum and outrun linebackers to the sidelines. He looked sharp in the short passing game, leading running backs and receivers toward the hole created in the defense. 
Beyond the physical, he seemed to be more vocal than last year. I saw him in the ear of receivers after plays and on the sidelines, he did a lot of talking to his line. As great a player as he is, he hasn't been touted as an amazing leader by Urban but this looks like the year in which Miller takes that part of his game to the next level. 
Throw in his increased mental maturity with his freakish skills and I'm ready to proclaim him as the favorite to capture the Stiff Arm Trophy. 
THE GLARING WEAKNESS
While it was fun watching Noah Spence and Adolphus Washington put on an impressive pass-rushing display, allaying some concerns about how the defensive line will perform this season with the departures of John Simon, Johnathan Hankins, Garrett Goebel and Nathan Williams, it was also scary to see how big of a hole the team has at right tackle.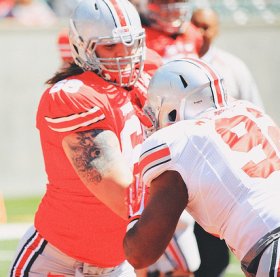 It's been a hot topic all spring so it isn't exactly new news, but at times, it was tough to watch Taylor Decker and Chase Farris try to fill Reid Fragel's shoes. 
I guess I should first say that I'm confident one of these guys will improve tremendously from April to September – and beyond – but if they don't, Braxton will need a timer in his head as he scans the field on designed passing plays. 
With both Decker and Farris needing snaps, Urban opted to play them both with Decker seeing a lot of time at left tackle in place of Jack Mewhort while Farris took most of his snaps at right tackle. 
Neither player had a good day but I thought Decker was significantly better than Farris especially in the first half. Farris was beaten on the same speed rush off the edge multiple times and never really seemed to make any adjustments. At this point, I expect Decker to earn the starting job but improvement is mandatory or else we might see another midseason position shakeup like last season when Zach Boren moved from fullback to linebacker to help a thin and ineffective corps. 
It's obviously a long shot but if one of those two doesn't turn the corner, I could see someone like Andrew Norwell moving to the outside and shifting Decker to guard, where he would be bookended by proven guys in Mewhort and Corey Linsley. 
Bottom line, Ohio State will have to get better at right tackle in order to run the table. 
FIELDS MAKING HIS MOVE
I found it interesting that Urban went out of his way to praise Chris Fields, even proclaiming him a starter at one of the receiver spots.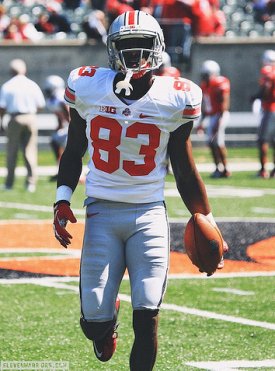 Fields, a senior out of Painesville, was solid but far from spectacular yesterday, hauling in four passes for 29 yards and a score. That said, he's had a good spring overall but I was still a little surprised at Urban's comments. 
He's got the edge on experience and he must be showing a better ability to effectively block downfield because I don't see him as a playmaker on par with a guy like Michael Thomas or even maybe Evan Spencer.
As a result, I wonder if Urban isn't just playing one of his textbook psychological games, building the confidence of Fields while sending a message to Thomas and Spencer that more focus on the little things is required. Looking at their respective bodies of work, I'd have Thomas ahead of Fields in the rotation. 
Thomas looked good yesterday with seven grabs for 79 yards and a score and again showed a knack for racking up yards after the catch, something I haven't seem much of from Fields. Further, I think it's evident Thomas has the higher ceiling and will very likely be an all-conference performer down the line.  
Just something to keep an eye on because with Thomas, Spencer and the host of pass catchers arriving in Columbus come fall, I have a hard time believing Fields will start all season long or be a top-three receiver in catches and yards. I'm not knocking of the kid – he's paid his dues and made some timely plays in the past. I just don't know that I see him as one of Ohio State's best receivers as the season begins to unfold. 
ELI'S COMING
It might be hard for the true freshman from New Jersey to earn snaps in the secondary this season but Eli Apple is going to be a player for the Bullets sometime down the line. 
The early enrollee made his share of mistakes but what was fun to watch was how he responded each time. 
He missed a tackle on the second play of the Gray squad's second possession, then responded with solid coverage to force an incompletion on the next snap.
2013 Ohio State Spring Game
A few plays later, he got beat by Thomas, allowing to break free for a 31-yard gain but four plays later, he broke up a pass in the end zone, showing excellent coverage and ball skills. 
Early in the 2nd half, he showed great speed as he came on a corner blitz, blasting Cardale Jones and causing a fumble. 
Again matched up with Thomas, this time on Gray's third possession of the 2nd half, Apple made another great play in the end zone to thwart a touchdown. 
Listed at 6'1", 188 lbs, you have to like this kid's size and of all the young guys, he caught my eye the most. Knowing he's also a first-class guy, Ohio State might have a future star on their hands in Eli Apple. 
AN EMBARRASSMENT OF RICHES
Ohio State didn't even dress their top two tailbacks and had their main hybrid guy do nothing but field punts; it is abundantly clear this squad is loaded with guys who can do damage out of the backfield.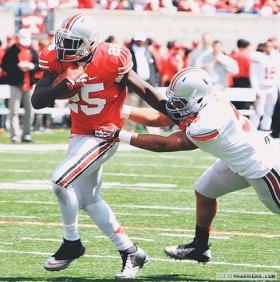 Specifically, Bri'onte Dunn was incredibly impressive. Knowing it will be difficult to earn carries with Carlos Hyde and seemingly Rod Smith ahead of him in the tailback rotation, at least at this point, Dunn isn't settling for third string. 
Clearly, nobody is taking Hyde's spot but I do think Dunn can earn some time and I liked how he was used yesterday. The kid has a great set of hands and he can be a legitimate weapon as a receiver out of the backfield. Yesterday, Dunn caught five passes for 61 yards and scared the hell of defenders in the secondary. 
At 6'0", 220 lbs, he was able to catch multiple balls and get a full head of steam upon reaching the second level of the defense, where guys were seemingly doing all they could to avoid a head-on collision. 
Hopefully, if Dunn remains parked at third string, Meyer can give him enough touches to keep him engaged because he's another guy that could be a heavy lifter for the offense in the coming years.