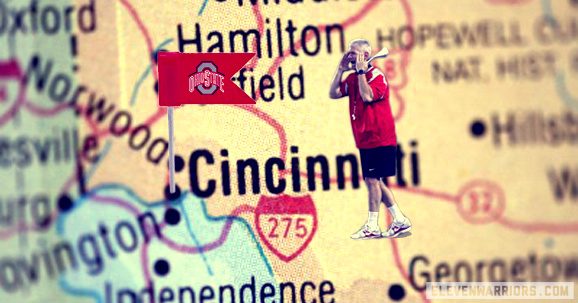 The state of Ohio is the seventh most populous state in the nation, filled with more than 11.5 million people. And it seems like every last one of them is a Buckeye fan. The state covers 44,825 square miles, but it's those 80 square miles in the southwest corner of the state and its nearly 300,000 citizens where the chasm exists.
You can look far and wide in every area of the state and you'll quickly realize Buckeye Nation is flourishing at every turn, even in Toledo, where Ann Arbor is less than an hour's drive. Cincinnati, though, has always been the outcast when it comes to Ohio State fandom. And as a result, it hasn't always been an automatic victory for the Buckeyes when a Cincinnati-area kid was set to announce his college decision.
The Universities of Cincinnati, Louisville and Kentucky all have large footprints in Cincinnati, as well as Notre Dame due to the high concentration of Catholics residing in the Queen City.
Jordan Hicks (Texas), Ben Martin (Tennessee), Spencer Ware (LSU) and Dwayne Stanford (Oregon) are recent examples of Cincinnati kids who were recruited heavily by Ohio State but opted to go elsewhere. Countless Moeller, St. Xavier and Elder players have spurned the Buckeyes too, choosing instead to attend Notre Dame.
"There does seem to be some sort of disconnect," Ohio State cornerbacks coach Kerry Coombs, a longtime high school coach at powerhouse Cincinnati Colerain, said. "Coach Meyer is working really hard to bridge whatever gap there might be."
In the past there have been high-profile Buckeyes from Cincinnati – Carlos Snow, Greg Frey and DeVier Posey to name a few – but the list is far smaller than the state's other major metro areas. And unlike Cleveland, Akron or Youngstown, where a scholarship offer can signal a slam dunk for a commitment, coaches must grind all the way to signing day when recruiting Cincinnati prospects.
In recent years, it's gotten even more difficult with UC racking up 10-win seasons and BCS bowl bids. The switch from Conference USA to the Big East was a boon for Cincinnati football. Now the school is pining to join the ACC.
Four years ago the unthinkable happened. The Bearcats went undefeated during the regular season, while Ohio State lost twice. Brian Kelly left Cincinnati to become the head coach at Notre Dame, strengthening the Fighting Irish's grip on Greater Cincinnati recruits.
In his first two recruiting classes, Meyer has bagged Adolphus Washington and Jalin Marshall, while Sam Hubbard committed for the class of 2014. Washington and Andrew Norwell are both Cincinnatians that start for the Buckeyes.
"I wasn't here in years past, but I have heard a lot of, 'Well, we haven't done well in Cincinnati,"' Meyer said. "I think we're doing great. I think we're killing it. Adolphus Washington could potentially be a great player at Ohio State. Recently we've done good down there.
"There's really good players, really good high school coaches. Coach Coombs has helped and Tim Hinton obviously knows Cincinnati since he coached at UC for a long time. I went there. So I think we're doing great. I love Cincinnati."
Meyer, a 1986 graduate of UC, has embraced the spring game roadshow, calling it a "great idea" and encouraging fans to fill Paul Brown Stadium. Coombs, a former assistant at UC, said he imagines Cincinnati's coaches are uncomfortable with the idea of Ohio State playing a few miles from campus.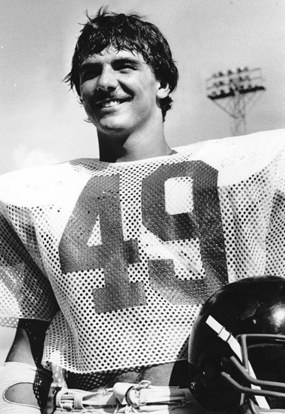 But newly hired head coach Tommy Tuberville doesn't seem to mind. And if he does, he has an odd way of showing it. 
"I'm going to come over and watch, see what they've got," he said. "We play them (in 2014). It'll be good for the city, bring a lot of people in. It doesn't bother me."
Ohio State is anxious to showcase the game to recruits, even if Ohio Stadium isn't the venue. The unique event figures to be a hit with high schoolers who favor experiencing new places.
"Anytime we can put our product in front of people, that's going to be a plus for us," Coombs said. "For the entire city of Cincinnati, I think the people that come to the spring game are going to be really excited about that, and I think that any young player that saw that is going to want to be a part of it."
Meyer, playing host, will give his Buckeyes the full Cincinnati treatment, complete with a stop at the Reds Museum, Montgomery Inn, Skyline and Graeter's. There will also be a pregame speech from Bengals head coach Marvin Lewis.
"We're going to do it right," Meyer said about the 110-mile trip down I-71. From Cincinnati to Columbus, it feels more like 500 miles.
The Republic of Cincinnati, as it's sometimes referred to, or Cincitucky, has been indifferent toward Ohio State for decades. And the divide isn't just sports-related; it extends to the rest of the state. Cincinnatians rarely venture north to Dayton, let alone Columbus. The culture in Cincinnati is Southern, whereas Columbus is Midwestern to its core.
"It is true that when you live in Cincinnati, you kind of become insulated from the rest of the world for whatever reason," said Coombs, who refers to Cincinnati as "my town."
"It's like we're our own little cult. I'd never been (in Columbus) for any length of a time," he said. "Now I'm living here, and I still couldn't tell you where anything is.
"Cincinnati is different. It is unique. That's OK. Cincinnati should celebrate who they are. I do as a Cincinnatian. But I'm also an Ohioan, and I think that gap is the thing we're continuing to bridge and working really hard to bridge. That's what I think is really exciting about this deal on Saturday."
Ohio State has one of the largest alumni bases in the world. Not surprisingly, more than 100,000 are from Central Ohio and only 19,000 hail from the southwest part of the state. In comparison, Northeast Ohio, where Cleveland is located, has more than twice that number of alumni.
There are currently more academic staff members at Ohio State than students from Southwestern Ohio. The Greater Cincinnati area only makes up seven percent of the university's enrollment.
"If you grow up on the west side of Cincinnati, your life pretty much begins and ends there," Coombs said. "You marry somebody from the west side of Cincinnati, your children go to school on the west side of Cincinnati. In my life, I went to a high school and then I came back and worked at that high school, and I married my wife, who went to that high school, and our children went to that high school. We all grew up in a five-mile radius. That's true of a large part of the population down there."
The rift between Ohio State and Cincinnati is most commonly linked to the basketball court. In the early 1960s, the Buckeyes and Bearcats were at the height of their powers, playing in two straight championship games – both won by Cincinnati.
Ohio State has been eager to play UC in football, though the Buckeyes won't play the Bearcats in the bandbox that is known as Nippert Stadium. The dynamic in basketball is different. It's a zero-sum game for Ohio State, so it chooses not to play the likes of Cincinnati, Xavier and Dayton. Therein lies part of the rub with Cincinnati natives and Bearcat supporters.
Current members of the Buckeye football team who hail from Cincinnati have differing opinions on the perceived lukewarm response to Ohio State.
Redshirt freshman linebacker Joe Burger didn't pay much attention to the Buckeyes, opting instead to attend Notre Dame games as a kid. Both his dad and brother played for the Irish, but one visit to Ohio State was all he needed to be sold.
Kevin Niehoff, a redshirt freshman safety from Mason, some 30 miles north of downtown Cincinnati, had a different perception of the Buckeyes, as did his friends.
"There were a ton of Ohio State fans at my school," he said. "There's a ton of Ohio State fans all over."
The same held true for sophomore defensive end Adolphus Washington.
"To me, (Cincinnati) was an Ohio State town because I grew up a Buckeye fan."
"I would fight you for the Buckeyes. That was who I was, and I'm proud to tell you that."
One major difference from past decades, Ohio State was an annual national title contender when they were growing up. The exposure, even living in Cincinnati, was too much to ignore.
In the 1970s, when Woody Hayes and Archie Griffin were busy leading the Buckeyes to a 3-0-1 record against Michigan and four consecutive Rose Bowls, a young boy grew smitten with the big state school's football program.
"I went to my backyard on Saturday afternoons after the noon kickoff and watched the game on ABC," Coombs said. "Then I went into my backyard and replayed every down of that game in the leaves. Woody Hayes was my hero. The Ohio State Buckeyes were my team. I would fight you for the Buckeyes. That was who I was, and I'm proud to tell you that.
"I grew up an intense, intense fan. I can tell you about missed field goals and made field goals and stops on fourth downs."
Now Coombs will be able to tell stories about when the Ohio State football team came to Cincinnati to extend Buckeye Nation's borders 80 more miles.