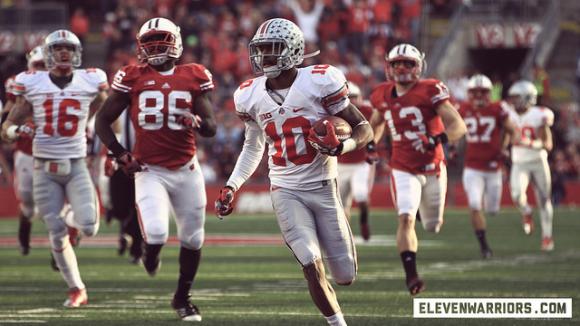 Criticism was mounting. Ohio State's high-powered offense resembled nothing close to Urban Meyer's past. The quarterback was a work in progress and the running backs lacked the shiftiness Meyer was accustomed to. But most glaring was the play at wide receiver. The elusiveness and burst of speed was non-existent.
"In the spring, with (Meyer) on me a lot, I couldn't stand it," Devin Smith said. "I knew I had to make a change and I worked very hard in the summer working on my speed and my strength, and getting the timing down. It carried over to camp and we had a great camp."
It also carried over into the regular season. Maybe not to the extent Meyer would have liked, but also not a "clown show."
One year after the leading receiver had 14 catches, the Buckeyes had three pass-catchers eclipse that mark and another come two shy. Five of the top six wide receivers and tight ends return this season, including Philly Brown (60 catches, 669 yards, three touchdowns) and Smith (30 catches, 618 yards, six touchdowns).
"I didn't enjoy being around noncompetitive guys," Meyer said.
His never-ending search for playmakers contained a gold rush in February, when he signed a smorgasbord of talent. But he and offensive coordinator Tom Herman admitted that the focus was on the current roster, not players still in high school that don't even arrive on campus until the summer months.
The rust is still being knocked off – Meyer called a scrimmage last Saturday "awful" – but several go-to guys have emerged. 
"I think Philly Brown has had a great spring," Meyer said. "Devin is still a little up and down, but he's doing pretty good. We have two good tight ends. Vannett and Heuerman are doing a really good job.
"We're a lot better than we were last year at this time. I couldn't tell you, first of all, probably who they were a year ago, because we were not very good."
Smith continued his big-play ability in 2012, catching game-winning touchdowns against Cal and Michigan State. That promise began with a play that will be remembered for a lifetime, a dramatic final-minute 40-yard catch in the end zone against Wisconsin in an otherwise forgettable 2011 season.
"You're not going to find a more talented guy than Devin Smith," said wide receivers coach Zach Smith. "He's got to take his game to the next level, and I've got to take his game to the next level. That's what we're expecting out of him. You can see the growth, but he's not where we expect him."
It's no secret that Meyer is a master motivator, and Devin Smith confessed that the coach's harsh words last spring spurred growth and production from him and his wide receiver mates.
"It did get to us," he said. "Every single day after practice we were, like, 'Man, Urban is on us.'"
Evan Spencer concurred, saying he took it as a challenge and "loved it."
"The fact he expects so much of us, deep down, makes us realize we need to get out there and do our thing," Spencer said. "I'm glad to see that as a unit we've been taking on the challenge positively."
From "non-functional" to "much improved," it's been quite a ride for the receivers room. Still, they only ranked 101st in passing offense a season ago, gaining 181.5 yards per game through the air. That's not exactly the stuff of champions, undefeated season or not.
"We've gotten a lot better at everything," Devin Smith said. "But there's still room for improvement. Everyone has their role and knows what they need to do to get better."
---
APRIL FOOLS: Division I football is serious business. One look at spreadsheets or football-specific facilities reinforces that. It's also evident when you glance at an Ohio State player's schedule. It may not be considered a full-time job, but make no mistake about it, downtime is virtually non-existent.
But that doesn't mean there isn't time for jokes, as tight ends coach Tim Hinton discovered early Monday morning.
In another nod to the magnitude of the job, Hinton, like most coaches, arrives to his office before the sun rises. Strength coach Mickey Marotti and coordinator of player development Ryan Stamper greeted him with bad news – one of his position players, tight end Jeff Heuerman, had run afoul with the law over the weekend.
As Heuerman explained it, his brother, Mike, a tight end at Notre Dame, was in Columbus on Easter break. Hinton was told the two Heuermans discovered their car being broken into.
"The way we're trained, if someone's robbing your car, it's a bad day for them," Heuerman quipped.
At this point, Hinton was left wide-eyed. Then Marotti and Stamper informed him that Columbus police officers would be arriving at the Woody Hayes Athletic Center later that day to arrest Heuerman because he and his brother had left the would-be robbers bloodied in the middle of High Street.
"So Coach Hinton starts blowing up my phone," Heuerman said.
When the tight end reached the facility, Heuerman said Hinton was on the verge of having a heart attack. Laughing on the inside, Heuerman couldn't resist making it even worse on his coach.
"It gets worse," he told him.
"You've got to be kidding me," Hinton responded.
"It's April Fools' Day," Heuerman exclaimed.
And that is how players give their coaches gray hair.
"He almost died," Hinton said. "Coach Meyer almost had to kick him off the team because I almost killed him.
"Needless to say, he didn't play in the scrimmage (on Tuesday)."
---
Notes
During practice, Thomas said he notices something off in Braxton every once in a while and will remind him about a pointer Whitfield gave him.
Last season was a major learning experience, Thomas said. The games and weeks came at him way too fast. He said it just wouldn't slow down.
Now, Thomas knows the playbook and said he can break down plays pre- and post-snap.
During the spring, Thomas has gone against Bradley Roby and Christian Bryant, which has helped his skillset.
Zach Smith said Thomas' 12-catch spring game and ensuing 3-catch season has left the sophomore motivated. The spring game inflated him, Smith said.
Devin Smith and Evan Spencer each said the workouts the wide receivers did with Braxton during the offseason more than made up for missed bowl practices.
Smith said spring ball has gone well for the wideouts and quarterbacks. He said it's a night and day difference from last spring when Urban ridiculed the units.
Being the go-to guy is one of Smith's goals. He said he wants fans to remember him when they leave the stadium each Saturday.
With one year under his belt, Smith said he's much more confident in the offensive system.
Smith said Braxton has improved on reading defenses better. Smith said that was the QB's No. 1 goal.
Tim Hinton said Buckeyes will still actively recruit at spring game, even though it's in Cincinnati. Recruits will have unofficial visits.
Evan Spencer said the offseason was all about work ethic. He said just improving on basic fundamentals has made the offense better.
Practices are much more crisp, according to Spencer. Last year they only had a few weeks to learn systems, making everything ugly, he said.
From November to April, Spencer said Braxton's improvements have been immense. He said the whole unit has a lot of confidence in each other because of the level of knowledge in the system.
Zach Smith said Philly Brown is capable of turning his 60-catch season into nationally renowned numbers. He said Philly is developing into that kind of threat.
The biggest improvement Philly needs is to be dynamic once he touches the ball – break tackles, elude defenders, etc. – Smith said.
Zach Smith said Devin Smith is light years ahead of where he was last season.
Jalin Marshall and the rest of the playmaking offense open up the offense and make it much more dynamic, according to Zach Smith.
Jeff Heuerman said it's great that the Buckeyes have him and Nick Vannett. Teams need more than just one good TE now.
Heuerman was recruited to Ohio State when Buckeyes ran pro-style offense. He said he enjoys the spread a lot more. "It's fun," he said.