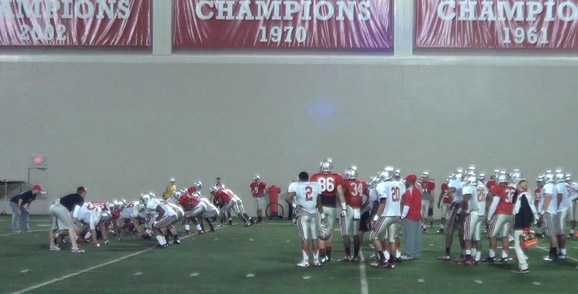 Spring practice is never a time for perfection. Coaches are always looking for the best blocks, a great throwing motion from the quarterback, crisp route running and form tackles. But they're also realistic. March and April are used for fine-tuning and housecleaning.
And staying healthy.
The Buckeyes narrowly averted disaster in that category during Tuesday's practice.
Braxton Miller, Ohio State's do-everything quarterback, took a vicious hit from defensive end Noah Spence on an option toss to running back Rod Smith. Miller – wearing a black no-contact jersey – remained on the turf for several minutes, flat on his back. When he finally got to his feet, he wasn't interested in keeping the peace.
Miller walked straight to the culprit and a skirmish broke out on the defensive sideline. Words and shoves were exchanged. Mike Vrabel and a mob of players broke up the brief brouhaha. Urban Meyer said there wasn't intent in the hit.   
"It's football," the head coach said. "We ran option to the left and he got dinged. He's fine."
Meyer said Miller already has sore ribs from a hit he suffered during a scrimmage on Saturday. As for the fire inside Miller, Meyer is A-OK with it. 
"I like quarterbacks that want to go get in a street fight and get after it," he said. "That's not probably the time to do it, but he's a competitor. 
"Braxton is a competitor. I guess that's better than the opposite, just curl up and say, 'Why did he hit me?' So he's a tough kid."
Meyer is among the head coaches that are always striving for everything to go as designed. That's why he was so displeased during much of the spring a year ago.
The Buckeyes had taken a step back in performance and were coming off a horrendous losing season. With a new coaching staff and offensive system, it took weeks to get the offensive line, quarterback, running backs and wide receivers on the same page. Meyer uttered his now infamous "clown show" line during that period of transition.
One year and 12 wins later, his tune has changed. Through nine practices, Meyer sees a team that's competitive in most, if not all, areas of the game. His baby, though, is the offense, where nine starters return and a bevy of backups are pining for playing time.
"Spring practice you develop scheme but more importantly develop guys," Meyer said. "You've got to get something back. They seem like good kids, but at some point you've got to give back to the program and play. So we're force-feeding some guys. There are guys who have ability, but for 100 different reasons, they haven't played."
Running back is the most noteworthy position where depth has become a non-issue. Carlos Hyde and his 1,021 total yards and 17 touchdowns ended any discussion of an open competition for the starting job. But behind him is an influx of talent just waiting to get on the field.
Rod Smith, Bri'onte Dunn and Warren Ball have all staked a claim in the running backs sweepstakes. Smith's ball security problems look like an issue of the past, Dunn has been running through and around the defense and Ball, a redshirt freshman who missed last season with a foot injury, is 100 percent healthy and flashing the skills that made him a highly coveted recruit.
"I couldn't tell you who our backup is right now," Meyer said. "They're battling pretty good."
And the list doesn't include Braxton Miller, who is quite mobile on his legs, and incoming freshmen not already enrolled. The Buckeyes possessed the 10th-best rushing attack in the country last season, averaging more than 242 yards per game on the ground while scoring 37 touchdowns.
With an overflowing stable of horses and four of five offensive linemen returning, there's no reason why the run game shouldn't improve tenfold. Jack Mewhort, Andrew Norwell, Corey Linsley and Marcus Hall proved vital during Ohio State's 12-0 season.
Listening to Meyer, it sounds like more of the same is coming in 2013, and the rest of the Big Ten should be wary.
"I like 80 percent of our offensive line starters," he said. "I still don't know who the fifth guy is. Those four (returning starters) are tough guys. They've picked up right where they left off last year."
Concern regarding the fifth starter should be minimal. Taylor Decker nearly took the job from Reid Fragel last fall, and Fragel ended up being the Buckeyes' top lineman. Battling Decker is Chase Farris, who came to Ohio State as a defensive lineman, and Pat Elflein.
Meyer said Decker is ahead of Fragel's pace, but it was during the fall when Fragel improved by leaps and bounds.
It isn't all roses and cherry blossoms for the Buckeyes, though. The defense remains the biggest concern after seven starters departed, including instrumental leaders like John Simon, Garrett Goebel and Zach Boren.
"I keep looking for Goebel and Simon," Meyer said. "They're getting better, though. Adolphus Washington and Noah Spence, you just wish there was one or two older guys in there to help them out."
Michael Bennett, a junior, is the most experienced lineman, while fellow junior Ryan Shaizer is the most senior member of the linebacker corps. The only seniors on the defense are in the secondary – C.J. Barnett, Christian Bryant and Corey "Pittsburgh" Brown.
Whether it's Meyer or Thad Matta, invariably, the talk of senior leadership becomes a topic. In an era where both coaches want blue-chip prospects to make an immediate impact, there's still something to be said about having a veteran presence on the field and in the locker room.
"We need leaders," Meyer said.
---
Notes
With Braxton getting dinged, it brings to mind the backup QBs. Kenny Guiton led the Purdue comeback last season, but he's still a major drop off.
After Braxton and the defense were separated, Vrabel took him aside and talked to him for a few minutes.
When Braxton returned, he ran out of the pocket and lowered his shoulder into David Perkins. He wasn't going to shy away from hits.
The offense won the winners/losers session today, even without Braxton part of the time. The game-winning play was a fade to Nick Vannett from Guiton.
Antonio Underwood has a torn ACL. Out for season. He will redshirt. 
Ohio State ran some of the diamond set/pistol that the San Francisco 49ers run with Colin Kaepernick. Hyde, Dunn and Smith were all in the backfield with Braxton.
Meyer said he and some coaches went to San Francisco during the offseason to study the 49ers' offensive sets. You'll see similar formations throughout the season.
Spence continues to be the most impressive member of the defense. Unblockable once again. Mewhort had no answer for him off edge.
When Marcus Hall went against Spence, he did the only he could do: hold. The official tossed the penalty flag.
The second biggest hit of the day went to Jamal Marcus. He laid out Dunn in the backfield. Was in backfield a lot.
Armani Reeves intercepted Guiton and returned the pick 70 yards. But the end was not good for him. Farris absolutely leveled him.
The running backs continue to look good, especially Ball. He missed last season with foot injury. Ball has been great all spring. It equals depth. 
Chris Carter continues to impress along the D-line. Meyer said they set his weight limit at 340. If he goes over, he won't play.
The best pass/catch of the day came from Guiton on a bomb to Michael Thomas. He caught it with Eli Apple defending.
Jordan Hall was wearing an orange jersey again today.
The defense won Saturday's scrimmage, according to Meyer.
Armani Reeves actually had a pretty decent day of practice. But he was still Kerry Coombs' favorite target.
Special teams highlights: Philly Brown and Bradley Roby returned punts. Drew Basil made a 51-yard FG.
Ryan Shazier took part in drills today, though he was wearing an orange jersey.
Chris Fields did some slot work today. Braxton got him a pitch on a broken play that resulted in a first down.
Meyer said the wide receivers are "much better" at this point compared to last year. He singled out Philly Brown as someone who's impressed. Meyer also talked up the tight ends.
Meyer called Elflein a big surprise. "I love who he is, tough guy."