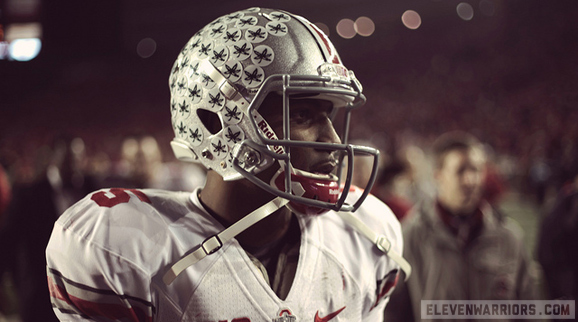 Undefeated season? Check. Record-setting statistics? Check. Larger-than-life expectations? Check. That's what drives Ohio State's dual-threat quarterback Braxton Miller, one of the nation's most dynamic players. 
Not only did the Buckeye signal-caller have one of the best seasons in school history, he also had one of the finest years ever for an Urban Meyer-coached quarterback. That's quite an accomplishment when you consider Meyer has coached one of the greatest college football players of all-time in Tim Tebow and a No. 1 overall draft pick, Alex Smith.
Still, the area of potential growth for Miller is vast. Meyer and quarterbacks coach Tom Herman said improvement in fundamentals is a must for Miller as he enters his second season in an up-tempo system tailored to his strengths. His throwing motion and footwork are the two areas under the most scrutiny.
Days after Ohio State completed its 12-0 season, mostly on the back – or legs – of Miller, his head coach brought him back to Earth with stern comments regarding his game but ended the statement with a compliment, as only Meyer can do.
"This is big-boy football," Meyer said. "That's your job. He did great work in other areas. Tom Herman did a fabulous job. But Tom Herman and Braxton Miller understand they have to get better. And Braxton, fundamentally, if he becomes fundamentally the best quarterback in America, I think he will be the best quarterback in America."
Miller said he thinks about those words every time he steps on the field. Blessed with the physical tools that few ever attain, he's worked on the flaws in his otherwise spectacular skillset and is poised for another season that features video game highlights.  
"I would say if he was at a 1 this time last year and a 4 at the end of the season, he's at a 6 right now," Herman said. "He could be an 11 on a scale of 1 to 10. It's just a matter of the process and the teaching progression has to be at a pace where he can feel good about where he's at. And then take the next step and the next step.
"Do we all want him to be an 11 today? Yes, we do. And he would tell you that, too, because we see it. We know that it's there. But you have to be careful with how much you dump on a kid all at once or else you do more harm than good in terms of stunting that growth."
Pressure and expectations have little effect on Miller, who emits a calmness even in the most stressful situations. The former high school phenom has dealt with outsized hopes from adoring fans for years. Ohio is a football-crazed state that takes high school football serious. A change of scenery at Ohio State actually changes little for Miller. 
"if he becomes fundamentally the best quarterback in America, I think he will be the best quarterback in America."
He's comfortable in the spotlight and embraces being the center of attention. With nine starters back on offense and an offensive line that welcomes back four starters, the Buckeyes are eyeing 26 consecutive wins and a national championship. For Miller, the talk centers around one of sports' most hallowed individual honors – the Heisman Trophy.
"I've been hearing it every time I go somewhere, ever since the last game of the season," he said. "Finishing 12-0 was big. I'll live with the expectation and keep working hard.
"Last year, I second-guessed myself because I didn't know the plays as well. But this year I know the plays better and I'm throwing guys open and things like that."
Miller flirted with contention for the bronze stiff-arm trophy a season ago before ultimately finishing fifth in the voting. He set a school record with 3,310 total yards and added 1,271 rushing yards and 13 touchdowns on the ground – the first player under Meyer to eclipse the 1,000-yard threshold. Miller passed for 2,039 yards with 15 touchdowns and six interceptions.
If he – or any other Ohio State player – wins the Heisman, the Buckeyes will break a tie with Notre Dame with the most Heisman winners. Both schools currently have seven. 
Reaching his potential, a level Meyer says Miller has barely even approached, is essential for the hard worker. It's why Miller was back at the Woody Hayes Athletic Center two days after the Michigan game and why he spent time in San Diego over winter break with quarterback guru George Whitfield, not lounging around on his couch in Columbus.
"He's doing good. Not great, but he's doing very good," said Meyer, about Miller's progress this spring. "Not that he didn't do good last year, but you wish you didn't have to play him that first year. He wasn't ready to play. And he still was Big Ten freshman of the year. It just tells you how talented he is. But his quarterback development is behind a little bit."
That first year was a 6-7 nightmare of a season for Ohio State. It started with Jim Tressel's ouster and the avalanche picked up speed from there. Miller's season was up and down, but as Meyer said, it ended with conference honors.
He was still raw at the beginning of last season, but showed marked improvement from the midway point to the end of the year. Miller may have taken a beating his freshman year, served up inconsistent performances and lost the all-important game against Michigan, but he said the season offered lessons he may have never learned.
"In some ways it was good," Miller said.
Eighteen months later, a calamitous season is the harbinger for a potential national championship.
Divine intervention? Check.