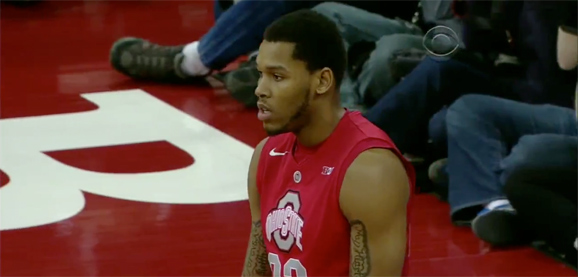 MADISON, Wis. – Thad Matta glanced down at Bo Ryan with a wry smile on his face. All Ryan could do was give a chuckle in return and lift his hands as to say, "I don't know how that went in."
It was an appropriate expression from Ryan, coming after an off-balance bank shot from Traevon Jackson, because it was similar to Michael Jordan's reaction in the 1992 NBA Finals when he made his sixth 3 in the first half against the Portland Trail Blazers – this coming on the 50th birthday of Jordan.
For Wisconsin, it was one of those games.
"That kind of typified the day," Matta said. "They were rolling."
The Badgers shot a season-high 52.7 percent from the field in dispatching Ohio State, 71-49. The 49 points from Ohio State were its lowest output of the season.
Ohio State's trip to Madison represented an opportunity to get a signature road victory, something that has eluded the Buckeyes all season. Ohio State was 0-4 away from Columbus against the top 50 RPI schools. Wisconsin, ranked 32nd, would've been a feather in Ohio State's cap come Selection Sunday. Instead, the story held true.
But more than that, the 13th-ranked Buckeyes seemed listless for 40 minutes in a defining game.
"We shouldn't have to jumpstart guys to get ready for games," point guard Aaron Craft said.
Wisconsin used an 18-0 run in the first half to build a 20-point lead. The Badgers' offensive onslaught, words that are rarely used in the same sentence, coincided with Ohio State missing 14 consecutive field goals after converting its first three shots. Entering the game, No. 20 Wisconsin had gone 11 minutes with only one field goal. That proved to be little problem against the Buckeyes.
Ohio State allowed a combined 18 three-pointers in its previous two games. Three teams were able to make 11 3s apiece in the past five games against the Buckeyes. On Friday, Matta said his club would have to concentrate for 40 minutes and limit Wisconsin's three-point attempts. It looked like the Buckeyes failed on both accounts.
"It just seems like we aren't playing our style of defense," Craft said. "That's carried us to where we are now. If we want to go in the right direction, (defense is) the first thing we have to address and get back. We can't be giving up wide-open shots and wide-open layups and expect to be in the ballgame at the end."
Wisconsin made five 3s in the first half in building a 39-22 halftime lead. The advantage grew to 26 in the second half. Four Wisconsin players finished in double figures with Jared Berggren and Ben Brust leading the way with 15 points. Sam Dekker had 13 and Jackson added 10.
"This one's gotta be on us," said Craft, meaning the players, not Matta and the coaching staff. "If the coaches can't get us to play, that's on our individual selves and that's on our teammates. We have to get ready to play. We can't play like this in February. This is beginning of the year mistakes and mental errors. We need to hold each other accountable and get better."
The Buckeyes only made 10 field goals in the first half and shot 37.5 percent from the field for the game. Their first three-pointer didn't come until late in the second half. It got so bad that Matta sat most of his starters for the final 10 minutes.
"If I had more (players), I would have played them," he said. "I was just searching for someone who could make a layup, make a free throw."
There weren't many. Deshaun Thomas led Ohio State in scoring with 18 points, and Sam Thompson had 10. The other six Buckeyes who scored finished in single digits. Without Thomas, Ohio State was just 13 of 39 from the field. The Buckeyes had an embarrassingly low six assists.
In the Big Ten standings, Ohio State now occupies fifth place, and a tough stretch of games remains. More alarming, however, is the direction the season is going. The Buckeyes have lost three of four games – two to top-five teams – and the only win was a lackluster performance against Northwestern.
Following Sunday's game, Matta kept the team in the locker room for 20 minutes. The coaching veteran told his players that he was at a loss for what's occurring, according to Thomas. No answer is in sight.
"I think we all have to go around and talk about what we need to do," Craft said. "It's not on one person, it's on all of us as group. We just need to hold each other accountable more and expect more from one another. We're a lot better than we're giving each other credit."
This situation isn't entirely unprecedented for Ohio State. One year ago, it went 2-3 during a five-game stretch in February, with two of those losses coming at home. A team meeting and star player Jared Sullinger sitting down privately with the coaching staff is what it took to steer things in the right direction.
The Buckeyes won two must-win games the final week of the regular season to earn a share of the Big Ten title and carried that momentum to the NCAA Tournament, resulting in a Final Four berth.
"There are certain games you remember that change the season, that change the climate of our team," said Matta, prophetically, on Friday.
The loss to Wisconsin appears to be that game – for better or worse. The Buckeyes came to that realization after stepping out of a demoralized locker room Sunday night.
"We can't run from this game," Craft said. 
Said Matta, echoing his point guard: "We won't forget this basketball game."
---