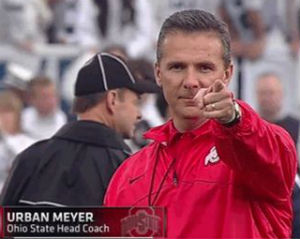 (The second time around)
Ooh, the second time is so much better, baby
(The second time around)
And I'll make it better than the first time
- Shalamar
It's not easy to improve upon a perfect record, but that's exactly what Urban Meyer will try to do in 2013. Meyer's first season in Columbus produced Ohio State's first undefeated campaign since the beloved 2002 squad went 14-0 under Jim Tressel, winning a national championship over Miami.
Ohio State's football team has produced 10 undefeated seasons in school history and six perfect (read: unbeaten and untied) campaigns through the ages. Woody Hayes, who would have turned 100 yesterday, posted four seasons without a loss — 1954 (10-0), 1961 (8-0-1), 1968 (10-0), and 1973 (10-0-1).
That's an average of one undefeated season of Ohio State football every 12 years. It doesn't happen very often. And yet, some fans and media members seem to expect a repeat performance in 2013, even though history doesn't support its likelihood. Consecutive undefeated seasons have occurred only once at Ohio State. John Wilce led Ohio State to a 15-0-1 record over two seasons in 1916 and 1917.
So, it'll be very difficult for Urban Meyer to win every game for a second straight year. Everything must go right. The Buckeyes will have to avoid key injuries and turnovers, grow up quickly on defense, improve in the passing game, and handle tough road games at Cal, Northwestern and Michigan. Even if Meyer can repeat the feat of zero losses, how does one improve upon an undefeated season?
Despite heavy losses to graduation on the defensive side of the ball, the expectations of Ohio State fans for 2013 are higher than Taco from The League. Those expectations are due, in part, to the well-documented second-year phenomenon.
Meyer himself has been a part of that "Year 2" thing. You've heard it before. "Everywhere Meyer has been, the team has improved in its second season and blah, blah, blah…" It's true. It's not limited to Urban Meyer alone; there is often a jump in production in the second year after a coaching change.
Some of that is completing the conversion from one coach's system to another. Some of it is a staff learning to use its personnel better and recruiting players specifically for the new offense and defense. And probably some of it is simply good fortune. But with Meyer, it has been a habit. He's done it with every team he's coached so far.
In the game we least enjoy talking about, Meyer won the BCS championship over Ohio State, wrapping up the 2006 college football season. It capped his second season in Gainesville. That night, he joined the likes of Tressel and Bob Stoops in winning a title in his second year at a school.
A Pattern of Second-Year Success
That experience with the Gators wasn't a unique one for Urban Meyer. In his first stint as a head coach, Meyer improved the Bowling Green Falcons in 2002. The year before Meyer arrived in Bowling Green, the Falcons had suffered through a 2-9 season. In 2001, Meyer and quarterback Josh Harris led the Falcons to an 8-3 overall mark, and a 5-3 record in the MAC. This included wins at Missouri and Northwestern, as well as a season-ending 56-21 drubbing of Toledo, the eventual MAC champion.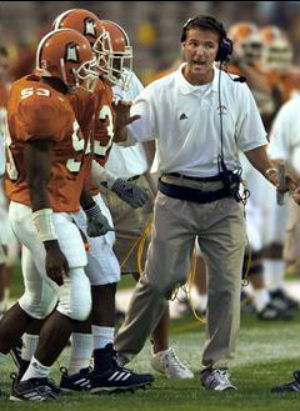 He guided the Falcons to 9-3 (6-2 in conference play) in his second year. That season, his Falcons hung 51 points on Missouri, beating the Tigers for the second straight season. Bowling Green beat Kansas on the road and rolled up 72 points in a huge win over Ohio University.
Although neither season put the Falcons into a bowl game, Meyer had made a name for himself in the coaching ranks. He accepted the Utah job in 2003.
Hiring Meyer again paid immediate dividends. The Utes finished 10-2 in 2003, and went 6-1 in the Mountain West Conference. Meyer was named the MWC Coach of the Year and led his Utes to a 17-0 Liberty Bowl victory over Southern Mississippi. In addition to winning the MWC title, Meyer's Utes beat California and Oregon, and won at BYU and Air Force.
Undaunted by the bar he himself had raised at Utah, Meyer came out with guns blazing in 2004 and coached his Alex Smith-led team to a 12-0 record (7-0 in MWC play), repeating as conference champions and posting a 35-7 shellacking of No. 20 Pittsburgh in the 2005 Fiesta Bowl.
That season included a win over Texas A&M, a road victory over Arizona, and a 30-point stomping of North Carolina. Meyer was in high demand and made his way to Florida for the 2005 season.
Replacing Ron Zook (well, technically he replaced interim head coach Charlie Strong), Meyer improved a team that went 7-5 overall and 4-4 in the SEC. The Gators finished 9-3 (5-3 in the conference) in 2005, finishing in a tie with South Carolina for second in the SEC East. Florida beat rivals Tennessee, Georgia, and Florida State that year, and lost by only four to LSU in Death Valley. All three losses were on the road. The Gators finished the year with a 31-24 win over Drew Tate and the Iowa Hawkeyes in the 2006 Outback Bowl.
In 2006, Meyer once again improved his team. The Gators lost only to No. 11 Auburn at Jordan-Hare Stadium, beating Alabama and LSU by two scores each. Florida came from behind to win the 2006 SEC Championship Game, 38-28. Many have forgotten that the Razorbacks had momentum and a lead in that game until Reggie Fish tried to field a punt inside his own 5-yard line. Fish muffed the punt and Florida recovered in the end zone to take the lead.
Many were questioning whether there should be a rematch of The Game, after Ohio State and Michigan put on a show in Columbus, decided ultimately by only three points. Voters opted to avoid the rematch and the Gators found themselves headed to the title game to face the Buckeyes. Then that game happened in the Arizona desert.
Turning Past into Present
Meyer's first season at Ohio State was similar to his previous first stops elsewhere. He immediately improved the team's record from the previous year. It was his largest turnaround — six games in the win column — since he was at Bowling Green (maybe it just works better in Ohio?).
The Buckeyes went from 6-7 during the zombie-Luke Fickell campaign of 2011, to a perfect 12-0. Along the way, the Buckeyes dispatched Wisconsin and Penn State on the road, and got revenge at home against Nebraska, Purdue, and Michigan. Ohio State also avenged its 2011 loss against Michigan State, winning on the road at East Lansing.
In all, the Buckeyes were 5-0 in revenge games and 2-0 in rivalry games (read: Wisconsin and Michigan).
Looking ahead, it is difficult to see how Meyer could improve the Buckeyes in his second season. The possibility exists only because the postseason ban is over. The 2013 schedule appears very favorable. If the OSU defense comes together into any semblance of what it was in the final quarter of the 2012 season, Ohio State will be favored in every game.
Potential pitfalls exist at California, which will be running an air raid offense in 2013, as well as at Northwestern, inside the negativity vortex known as Purdue's Ross-Ade Stadium, and at rival Michigan. The Buckeyes must also play in the wind tunnel of Champaign that has caused so much grief over the years. Potential home land mines include Wisconsin, Penn State, and Indiana (yes, seriously).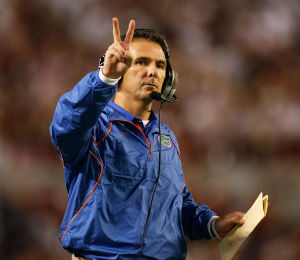 If Meyer can pull off the rare feat of back-to-back undefeated regular seasons, the Buckeyes will be rewarded with a trip to the B1G title game. A win there could, and probably should, propel Ohio State on a collision course with Alabama or (probably) another SEC team. And that's how 2013 could be better than 2012 — with a season-ending win in the title game.
Consecutive undefeated seasons aren't unheard of in college football, but they are extremely rare. Tom Osborne has done it. Barry Switzer has done it. That's more or less it since Bud Wilkinson at Oklahoma from 1954-56.
If not for a seemingly light regular season schedule, the odds against a reoccurrence of perfection would be extremely high. As it is, the competition level itself might just cost Ohio State in the bowl game. It's unlikely even an undefeated Buckeye team would be as battle-tested as any team it would oppose.
Still…Urban Meyer. The OSU coach has already posted undefeated regular season campaigns in 2004, 2009, and 2012. (Meyer's Gators lost only the SEC title game in 2009.)
Turning the trick again in 2013 would put Ohio State in position for a potential championship and put Meyer's name in the history books alongside Wilce, a man who died 14 months before Urban was born.
Wilce is enshrined in the College Football Hall of Fame. Meyer will be there too, someday. To pull off consecutive unbeaten seasons at Ohio State almost 100 years apart would be terrific symmetry.
Can it be done? Yes, it's possible. Is it likely? Well, history says no, but Meyer probably doesn't care about that.