2014 Akron (OH) St. Vincent-St. Mary RB Parris Campbell had been wanting an Ohio State offer for as long as he could remember. When it came yesterday, he didn't take long to pull the trigger, becoming the fifth prospect in the class to give his verbal pledge to the Buckeyes.
The standout athlete joins Marcelys Jones, Damon Webb, Kyle Trout, and Lawrence Marshall as members of the newest OSU class. Campbell chose Ohio State over Tennessee, Michigan State, Indiana, and Northwestern, but more offers were certainly on the way after his state championship performance.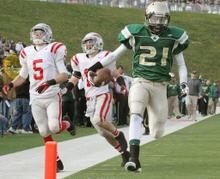 Campbell busted onto the scene during that game in Massillon, where Urban Meyer and his coaches were on hand to watch the action. The talented athlete led SVSM to a title in Division III after rushing 14 times for 156 yards and 3 touchdowns, more than impressing the Buckeye boss with his big-time performance.
Ohio State appears to be looking to nail down their in-state targets early on. Jones, Trout, and now Campbell have already issued commitments, giving the staff a great start, while Dante Booker, Kyle Berger, Marshon Lattimore, and Erick Smith all have offers as well and hold the Buckeyes in high regard.
Booker and Campbell are teammates in high school, and while one offer had nothing to do with the other, the pledge from Campbell may give the Scarlet and Gray a built-in advantage in landing the elite linebacker.
Whether Booker joins the fold or not, Campbell is an excellent pickup for the Bucks and gives the program another speedster that can play multiple positions.
Join us after the jump to find out what made Campbell decide so soon to be a Buckeye, what he thought about his visit to Columbus, and what position he will be projected at when he arrives on campus.
How was the visit to Ohio State overall?
It was my second time visiting the campus. I basically had already seen and done everything before. I just love it. 
You had not yet been reported to have an Ohio State offer yet. Did it come on the visit?
Yeah, I received the offer from the coaches this past weekend. They've been telling me they wanted me to be a Buckeye for a while now, but today was when I received that actual official offer.
It was a scenario in which you practically committed on the spot then. What made you decide so soon that Ohio State was the place for you?
Yeah, it took me about 10 seconds to tell them I was committing once they told me I had an official offer. Being a Buckeye is a dream come true. I've wanted this ever since I was a little kid.
What coaches were the most influential from Ohio State during your process so far?
Coach Vrabel is who I have the best relationship with. He is my main recruiter and I trust him, and feel comfortable having him as my guy. And just like everyone else, playing for Urban Meyer is just something you can't turn away from.
Did you know any of the other commits in the class before the visit?
I didn't really on a personal basis. I knew about Kyle [Trout] and [Lawrence] Marshall committing also. I've talked to all four now. We're on a mission just like the last class was. I'll do my part and recruit as well, especially Dante [Booker].
What position is the staff tabbing you as? 
They're recruiting me as an athlete at the moment, which is totally fine with me. I just want to do whatever I can to see the field and put on the scarlet and gray.