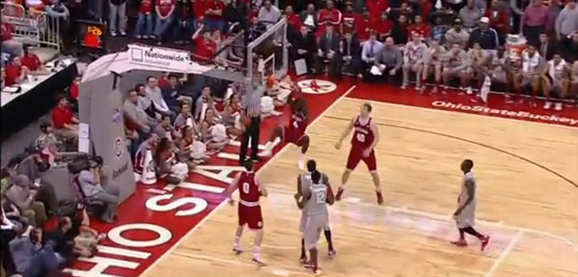 COLUMBUS, Ohio – Underdogs have had their day all season. But on Sunday in Columbus, the No. 1 team in the country finally stepped up to the plate.
Indiana's Big Three – Cody Zeller, Victor Oladipo and Christian Watford – combined for 70 points on 22-of-32 shooting, leading the top-ranked Hoosiers to an 81-68 win over Ohio State and silencing a soldout Value City Arena. Finally, the Hoosiers have the marquee road win they have coveted. 
"You aren't going to win too many games with three guys scoring (20 points). They made big shots and kept going," Ohio State point guard Aaron Craft said.
For Indiana head coach Tom Crean, it was his second consecutive Super Sunday. Last weekend, he was in New Orleans, fresh off a win over then-No. 1 Michigan, to watch his brothers-in-law face off in the Super Bowl. In that game, Joe Flacco and Jacoby Jones delivered MVP-worthy performances. This week, it was Zeller and Oladipo who came through with games that spark national player of the year conversations.
Zeller scored 24 points, missing just three shots, and grabbed eight rebounds. But Oladipo was even more spectacular, finishing with a career-high 26 points, eight rebounds, three assists and two steals. He played out of position on defense, limiting Deshaun Thomas to 26 points on 20 field goal attempts. Oladipo never allowed Thomas to get in a rhythm. Watford added 20 points and six rebounds.
"Victor Oladipo, Cody Zeller and Christian Watford played as well as a triangle can play, and it was on both ends of the floor," Crean said.
In the leadup to the game, there was intrigue surrounding how each team would respond to losses earlier in the week. Both teams lost in the final seconds. Ohio State fell to Michigan in overtime on Tuesday, while Indiana blew a double-digit second-half lead at Illinois on Thursday, with the Illini's game-winning shot coming at the buzzer on an uncontested layup.
There was plenty of pregame buzz. Students started camping out in Mattaritaville on Wednesday, and the oft-criticized Value City Arena was full well before tipoff. But once the game started, the No. 10 Buckeyes had a hard time matching the Hoosiers' intensity and level of play.
"They executed their game plan," Ohio State senior forward Evan Ravenel said. "We just didn't have it today. That shouldn't be the case, but that's what it was."
Indiana jumped out to an 11-4 lead before a 9-0 Ohio State run wiped it out. The Buckeyes had a 19-18 advantage at the eight-minute mark of the first half but never led the rest of the way.
"From the very beginning after we lost the other night, we were going to spend a lot of time bouncing back and waste a lot of energy getting better," said Crean, hinting that Indiana would not be sulking. "I was very proud of how our guys responded. That's hard to do sometimes. The tough ones figure out it's all about improvement.
"We knew we were going against as tough an environment as we faced all season. Ohio State is the real deal. They absolutely get up in you defensively and make it tough for you to score."
The Hoosiers sure made it look effortless.
In building a 41-33 halftime lead, Indiana scored 20 points in the paint. Zeller and Oladipo ventured into the lane early and often. The Buckeyes had no answer for Zeller, and it didn't help when Amir Williams and Ravenel picked up two early fouls in the first half. Williams eventually fouled out while Ravenel ended the game with four fouls.
Due to the foul trouble, Ohio State's defensive game plan against Zeller encountered difficulties and little-used sophomore Trey McDonald was forced to log six minutes.
"Amir going out as early as he did was a big blow to us because he can affect the ball down by the basket," Ohio State head coach Thad Matta said.
It may not have mattered, though. Indiana shot better than 50 percent from the field, including 58.8 percent in the second half. The Hoosiers made 7 of 18 three-point shots for the game.
Indiana led by as many as 16 in the second half. Ohio State rallied to within eight points in the final minute, but the Hoosiers sealed the game at the free throw line, something they could not do earlier this week in Champaign.
The victory represented Indiana's first against a top-10 opponent on the road since winning at Notre Dame in 2000. One must go back to 1993 to find the last time the Hoosiers defeated a top-10 Big Ten team away from Bloomington.
Thomas' 26 points paced Ohio State. Craft finished with 16 points and LaQuinton Ross had 11. The Buckeyes' low-point output wasn't for a lack of shots, however. They hoisted 59 and made 25. From behind the arc, Ohio State was only 3 of 13. There were forced shots included in that total, but no one could help Thomas consistently and the defensive breakdowns were too much to overcome.
"We couldn't gain that momentum and we didn't guard them at the level we needed," Matta said. "They answered everything in a timely fashion against us. We didn't have what we needed to win this game just in terms of making plays we needed to make. At this level, that can't happen. You have to finish through the contact at the basket. Those are the types of plays you have to make to win, and we just couldn't do it."
Ohio State is 1-6 against ranked opponents this season and 1-4 versus those ranked in the top 10. The Buckeyes' record against unranked foes stands at 16-0. On the flipside, Indiana sports a 3-0 mark against top-10 teams.
The back-to-back losses for the 10th-ranked Buckeyes are their first in three seasons, snapping the longest streak in the nation – 121 games. More concerning for Matta is the blow to Ohio State's Big Ten title hopes. The Buckeyes are now two games behind first-place Indiana and Michigan State.
And it only gets tougher from here.
Still left on the schedule are home games versus Minnesota, Michigan State and Illinois and road contests at Wisconsin and Indiana, making the Buckeyes' chances at winning a fourth consecutive Big Ten championship a long shot. 
"It's a long season," Matta said. "We knew there was going to be a stretch where you have to fight or flight. We have to get back to having that fight in us.
"This team has shown it can play great basketball."