2014 Lombard (IL) Montini Catholic DL Dylan Thompson is one of the fastest rising prospects in the Midwest.
The 6-5/270 prospect earned a scholarship offer from Ohio State late last week and previously held two offers from other Big Ten schools in Indiana and Illinois.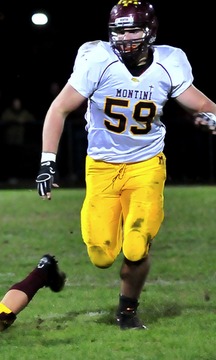 With three early offers, Thompson is a recruit that will undoubtedly garner more attention from other college programs.
Having a school like Ohio State pull the trigger could set off a flurry of more offers and programs such as Wisconsin, Iowa, Arkansas, Michigan, Michigan State, Purdue, and others have already shown heavy interest.
Thompson not only hails from the alma mater of former Buckeye DT Garrett Goebel, but like other Buckeye targets OT Jamarco Jones, LB Clifton Garrett, RB Mikale Wilbon, OL Brian Allen, and TE Ian Bunting, he works out for the Core 6 Athletes group.
Core 6 Athletes is an organization in the Chicago area that assists in training and development, while also giving athletes exposure to college programs. The group is actually holding a combine in Ohio on Sunday, which the 11W staff will be attending to check out the next great crop of prospects that Core 6 is showcasing.
The Buckeyes seem to be putting more of an emphasis in just about every area of the country, but especially Chicago.
Defensive line coach Mike Vrabel is largely responsible for Ohio State's presence in the "Windy City" with it being one of his designated areas.
Vrabel has aided OSU tremendously in the recruitments of Clifton Garrett and Jamarco Jones by building an early relationship with the budding stars. He aims to do the same with Thompson.
Ohio State has zero returning starters along the defensive line for this upcoming season but depth and talent is still not a huge concern.
Four defensive linemen were apart of the 2012 class, and four or five more signed in the 2013 group, depending on the position of the versatile Tyquan Lewis, Donovan Munger, and Billy Price.
With that said, two or three recruits are projected to be added to the front four in next year's class. Urban Meyer enjoys reeling in top targets on the defensive line on a yearly basis and you should not expect that to change in 2014, as shown by Lawrence Marshall's pledge this past weekend.
Join us after the jump for more on Dylan Thompson, how the Ohio State staff views him, and what his visit plans may be. 
Ohio State just offered. What was your reaction and where do the Buckeyes sit early on for you?
I enjoyed the Ohio State offer, and was very excited about it. My plan is to go through this process with a level head and not get too caught up. Every offer is the same and I will do my work to figure out which is the best fit for me.
How did you learn about your offer from Ohio State?
As I had told you previously, I was scheduled to speak with the Ohio State's head coach, Urban Meyer. He assured me that I had an offer to play for them. Coach Meyer informed me I was among the top few recruits they were targeting for the defensive line which is a special feeling.
Are there any visits or camps you plan on attending?
I have a ton of schools I plan on visiting including Ohio State, Michigan State, Michigan, Wisconsin, and several others down south. I know I am going to be at Indiana's spring game and I'll visit Ohio State after that sometime. I'm sure I'll get to a NIKE camp and on February 17 I'll be participating in the Core 6 Athletes Showcase in Cincinnati.
What has your relationship been like with the Ohio State staff and others?
Ohio State has been by the school quite a bit and showed that they were very interested in me. Getting the offer from them was a bit of a surprise. It is a staff I am beginning to develop a relationship with. The same goes for schools like Indiana, Illinois, Michigan, and others. I'm just enjoying the process at this moment and am grateful for the opportunities.
Is it safe to say that a college decision wouldn't come until much later on?
That is what it is looking like at this time. If I find a school that is perfect for me and wants me to be a part of their program, then great. I'd get it out of the way if it was the perfect situation. I know that I want to be totally sure of my choice. There isn't a set time but I don't think it is near because a lot of schools are showing interest and I want to do everything in my power to make sure I have the correct decision.