National Signing Day is akin to Christmas Day for football coaches from coast to coast. Fax machines act as Santa's sleigh delivering all the goodies to a program in need of the newest, sleekest playmakers. But coal also makes its way into the festivities.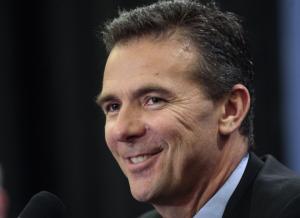 Whether you're Ohio State, Alabama or Texas-El Paso, no program is immune to signing day mishaps. The anticipation of a year-long chase, and in some cases longer, can become intoxicating for coaches and fanbases alike.
When Jim Tressel or Urban Meyer is the head coach, saying no is more difficult, but it isn't unprecedented by any means. Still, Tressel, in 15 years at Youngstown State and 10 years at Ohio State, and Meyer, in 11 seasons split between mid-majors and football factories, have not only attracted top-tier talent but also developed it.
When a blue-chipper commits after a tiresome process, the reward is overwhelming to the staff. It could be the building block for a future national championship. It's equally as devastating when a can't-miss prospect opts to go to elsewhere, especially if it's Old State U.'s rival. 
Prior to Meyer's arrival at Ohio State, the 2012 recruiting class was ranked in the 20s, not your typical assembly of talent making its way to Columbus. But an NCAA black cloud hung over the program like your uninvited cousin at the family reunion. Once Meyer was aboard, though, the engine picked up steam.
The Buckeyes were able to hold on to the players it previously signed, as well as add others that were among the best prep prospects in the nation. Meyer secured the services of several players that were already committed to other programs, drawing the ire of Wisconsin and Michigan State's coaching staffs.
On National Signing Day, hotly pursued offensive tackle Kyle Dodson left Bret Bielema and the Wisconsin Badgers at the altar. He had already pledged his allegiance to Wisconsin partly because the previous coaching regime at Ohio State lightly recruited him. But Meyer immediately took a liking to the four-star recruit. The feeling from Dodson was reciprocal, and a relationship bloomed, dooming the Badgers, along with USC and Michigan State.
"He's so real," Dodson said of Meyer. "You can just tell. The realness is falling off him. He's dripping realness."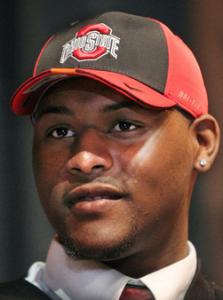 With a 6-foot-6, 315-pound frame, Dodson is a quarterback's dream. It isn't just protecting the quarterback, though, that makes Dodson an asset – he's also a force in the run game. Year 1 resulted in a redshirt season, but there's no mistaking Meyer values the offensive lineman.
"I would almost have traded him for any other player that we signed," he said. "We had to have him."
Another high-profile recruit that Meyer desperately wanted chose to go another route, though. Wide receiver Stefon Diggs stayed home, going to the University of Maryland. Had he gone to Ohio State, Diggs would have been an instant playmaker in an offense that had few. And it wasn't just Ohio State that missed out. Florida and Auburn also played second fiddle to the middling Terrapins.
"I want to win a championship, I want to win bowl games," Diggs said. "Where else is a better place to do it than your city?"
It's a lofty goal considering Maryland's recent ineptitude. But in his first season, Diggs proved to be an impact player, finishing with 1,896 all-purpose yards and six touchdowns. His yardage output was the second-most in school history, which helped earn him team MVP honors.
Maryland's neighboring state, Virginia, was kind to the Buckeyes in 2011, delivering the No. 2 overall recruit, linebacker Curtis Grant. On that same February day in 2011, however, Aundrey Walker chose to leave his home state of Ohio for the glitz and glamour of Hollywood. Walker visited USC and fell in the love with campus. Combined with the beginning stages of Ohio State's NCAA problems, he was sold on the West Coast.
The two-year careers of both Grant and Walker have been up and down. The speed of the college game has overwhelmed Grant. His freshman season was spent on special teams while Year 2 didn't fare much better. Walker also played on special teams during his freshman season and lost his starting job as a sophomore in a forgettable year for the Trojans.
The hits and misses during the 2010 recruiting season offered stark contrasts. Joining the Scarlet and Gray would be Christian Bryant and Adam Griffin; going elsewhere were Jordan Hicks and Seantrel Henderson.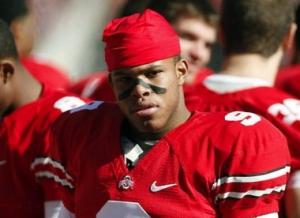 Bryant and Griffin were both fine players in high school, but they didn't elicit the type of excitement that fans exhibit when nationally known players commit. Hicks, a linebacker from Cincinnati, and Henderson, an offensive tackle from Minneapolis, decided to attend other top-flight programs – Texas in the case of Hicks and Miami for Henderson.
Hicks attended high school in Ohio but was not born in the state. Because of that, he did not identify with the Buckeyes like most residents. It made his decision to attend Texas much easier.
The Seantrel Henderson saga is one of the strangest in recent memory. He committed to USC on National Signing Day but did not sign his letter of intent, choosing instead to wait for the NCAA's penalties against the Trojans. Over a month later, Henderson finally signed with USC. When the NCAA banned the program from the postseason for two seasons, Henderson asked for and was granted his release. Shortly thereafter, he signed with Miami.
Ironically, three years later, Ohio State may have gotten the better end of the deal. That's what happens in the unpredictable world of recruiting. Bryant has developed into a starting safety and Griffin, the son of two-time Heisman Trophy winner Archie Griffin, is a special teams ace.
The year before also provided Ohio State with diminishing signing day returns. Quarterback Tajh Boyd, defensive back Justin Green and wide receiver Marlon Brown all turned down the Buckeyes. Boyd went to Clemson, choosing to avoid sitting behind Terrelle Pryor and then battling Braxton Miller, Green actually de-committed from Ohio State to join Ron Zook's Fighting Illini, and Brown stayed in the South, attending Georgia. Each has enjoyed a good career.
The lone recruit to join the Buckeyes on or near National Signing Day in 2009 was offensive lineman Marcus Hall. Part of the Cleveland Glenville pipeline, Hall's career has been full of turmoil, including suspensions for being involved in NCAA improprieties. But under Meyer, Hall began to flourish. He was a starter in last year's 12-0 campaign and will likely stay there for 2013.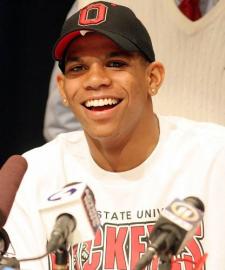 Cornerback Brandon Harris and offensive lineman Josh Jenkins gave Tressel a dose of bad news in 2008, but the kingpin of the year, Pryor, would give the coach a boost a few weeks after signing day.
Little did Tressel know, it was the beginning of the end to his successful tenure in Columbus. When it comes to ballyhooed recruits, few can top the three-ring circus that accompanied the courting of Terrelle Pryor. Described as the most anticipated signing day announcement in history, the hoopla came in part because of his freakish athletic ability, but also because he was the definition of prima donna.
In high school, Pryor, 6-foot-6 and possessing gazelle-like speed and strides, ran and passed for 4,000 yards in one season. He was the two-time player of the year in Pennsylvania and followed it up on the national stage by taking MVP honors at the U.S. Army All-American Bowl.
Considered to be the next Vince Young, every team in the country wanted Pryor. It came down to three Big Ten schools – Ohio State, Michigan and Penn State. In March, after leading his high school basketball team to a state title, Pryor committed to "The University of Ohio State."
Three years later, he departed Ohio State with a five-year ban from the university after getting caught up in a wide-ranging NCAA investigation. Pryor brought success to the team, but he also contributed to the fall of Tressel. Some two years later, Buckeye Nation has moved on from that dark chapter.
So where is 2013 headed? Will Meyer the Jester pull any rabbits out of his hat, or will he be left with coal in his stocking?
A bevy of Oregon recruits, led by dynamic wide receiver/running back combo Dontre Wilson, are considering pulling the late-game switch after Chip Kelly left for the Philadelphia Eagles. Ohio State is experiencing similar angst, as longtime running back commit Ezekiel Elliott visited Missouri over the weekend, the school both of his parents competed for.
If the Buckeyes land both, it'll be like pulling back the shades to see a white Christmas.