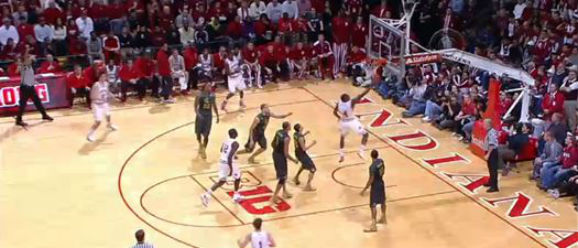 The ongoing narrative of this season continues to be how hard road games are to win in B1G play.
Four teams are separating themselves as the conference contenders, while teams like Minnesota and Wisconsin are slipping into the league's second tier. The Buckeyes took advantage by winning both of this week's contests, stepping up into the fourth spot. The bottom half of the league has been beating each other up and making life miserable for the better teams that visit them.
Nine of this week's 12 games featured at least one ranked team. Five B1G squads played as Top 15 teams in the AP and coaches polls. The B1G continued to lead the nation in RPI and Sagarin ratings.
So how do the teams stack up after another week of battling it out?
Let's get to this week's power rankings.
1. MICHIGAN (19-1, 6-1)
TTUN remains atop our rankings this week with a pair of wins. Despite falling behind at home at halftime on Thursday night, the Wolverines stifled Purdue in the second half, winning 68-53. Michigan allowed only 20 second-half points.
Trey Burke scored 15 points with eight assists and two steals to lead the way. Tim Hardaway Jr. added 13 points and the Wolverines won on the glass, 32-25.
Burke led all players with 19 points in Sunday's win over the Illini in Assembly Hall. He also posted five rebounds, five assists and three steals in the 74-60 win. Stauskas scored 14, with Hardaway and Glenn Robinson III kicking in 12 apiece.
The Wolverines shot 52.5%, holding Illinois to just 36%.
So the lone blemish on the season for Michigan continues to be that "L" in Columbus.
Michigan hosts Northwestern on Wednesday and travels to Indiana Saturday for a pivotal B1G game.
2. INDIANA (18-2, 6-1)
The Hoosiers took a big step toward a potential B1G title by defending their home court against Sparty on Sunday, 75-70. The win allowed them to stay even with the Wolverines at the top of the conference standings.
A 3-1 advantage in free throw attempts and MSU star Keith Appling fouling out with five minutes left helped the cause. I'm not saying Indiana gets more home cooking than most teams, but the Bloomington disparity is, well, interesting.
Victor Oladipo was fantastic, scoring 21 points, with seven rebounds, six steals and three blocks. Christian Watford chipped in 12 points and six rips.
If Cody Zeller is held without a field goal in a B1G game, does Indiana win? It does if it's playing Penn State at home. The Hoosiers cruised past the Nitts, 72-49, on Wednesday.
Oladipo posted 19 points, six rebounds and five assists, leading four Hoosiers in double figures. Yogi Ferrell chipped in a career-high 15.
The Hoosiers visit rival Purdue Wednesday before hosting the Wolverines Saturday.
3. MICHIGAN STATE (17-4, 6-2)
Sparty has been adept at grinding out close wins this season, as it did at Wisconsin Tuesday, 49-47. Appling led Michigan State with 19 points and Branden Dawson added a double-double with 18 points and 13 rips.
All other Spartans combined for just 12 points.
Michigan State came up just short in Bloomington, as previously mentioned. Gary Harris scored 21 to lead the Spartans. Adreian Payne scored 18 to go with his nine boards.
Appling and Derrick Nix in foul trouble didn't help, nor did 18 Spartan turnovers. The return leg of this fixture on Feb. 19 in East Lansing will bear watching.
The Spartans get a light week, hosting Illinois on Thursday.
4, OHIO STATE (15-4, 5-2)
The Buckeyes responded to the loss at Michigan State last week with two victories, albeit ugly ones.
Deshaun Thomas (16 points) got a little help from Aaron Craft and Lenzelle Smith (12 points each) and Evan Ravenel (11 points, six rips) in Tuesday's 72-63 win over Iowa. The game felt kind of like a loss at times, due to a 24-point lead shrinking to just four.
The Buckeyes were careless with the ball, to the tune of 17 turnovers — six, uncharacteristically, by Craft. Miscues, fouls and allowing 19 offensive rebounds gave Iowa a lifeline back into the game. Amir Williams had six blocks, but only two points and no rebounds.
Sam Thompson came to life on Saturday at Penn State, leading the team with 16 points on 6/7 shooting in a 65-51 win in Happy Valley. He also grabbed six rebounds, with two steals, two assists and two blocks. Deshaun added a season-low 11.
Ohio State managed to force only four turnovers against the Nittany Lions. The Buckeyes owned the glass, 38-25, and shot 44% to Penn State's 36%.
The Bucks host Wisconsin tomorrow night and visit the Cornhuskers in Lincoln on Saturday.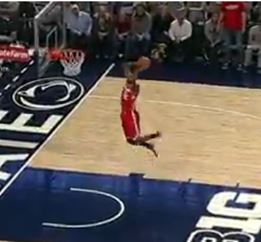 5. WISCONSIN (14-6, 5-2)
Mike Bruesewitz was the only Badger in double figures in the loss to Michigan State, scoring 10 points. Wisconsin shot just 29.6% from the field and missed 11 of 18 free throw attempts in the two-point home loss.
George Marshall had a chance to tie the game from the stripe with three seconds left, but missed the first freebie. He missed the second on purpose, but failed to hit iron, killing the game off.
Wisconsin ended its two-game B1G skid on Traevon Jackson's shot clock-beating 15-footer Saturday, edging Minnesota, 45-44. Ryan Evans and Sam Dekker scored 10 apiece to lead Wisconsin, in a contest that did nothing to impress people who love efficient offense.
The Badgers are on the road this week, visiting Columbus tomorrow night and Illinois on Sunday.
6. PURDUE (11-9, 4-3)
The Boilermakers started the week hot, hitting 7/13 from behind the arc to grab a 33-32 halftime lead in Ann Arbor. The wheels fell off Purdue's choo-choo train in the second half, as the Boilers went 0/9 from distance and lost by 15.
Terone Johnson scored 14 points in the loss, with D.J. Byrd adding 11 and Rapheal Davis chipping in 10 points and eight rebounds.
An overtime win over Iowa, combined with Minnesota's free fall, elevates the Boilers to the No. 6 slot this week. Johnson tied the game in the final minute and Purdue never trailed in the extra session, beating the Hawkeyes, 65-62.
Johnson scored 17 points, adding 12 rebounds to pace Purdue. Ronnie Johnson chipped in 15 points and Donnie Hale scored 12 off the bench.
Purdue hosts the Hoosiers on Wednesday and visits Northwestern on Saturday.
7. MINNESOTA (15-5, 3-4)
After a hot start, the Golden Gophers are sinking like a stone.
The Gophers dropped their third straight game Wednesday, falling to Northwestern in Evanston, 55-48. Trevor Mbakwe's double-double (14 points, 16 boards) led Minnesota, which lost Austin Hollins early to fouls.
Andre Hollins turned the ball over seven times, scoring just six points. Despite dominating the glass, 42-23, poor shooting and a plethora of fouls doomed the Gophers.
The losing streak reached four on Saturday in Madison. Rodney Williams missed a tying free throw with one tick left on the clock when Mbakwe was unable to shoot due to injury.
Andre Hollins scored a game-high 20, but the rest of Minnesota's starting lineup combined for just 12 points. Tubby Smith's group shot just 35%, and the 7/12 performance at the stripe didn't help in a game that was there for the taking.
Minnesota's schedule lightens up a bit this week, with Nebraska visiting Williams Arena tomorrow and Iowa coming to town on Sunday.
8. IOWA (13-7, 2-5)
The Hawkeyes have been in a lot of games this season but haven't produced the results that Fran McCaffery would like. Aaron White's 13 points and seven boards gave Iowa a chance to come back at Ohio State, but the Buckeyes won the free-throw shooting contest at the end.
Iowa outrebounded Ohio State, 34-31, for the game, including a massive 19-10 edge on the offensive glass. This edge, coupled with 17 OSU turnovers, allowed Iowa 10 extra field goal attempts in the game, nearly allowing the comeback.
With time running out Sunday, the Hawkeyes were poised to steal a road win in West Lafayette. But Purdue tied it and won in overtime. Mike Gesell posted a game-high 18 points in the loss. The Hawkeyes were sunk by an inability to sink shots. They hit only 19/61 (31%) overall and 5/17 (29.4%) from three.
Iowa hosts Penn State on Thursday, before Sunday's trip to Minnesota.
9. NORTHWESTERN (12-9, 3-5)
Jared Swopshire's 16 points and eight boards led the Wildcat offense, but it was Reggie Hearn making the big plays at the end to beat Minnesota.
Northwestern should really have put Minnesota away earlier, but a putrid 17/32 (53%) performance at the charity stripe kept the Gophers in contact.
Just when it seemed Northwestern could win three out of four and enter the NCAA tournament discussion, the Wildcats were ambushed in Lincoln, 64-49. Dave Sobolewski scored 21 points and Swopshire added 11, but the duo got little help.
Notably, Hearn struggled, with a 2/11 night (0/5 from outside).
Northwestern visits Ann Arbor Wednesday and hosts Purdue Saturday.
10. ILLINOIS (15-6, 2-5)
After three consecutive losses, the Illini were finally fighting again, murdering Nebrasketball, 71-51 Tuesday. D.J. Richardson came to play, dropping 30 points on the Huskers. The mercurial Brandon Paul added 14 points on 13 attempts.
It was John Groce's 100th career victory as a head coach.
The win over Nebraska hardly righted the ship. Illinois promptly made it four losses in five outings when they fell at home to Michigan on Sunday night.
Paul (15) and Richardson (12) led the Illini. Groce's club is turning the ball over and shooting poorly.
The Illini have a scary week on tap, visiting Michigan State Thursday and hosting Wisconsin Sunday. This team may be in danger of missing the dance after a great start to the season.
11. NEBRASKA (11-10, 2-6)
The Huskers missed a chance to post back-to-back B1G wins against the struggling Illini.
Dylan Talley scored 16 and Brandon Ubel added 10 in the loss to Illinois. Nebraska shot just 31.8%, including a horrific 2/14 (14%) from three, and was outrebounded, 38-27, in the loss.
Undaunted, the Huskers made it two out of three by blasting the Wildcats Saturday. Talley's 20 led the way, with Ubel chipping in 14 points and 12 boards.
Nebraska shot 45% and won easily despite getting only five bench points out of six players.
The Cornhuskers may have a rough week ahead, facing Minnesota on the road and Ohio State at home.
12. PENN STATE (8-12, 0-8)
The Nittany Lions are still looking for their first win in conference play this year, and appear firmly entrenched in the B1G basement.
D.J. Newbill scored 18 points in the loss at Indiana, but it took him 17 shots to get there. He also turned the ball over eight times. Jermaine Marshall added 12 points on 11 shots. This inefficiency on offense has plagued Penn State all season.
The Nitts shot 33.3% from the field, and just 13.3% (2/15) from distance, turning the ball over 16 times. Penn State actually took seven more shots than Indiana, but still lost by 23.
Part of that was the aforementioned inefficiency and part was getting Bloomington'd. Indiana attempted 37 free throws to Penn State's 18.
Marshall's 16 points and Newbill's 15 led the team against Ohio State, but the Nitts weren't helped by Brandon Taylor's 1/8 day outside the arc. A 4/17 performance from three kept Penn State from giving the Buckeyes more of a scare.
The lone game for Penn State this week is Thursday's trip to Iowa City.
NEW FRIENDS
Maryland (15-5, 3-4)
Maryland's up-and-down ride in ACC play continued this week. The Terps squeezed past Boston College Tuesday, 64-59. Then they got blasted by Duke in Cameron Indoor on Saturday, 84-64. Maryland outrebounded Duke, 42-31, but couldn't get defensive stops and shot poorly from three (5/18) and at the line (9/16).
The Terps would be No. 6 or 7 in this week's rankings.
Rutgers (12-7, 3-5)
Two weeks after getting beat by Rutgers on its own floor, St. John's returned the favor in Piscataway, 72-60. A 36.5% shooting night combined with 17 turnovers did in the Scarlet Knights. A three-point deficit with five minutes remaining turned into a 12-point loss at UConn Sunday, 66-54.
The 9 or 10 slot seems a likely spot this week for Rutgers.