Greetings, readers, and don't forget to bundle up on what looks to be a chilly day for most of the country1. 
Once this month comes to an end, I'll have said goodbye to two shows — Fringe and 30 Rock — that I've watched from the start, and both are shows that broadcast networks don't seem to make anymore. Smart, inventive, weird in the best ways possible, and not exactly inviting to a wide audience. 
It can be hard to bid farewell to shows that have entertained and even challenged you for many seasons, just like it can be hard to move on from a team that was as successful as last year's Final Four-ing basketball team. 
This year's team is not that team. Last year at this time, the Buckeyes were frustrating because they weren't living up to their potential. Right now, the Buckeyes are frustrating because they're not living up to expectations that were probably unrealistic to begin with.
That doesn't mean we can't hope for them to learn and grow or appreciate the better aspects of the team, namely Deshaun Thomas' offensive game and their overall team defense.
But we also shouldn't expect them to be something they're not. Some games, Ohio State will delight us and some games, Ohio State will disappoint us. Tonight, hopefully it's the former when they welcome Iowa to the Schott.  
The Hawkeyes are coming in with a bit of momentum, having handed Wisconsin their first conference loss of the season on Saturday night. While it was a good win for Iowa, it was also fairly predictable after the Badgers beat Indiana earlier that week.
After all, Big Ten basketball's gonna cannibalize. 
WRONG TURNOVER. So far this season, Ohio State has been fairly adept at taking care of the basketball. They currently rank No. 17 in turnovers per game (11.1) and No. 29 in turnover margin (3.4 ratio).
It's critical for the Buckeyes to remain one of the better teams in those categories because with their scoring issues, they're in no position to waste possessions, particularly against B1G defenses.
And unfortunately, they're trending in the wrong direction. Bob Baptist summed it up: 
Although Thomas made half of his 20 field-goal attempts, his teammates made a third (nine) of their 27, including 3 of 13 in the second half. With shooting like that in the low-possession games the Buckeyes have been playing, they can't afford to turn the ball over at the rate they have lately. In their first 13 games, they averaged turnovers on 15 percent of their possessions; the past four games, it's 26.6 percent.
While limiting their own turnovers should be one of their top priorities, Ohio State also needs to force their opponents to cough up the ball. It helped them in the early going against Michigan and it helped them stay in the game near the end against Michigan State. Luckily, they have two players, Aaron Craft2 and Shannon Scott, who are both averaging nearly two steals per game. 
THE MAGNIFICENT SEVEN. Normally, I'd leave this sort of news to the 11W recruiting gurus, but I noticed yesterday that Rivals released their new top 100 list for the class of 2013.
Seven Ohio State pledges are included, led by linebacker Mike Mitchell at No. 26. The others are Jalin Marshall (35), Cameron Burrows (39), Joey Bosa (47), Ezekiel Elliott (84), Eli Apple (89), and Evan Lisle (90). 
Mitchell is the only five-star recruit of the bunch, though Buckeye target Vonn Bell is also one. Another target, current Oregon commit Dontre Wilson, made the list, coming in at No. 100. 
USC has the most commits with 11, but it's not like it means much when USC is #1 in any sort of rankings. Alabama is next with eight while Michigan has three.
Oh, Ohio State beat Michigan in something? Must be a day, any day.
QUARTERBACK RATING. When it comes to recruiting, however, we are often reminded that a recruit's rating isn't a prophecy. ESPN RecruitingNation's Brad Bournival pointed out that even though Buckeye MVP Braxton Miller was highly regarded coming out of high school, he wasn't the top guy in Ohio State's 2011 class (that would be Curtis Grant)3. 
Nor was he the top QB recruit:
Miller was an ESPN 150 quarterback out of Huber Heights (Ohio) Wayne and was ranked 80th overall. He was the fourth-ranked quarterback in the nation behind Jeff Driskel, Kiehl Frazier and Max Wittek.
Anyone want to trade Braxton for one of those guys? Didn't think so.
Bournival claimed that Miller's evolution under Urban Meyer was the catalyst that "made Ohio State's spread offense sexy" and while I agree that Ohio State is now a more attractive school for the kind of athlete Meyer often gushes about, it's also not like there haven't been skilled offensive players in the program's history, both recent and not.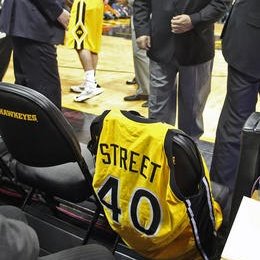 Regardless, Bournival is correct in referring to this past season as a turnaround for Ohio State. It wasn't a complete transformation, but the vast improvement in almost every offensive category certainly signaled a shift for the Buckeyes.
WORD ON THE STREET. As I mentioned earlier, Iowa took down Wisconsin on Saturday night. That same night, Iowa paid tribute to Chris Street, a Hawkeye basketball player who died 20 years ago in a car accident.
At the time of his death, Street was a star player, nearly averaging a double-double in what was his junior season. Every season since, Iowa has awarded the Chris Street Award to the "Hawkeye player who best exemplifies the spirit, enthusiasm and intensity of Chris Street." At halftime of the Wisconsin game, former winners of the award were among those who gathered to honor him. 
The NCAA, naturally, had to play the part of spoiler when it refused to grant the Iowa basketball team permission to wear No. 40 Street jerseys in the game. Instead, Iowa ended up placing his jersey on an empty chair on their bench. The players also wore CMS40 patches.
But just a month ago, Xavier wore special jerseys to benefit the Sandy Hook School Support Fund, and while I'm definitely behind that, it's hypocritical not to allow Iowa a similar exemption.
I know you're probably thinking, "The NCAA being hypocritical? YOU DON'T SAY." Still, it can't be said enough: the NCAA is just the worst.
REGARDING COACHES WITH A LOT OF LOSSES TO OHIO STATE. Speaking of, Lloyd Carr was one of eight new members appointed to the NCAA Committee on Infractions over the weekend. I guess that in retirement, he didn't know what to do with himself without always getting owned by Jim Tressel. 
And on that note, it's probably a good thing that Ohio State has taken such comprehensive steps in improving their compliance department.
In other former B1G coaching news, Bret Bielema, and his wife, have taken to Twitter to respond to critics. I think that tells us everything we need to know about the dearth of casinos in Arkansas. 
My favorite was this one:
C'mon, Biels, not every man can meet a Tampa woman 15 years his junior in Vegas. That kind of storybook romance is rare. 
Although the article claims that Bielema's 1-0 hashtag that accompanies so many of his tweets is "part of his philosophy of taking everything one game at a time (or one play at a time, one drill at a time, one block at a time and so on)", I'm pretty sure it's just an emoticon he uses that means something gross.
ICE LINK. Shazier and Hyde are two of BTN's players to watch in '13... John Simon as a linebacker is apparently not going so well in Senior Bowl practice... NCAA's comin', Frank Haith... Notre Dame is simply unreal... The Postal Service 2013? Tell us more, please... Trolling manatees... Stories of old that scarred children for life... Where the kids from Willy Wonka & the Chocolate Factory are today. 
1 If you happen to find yourself in a warmer climate, please don't troll everyone else in the comments. You'll only have yourself to blame if you get downvoted. ↑
2 Craft is also a steal away from sole possession of first place in the Ohio State record books, though he figures that wouldn't be the case if Mike Conley hadn't left after one year. ↑
3 Jadeveon Clowney was the nation's top recruit that year, so sometimes these rankings can be right on the money, right Vincent Smith? ↑