On Monday night, Thad Matta thought the remedy for offensively-challenged Ohio State was another change to the starting lineup. He ultimately decided against it, though, after the Buckeye Five turned in a solid practice that evening. But when Deshaun Thomas shoots like he did against Purdue, it doesn't matter who else is on the court – on offense or defense.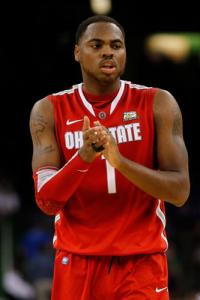 It may not have been a must-win for the Buckeyes, but it was a we-need-this-one-bad type of game for Matta's crew. And they got it, winning at Mackey Arena 74-64 over the Boilermakers. Coming off Saturday's loss, which served as the biggest margin of defeat in four seasons, Ohio State wanted badly to get on the plus side of the win column in the Big Ten, especially with Michigan and Michigan State looming.
"This game was huge, not only for the Big Ten, but to show what type of basketball team we are," point guard Aaron Craft said. "We could have gone one of two ways, but we went into practice and played hard. It was a reality check. We're starting to understand that it takes everyday to get better and become a better basketball team."
Said Shannon Scott: "We needed a statement after the Illinois game. We wanted to show the Big Ten we aren't joking around. We have to come focused every game and show toughness."
The path to victory Tuesday went through Thomas, who made his name in high school gymnasiums all over the state of Indiana. He scored 22 points, 14 coming in the first half, to pace the Buckeyes. Thomas added seven rebounds, two steals and a block for good measure. 
"My mind was right for this game," Thomas said. "We needed this game. We showed toughness. That's what it was. We got the 50/50 balls.
"When I came in the shoot-around, I made like 10 3s in a row, so I knew I was feeling good. I was feeling good, in a flow and in a good rhythm."
He wasn't the only one. Ohio State shot 55.6 percent from the field while limiting Purdue to just 38.8 percent shooting in its own arena – iron unkind. The Buckeyes ended the game with a 38-32 advantage in rebounds.
"Deshaun Thomas is as good as it gets," Purdue head coach Matt Painter said. "You talk about a combo forward who can put the ball in the basket in a variety of ways."
Ohio State built a double-digit first-half lead with Craft on the bench for a bulk of it. He picked up two fouls 30 seconds apart and exited to the bench with 15:41 remaining in the half. But as he has done throughout this season, Scott facilitated on offense and played the role of pest on defense. His night included four points, six rebounds, eight assists, and just one turnover. Evan Ravenel had 11 points – two fewer than previously thought due to a Purdue player tipping the ball into his own basket – and Craft scored 15 with 13 points coming after the break.
"Welcome to the Big Ten," said Matta, who got his 100th career win in the tough-as-nails conference. "This wasn't the type of game you want to play with Purdue's tenacity. I really thought our players did a good job of comprehending everything they had to do – offensively, scouting and defensively. This is about as big a team win as you can have."
When Craft arrived at the bench in the first half, Ohio State was leading 7-6. Some 14 minutes later, the Buckeyes went into the locker room with a 10-point advantage. Along with Scott's heady play at point guard, Ravenel and LaQuinton Ross provided Ohio State with 13 points off the bench. 
"That's tremendous, that's huge," said Craft, showing excitement over Ohio State's bench play. "It wasn't just one guy. Rav made some huge plays, Sam (Thompson) had a dunk, LaQuinton was driving, attacking hard and finishing at the rim. It's just great to see those guys get some confidence. That's what it's going to take down the road."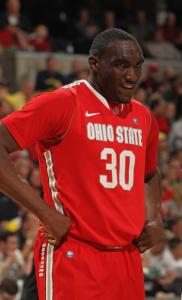 Ravenel was the biggest saving grace, spelling Amir Williams, who struggled mightily against seven-footer A.J. Hammons. At both ends of the floor, Ravenel was active. He had three blocks and two defensive rebounds to go along with 11 points and two offensive boards. Ravenel made 5 of 7 field goal attempts and his only shot from the free throw line.
"Evan did what Evan was supposed to do, and he did it with great energy," Matta said. "I think he's seen how much of a better player he'll be if he has that demeanor about him."
The performance saved the sky from falling in Columbus. In the second half, as home teams tend to do, Purdue made several runs, cutting the deficit to six and seven on multiple occasions. But the Boilermakers could never consistently stop the Buckeyes. Not with Thomas playing the way he did, Craft creating offense and whoever was called on stepping up and hitting a key shot.
A 14-point Ohio State lead with six minutes left shrunk to six points in just three minutes. That, however, was as close as the Boilermakers would get.
It was as if the Buckeyes were a can of Off bug repellent and Purdue was the insect, annoyingly nagging at Ohio State but never capable of finishing the job.
"I thought we had an element of composure about us," Matta said. "We had to have it because of the environment and the crowd."
It's a situation Thomas feeds off of, even more so when he's in front of his home state fans. He entered the game as the Big Ten's leading scorer and he extended his per game average of 20.2 by scoring 22. Everyone in the state of Indiana knows what Thomas can do with a basketball in his hand.
"He has NBA 3-point range, has a pull-up and is a great offensive rebounder," Purdue guard D.J. Byrd said. "You can't let him have catch-and-shoot 3s. He can get hot real quick."
He and his teammates found that out the hard way on Tuesday. Thomas made four three-point baskets and was hot – as Byrd termed it – from the word go.
"It's kind of hard to guard guys like that," Purdue guard Terone Johnson said.
On Sunday, Matta hopes it's the same tune Michigan is singing, instead of The Victors.