Have you been naughty or nice this year?
Braxton Miller's 2012 was more than nice as he led the Buckeyes to a perfect 12-0 season on the way to capturing the Big Ten's Offensive Player of the Year award and the Chicago Tribune's Silver Football as the league's MVP.
But the franchise isn't resting on his laurels. Via Twitter comes news that he's currently working with renowned quarterback guru George Whitfield Jr. in San Diego.
The Massillon native, through his training program Whitfield Football, has worked with some of the best quarterbacks in the game today, a list that includes Andrew Luck, Cam Newton, Johnny Manziel, Ben Roethlisberger, Landry Jones, and Tajh Boyd.
Whitfield has Ohio State connections, too. He was recruited to play for Jim Tressel at Youngstown State, but later transferred to Tiffin. His uncle, defensive end Dave Whitfield, was a starter on the 1968 national championship team.
The tutor has been working with Miller on his "chaos mechanics" which is elite coachspeak for how Miller reacts to pressure and plays that otherwise break down. You know, keeping your eyes downfield, maintaining proper footwork. That sort of thing.
It's one thing to escape a pass rusher, but how fast can you re-set yourself once you've escaped? twitter.com/georgewhitfiel…

— George Whitfield Jr. (@georgewhitfield) December 22, 2012
To think, just one year ago Miller was receiving coaching from a former video coordinator. Now, he has the benefit of learning from Urban Meyer, offensive coordinator Tom Herman and the best quarterback coach on the planet.
Your Christmas present arrived early this year.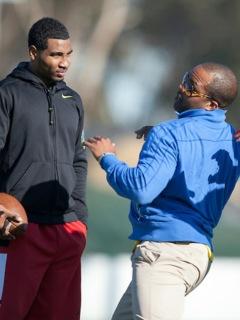 KEEPING LISTS OF THE LIST-MAKERS. If it seems like December was the month of coaching changes, you're right. In all, 26 FBS programs have a new guy, promising better results than the old guy. Thankfully, the world gave us Dennis Dodd to make sense of it all by way of a ranking of the coaching searches.
He gives Arkansas and athletic director Jeff Long the top grade for pulling Bret Bielema into hogland, noting that "Bielema will win and get Arkansas back into BCS/playoff bowls quickly." We're going to hold you to that statement, Mr. Dodd.
Of note to Buckeye fans, Dodd ranked Purdue's search and hire of Darrell Hazell 18th, mentioning the former Ohio State assistant "doesn't bring much buzz, but if he can get the Golden Flashes this close to a BCS bowl, he's worth a shot. Hey, it's only the Big Ten." And you still wear Tommy Bahama shirts to B1G Football Media Days, sir.
This list is what it is: offseason filler that will be forgotten before anyone can call Dodd on it. But we remember. Oh, we remember. A year ago, CBS Sports ran a multi-part series ranking the new hires of 2012, so let's see how that turned out.
| Rank | coach | school | record | comments |
| --- | --- | --- | --- | --- |
| 1 | Urban Meyer | Ohio State | 12-0 | Nailed it. |
| 2 | Rich Rodriguez | Arizona | 8-5 | Decent year. Not #2 on the list decent, however. |
| 3 | Mike Leach | Washington State | 3-9 | Umm...  |
| 4 | Gus Malzahn | Arkansas State | 9-3 | Malzahn did score 34 more points against Oregon than Rodrguez did. |
| 5 | Kevin Sumlin | Texas A&M | 10-2 | Should probably have been in the two spot. |
| 6 | Paul Chryst | Pittsburgh | 6-6 | Meh. Bowl game still on deck. |
| 7 | Larry Fedora | North Carolina | 8-4 | Solid hire for the Tar Heels. |
| 8 | Tim Beckman | Illinois | 2-10 | LOL |
| 9 | Jim McElwain | Colorado State | 4-8 | Turned a 3-9 team into a 4-8 team. Progress! |
| 10 | Hugh Freeze | Ole Miss | 6-6 | Doubled the wins from 2011. |
| 11 | Terry Bowden | Akron | 1-11 | Just let Tressel coach the team already. |
| 12 | Norm Chow | Hawaii | 3-9 | Hey, Norm Chow is a big name! |
| 13 | Tim DeRuyter | Fresno State | 9-3 | +5 in wins from '11. Ended regular season on five-game winning streak |
| 14 | Tony Levine | Houston | 5-7 | Again, Kevin Sumlin should have been in the two spot. |
| 15 | Jim Mora | UCLA | 9-4 | From 6-7 to 9-4 and a berth in the Pac-12 Championship game? Not bad, Jim. Not bad. |
| 16 | Ellis Johnson | Southern Miss | 0-12 | Johnson was fired after one season. |
| 17 | Charlie Weis | Kansas | 1-11 | Every time Charlie Weis goes 1-11, an angel gets its wings. |
| 18 | Todd Graham | Arizona State | 7-5 | A one-win improvement for Graham with a bowl game still to be played. |
| 19 | Garrick McGee | UAB | 3-9 | Hey, UAB is a tough place to win. |
| 20 | Carl Pelini | FAU | 3-9 | A modest two win improvement over '11. |
| 21 | Curtis Johnson | Tulane | 2-10 | Same record as '11. |
| 22 | Kyle Flood | Rutgers | 9-3 | Flood proved the CBS doubters wrong in year one. |
| 23 | Bill O'Brien | Penn State | 8-4 | A tremendous hire, even if you don't think he should have won B1G Coach of the Year. |
| 24 | Justin Fuente | Memphis | 4-8 | Doubled the win total from 2011. |
| 25 | Bob Davie | New Mexico | 4-8 | The Lobos won just one game the previous season. |
| 26 | Matt Campbell | Toledo | 9-4 | Yeah, they whiffed on this one, too. |
The point of this exercise is that you should pretty much disregard everything Dennis Dodd wrote about the latest round of hires.
DEREK DOOLEY IS TAKING THIS FIRED THING IN STRIDE. Getting fired is never easy. Some coaches disappear for a bit. Others take up golf, spend time with their family or get a booth or analyst gig with a network. A month after coaching his final game at Tennessee, Derek Dooley has turned to comedy.
Doing his own 10 days of embracing (or fearing) a professional transition, his Twitter standup game is strong. A couple of days after showing off his Fired Football Coaches Association gear, Dooley shared his thoughts on a trip to Publix, which is like Kroger except it sells Confederate flags next in the cooler aisle:
8. Know how Jack feels after trip to Publix (M Keaton/Mr Mom). Last time feeling that helpless: when any opposing offense took the field.

— Derek Dooley (@DerekDooley) December 23, 2012
We have to think Sal Sunseri, his defensive coordinator in Knoxville last season and now with Florida State, appreciated that tweet.
PAGING ALL INTERN CANDIDATES. We are still accepting applications for a spring semester intern here at Eleven Warriors, so if you know a current Ohio State student that a) loves Buckeye sports and b) enjoys working working with fun people, please send them our way.
ETC. Zach Boren fluff is always delicious... Bowling Green's helmets for the Military Bowl – MURICA!... seaboss2003 is your 11W Bowl Challenge leader through six games... The new hotness: Cheat your way to college success and then jump to the NFL before the NCAA gets around to you... Some say the Heisman Trophy is the pinnacle of trophy greatness. We disagree.