Ross kicked off our "2012 in Review" series yesterday with The Top 11 Plays of the 2012 Ohio State Football Season, and now it's time for me to share my specialty and run down the top recruiting moments over the last year.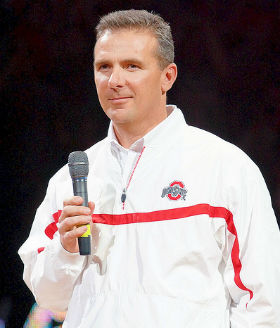 When Urban Meyer came to Columbus in November 2011 he made a ton of noise, especially on the recruiting trail where his rock star status brought an average-at-best Ohio State recruiting class into the top five in the country on National Signing Day, just two months after he was hired.
Jim Tressel was a great recruiter, consistently bringing in top 10 nationally ranked groups, but the new staff, headlined by the efforts of Meyer and Mark Pantoni, have Ohio State football going to places it has never been before.
Thanks to relentless effort, the Buckeyes have seen big early returns in rejuvenating the lifeblood of any major college athletics program — recruiting.
Meyer wasn't the only coach who did work on the trail though, as Thad Matta brought fan favorite Amedeo Della Valle into the fold for the class of 2012, has two outstanding players in his class of 2013, and has a great foundation for what could be an epic 2014 class.
Join us after the jump, as we reminisce about the work Urban and Thad have done with recruiting and break down the top 11 recruiting moments of 2012.
11. Spence Gives Urban His Pledge
Technically it was on December 18, 2011, when five-star prospect Noah Spence of Harrisburg, Pennsylvania, committed to Ohio State, but we felt his commitment deserves mention on this list.
Spence was considered a Penn State lean just a month before his pledge to the Buckeyes, but the Jerry Sandusky scandal emerged, leading to the dismissal of Joe Paterno, and thus opening up the super prospect's mind to look at other schools.
Florida, LSU, Notre Dame, Michigan, USC, Tennessee, the Nittany Lions and others were coming hard after Spence, but all it took was two weeks for Urban Meyer to come in and sweep him off his feet. The defensive end visited Columbus the weekend of December 17 and gave Meyer his verbal commitment on the ride back from campus, finally finding his future home as a Silver Bullet.
While Tommy Schutt and Se'Von Pittman were the first two prospects to commit to Meyer a week earlier, Spence was the "statement get" for the new OSU head coach.
By reeling in Spence after just a couple weeks of courting and one visit, Meyer displayed his rock star persona for the entire country to see and showed how he would go after the biggest and best names on the recruiting trail, regardless of how uphill of a battle he was facing.
10. Kam Williams Commits
Marc Loving committed to Ohio State in August 2010 and for a long time he was the only member committed to Thad Matta's 2013 recruiting class.
That changed on September 18, 2012, when Towson (MD) Mount Saint Joseph G Kameron Williams chose OSU over scholarship offers from Miami (FL), Marquette, Syracuse, Xavier, Virginia, Virginia Tech, Wake Forest, and many others.
The 6-2/175 Williams was a big pickup for Thad, as he is a combo-guard who can score from anywhere on the floor. It also was a significant commitment as the Bucks were in a bit of a recruiting drought on the hardwood, and landing the four-star talent from the Mid-Atlantic region let the country know that Matta hasn't lost his magic when it comes to pursuing big-time players.
Williams signed his letter of intent in November and is expected to provide immediate help in the backcourt next season, where the group can use a boost on the offensive side of the floor.
9. The Spring Game
The Ohio State Spring Game is always a fun event for fans to check out the team before school lets out for the summer, but it also has traditionally served as a big recruiting weekend for the Buckeyes.
That certainly didn't change under Urban Meyer, as a long list of highly touted prospects made their way to Columbus to see a crowd of 81,112 fans welcome them to the Horseshoe. 
While the list of names was impressive, the more important thing about the April weekend was the results. DE Joey Bosa, LB Lewis Neal, and LB Alex Anzalone (a story we broke) all committed to Urban Meyer following their visits, and Thad Matta even got into the game, earning a pledge from G Amedeo Della Valle.
Of course as things played out, Neal decommitted from the program a week after his visit, while Anzalone was caught up in one of the weirder recruiting stories you'll ever see, eventually ending up as a member of Notre Dame's 2013 class.
Nonetheless, the Spring Game still brought in Bosa, who may end up being OSU's most coveted 2013 signee, as well as Della Valle, who has potential as a three-point sniper for the hoops program.
The weekend also served as a good platform for some 2014 recruits to check out the Buckeyes for the first time and led to some relationship building with other relevant 2013 prospects including Donovan Munger, Chris Worley, James Quick, Corey Smith, and others.
8. The Cleveland Heights Signing Day Press Conference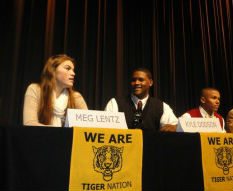 February 1, 2012 not only marked National Signing Day for football, but it also served as a day that will live in infamy for Ohio State fans.
Cleveland Heights High School, home to star OT Kyle Dodson, announced they would be streaming their Signing Day press conference live online, so naturally Buckeye fans tuned in to see where the four-star tackle would end up.
What they didn't expect to find when logging on was that not only would the Cleveland Heights football players be featured in the press conference, but also that women's lacrosse player Meg Lentz would be announcing her college decision.
As the story goes, Lentz's coach was supposed to give a brief introduction to his star player before she made her college selection, but what should have been a three- to five-minute warm welcome ended up being an eternity.
Buckeye fans took to 11W, as well as Facebook and Twitter, to voice their thoughts on Meg while they waited impatiently, in disbelief, for Dodson to get his turn at the podium.
Eventually, Meg's coach finally finished up, Lentz made her college decision, and we were able to move on to football to hear Dodson commit to Ohio State.
Frustration turned to laughter as the day went on, with thousands of Meg jokes being made throughout the interwebs, and an innocent high school lacrosse player has now become a legend amongst Ohio State recruiting fans.
Oh yeah, that day was also made awesome not only because of Meg and the new Buckeye addition in Dodson, but also because Kyle made his announcement in the most awesome fashion possible:
7. Burrows and Marshall Kick Off 2013
Urban Meyer was on a roll in late December and early January when it came to the recruiting class of 2012, but fans were already anxious around that time to see who would be the first members to pledge to OSU's class of 2013.
They didn't have to wait long as Cameron Burrows became the first to come on board, giving Meyer his pledge on January 19.
Burrows was a big pickup for the Buckeyes at the time, not only because he is regarded as one of the top prospects in America, but also because he opened up the Trotwood Madison to Ohio State pipeline that didn't exist during the Jim Tressel Era.
With Burrows, the Buckeyes weren't done though, as the positive momentum continued not even two weeks later when super athlete Jalin Marshall of Middletown committed to Meyer.
Marshall played quarterback for his high school team, but was being recruited for running back or slot receiver by many of the country's elite programs. It was a big statement for Meyer to build a relationship with him so quickly, because not only is he a perfect fit for the offense, but his commitment also gave the new head coach the top two players in the state to kick off his class.
6. Urban Doubles Down in December
After getting Tyquan Lewis's commitment on September 20, Ohio State was sitting in great position with 17 players on board for the class of 2013.
While the coaches were happy where things were at, fans started to get antsy as both October and November rolled by with no new additions to the group.
That all changed just a few weeks ago, when Meyer and the staff hosted a number of talented prospects for official visits on the second weekend in December. Prospects on hand for their visits included LB Mike Mitchell, LB Tommy Sanders, DL Donovan Munger, and ATH Gareon Conley.
To get just one of those prospects to commit would have been great work by the coaches, but the Bucks ended up getting two, landing Conley and Munger following their trips.
Conley, a 6-2/170 athlete, could end up at either cornerback or wide receiver at Ohio State. He is a four-star prospect from power program Massillon Washington and with his pledge, Urban keeps one of the state's best home.
To sweeten the deal for coaches and fans alike, Conley had been committed to Michigan since the beginning of the year, so not only did OSU get a very talented prospect, but they stole him from their rivals up north.
Munger checks in at 6-4/285 and starred on both the defensive line and offensive line for Shaker Heights. The four-star prospect was always an Ohio State fan, but there were some concerns about the depth chart and rumors were flying that UCLA was the favorite to land him prior to his visit.
Donovan was accompanied on the visit by his mother and both parties got all they could ask for from the Buckeyes when they got down to Columbus. The Mungers felt at home from the minute they stepped on campus, making it that much easier to pull the trigger on a verbal commitment and leave Ohio State a step closer to finishing out their 2013 haul.
5. Thad Doubles Down in 2014
A few weeks before Urban "doubled down" on Conley and Munger, his hardwood counterpart Thad Matta went to work on the recruiting trail, landing two of his own super prospects in 2014 forwards Keita Bates-Diop and Jae'Sean Tate.
Matta's last pledge had come from Kam Williams in September, but before that it was Della Valle in April and the coach was missing on various 2013 targets. Fans were getting restless, worrying if the OSU boss had lost his touch when it came to reeling in big-time players to Columbus, but Thad answered in a big way.
On November 18, the 6-6/180 Bates-Diop shocked many people when he announced he would play his college ball for the Scarlet and Gray. The four-star forward flew under the radar a bit when it came to recruiting, but many thought that Michigan was the favorite to land the wing.
It turns out that the Normal Community star had a strong bond with the Buckeyes' coaches, and it certainly didn't hurt that he plays for the same AAU coach/program that Evan Turner did. His commitment was a big one, as it gave OSU a great start to their 2014 class, and also helped Matta make a big statement when it came to showing he can still recruit with the best of them.
Bates-Diop's pledge was also big because it put pressure on local star Jae'Sean Tate of Pickerington Central to make a decision. Tate was planning on waiting things out a bit, but after Bates-Diop committed, the coaches spoke to the Tate family and said room would be tight and they would need a decision rather soon.
The Tates sat down and Jae'Sean decided to pull the trigger for the Buckeyes, citing he knew he'd always be a Buckeye because of a strong bond with the program, especially with Thad Matta. 
At 6-5/205, Tate is also a four-star prospect and should be able to contribute at shooting guard or small forward, while Bates-Diop projects as a player who will play both small and power forward, like Deshaun Thomas currently does for the Buckeyes.
4. Urban Meyer: The Ultimate Flipping Machine
While never proven, there was always reportedly some sort of "gentlemen's agreement" amongst Big Ten coaches to not go after each other's committed prospects. If such a thing existed, it didn't matter to Urban Meyer, who immediately came into the conference and dynamically changed the way recruiting was practiced.
Meyer went after everybody and anybody, not caring who they were committed to. In his mind, it was a new regime at OSU, one that had not been given a chance to recruit the player at hand before, so he was doing nothing wrong in selling the new brand of Buckeye football to whoever wanted to listen.
The efforts of the new staff yielded great results, as Meyer was able to "flip" Tommy Schutt, Joey O'Connor, Cam Williams, and Armani Reeves from Penn State, Kyle Dodson from Wisconsin, Se'Von Pittman from Michigan State, and Taylor Decker from Notre Dame.
Of course, the Jerry Sandusky scandal helped with many of the former Nittany Lions' commits, but Meyer and his staff were relentless in securing their commitments when opportunity arose.
As for Pittman and Decker, both players always wanted to be Buckeyes, so the coaching change in Columbus allowed for that to happen, since the old staff didn't do the best job in their pursuit of either prospect.
Finally, the Dodson flip was epic, as it led to the now infamous feud between Bret Bielema and Urban. The problems Bielema had with Meyer are very ironic nowadays, as he is currently at Arkansas looking to poach recruits from his old program as well as from other schools in the SEC.
2012 in Review
3. The Game
The 2012 edition of The Game was certainly a good one if you root for Ohio State, as the Buckeyes took down the Wolverines, 26-21, to end the season at a perfect 12-0.
The day was also great, not only because of the victory, but because it served as the biggest recruiting weekend in recent memory.
Nearly 100 prospects were in attendance to see the greatest rivalry in sports, giving Urban Meyer and his staff a tremendous opportunity to impress prospects across the classes of 2013, 2014, and 2015.
Impressed might be an understatement to describe the experience recruits had at the game though, as they not only saw an excellent contest between the two teams, but also got to experience the celebration of a win and perfect season with the OSU fans on the field after the game.
No verbal pledges came directly out of the weekend, but the atmosphere in Columbus was unmatched and set the Buckeyes apart from other schools in the minds of many visitors, possibly setting the stage for OSU to land some big time players down the road.
2. Friday Night Lights
Friday Night Lights, a high profile summer football camp including some of the nation's top prospects, was the brain child of Mark Pantoni and Urban Meyer at Florida and served as one of their biggest recruiting tools that helped them win two national titles in Gainesville.
Unlike other programs' football camps that were privately held at practice facilities such as the Woody Hayes Athletic Center, FNL was unique in that it took place in the football stadium under the lights, open to the public, with music blaring from the speakers and highlights of the team's previous seasons flashing on the jumbotron.
When Meyer was hired at Ohio State many were wondering if the coach would bring the popular event to the Horseshoe, and they were not disappointed. The first annual OSU version of FNL was held this past summer on July 27.
The camp, as usual, brought a list of big-time players to Columbus, and certainly lived up to fans' expectations. The event led to the commitment of OL Timothy Gardner, while also teeing up some serious interest in the Buckeyes amongst other 2013 and 2014 prospects.
It's safe to say Meyer and Pantoni's first go at bringing their infamous camp to the 'Shoe was a huge success, and if I was a betting man, I'd put a lot of money that the 2013 version of Friday Night Lights will reach new heights.
1. National Signing Day 2012
We had a great time on National Signing Day in 2011, but with a growing site and expanding recruiting coverage, we knew we had to bring you more in 2012.
During last year's Signing Day we held a live blog, bringing 5,000+ fans together throughout the day, as well as a scrolling marquee to notify you when letters of intent were faxed in. We provided gray box updates as various prospects around the nation announced their college destinations, and I even made an appearance on the Bull and Fox show up in Cleveland to run down the newest haul of Buckeyes.
When the day was over we broke down Urban Meyer's first recruiting class for you, player by player, and were on hand to see the new Buckeye boss talk about the first group of prospects he was bringing in to don the scarlet and gray (Parts 1, 2, 3, and 4).
Outside of all the great things we saw on the site, the Buckeyes picked up some big-time players on February 1. Kyle Dodson made the infamous switch from Wisconsin to Ohio State in rare fashion that day, while Jamal Marcus joined the fold, basically out of nowhere, and got some serious props from Meyer, who called his film "borderline ridiculous" in the Signing Day press conference.
With the way the 2013 class is stacking up, we could be in for another exciting finish come Signing Day this year. We are constantly working to figure out how to bring you bigger and better coverage than we did last year, so sit back and enjoy the ride over the next month or so.