To help usher in the second year of the Urban Meyer era at Ohio State, 11W has asked David Wunderich, Gator expert and manager of the SEC blog Team Speed Kills, to give us an idea of what to expect.
Hi, Buckeyes. I've been a Gator since birth in 1985, but I actually don't have any animus towards The Ohio State University. I have family ties to Ohio on both sides, my wife has a graduate degree in flute performance from OSU, and as a low brass guy myself, I think TBDBITL is pretty awesome.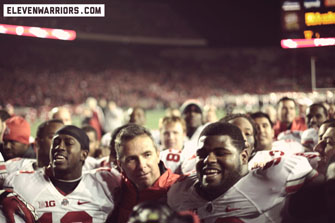 Anyway, you can find me around the Internet using the handle "Year2". It dates back to my first college football blog, when in 2006 I decided to chronicle Urban Meyer's second season in Gainesville. He experienced a big jump in team performance at his first two coaching stops with Bowling Green and Utah, and I thought he might go three-for-three. That season worked out pretty well, so the name stuck.
Meyer can't lay claim to any kind of patent on the second year surge, of course. It's common to the point of cliché to hear coaches say that the biggest improvement in a guy's tenure occurs going from the first year to the second. The coaches know the players better, the players know the system better, and the malcontents will largely have found somewhere else to be.
In the BCS era, coaches that exhibited second-year improvements at their schools have won ten of the 14 national championships. Four of those coaches—Bob Stoops, Jim Tressel, Meyer, and Gene Chizik—actually won the title in their second years. Bobby Bowden's first couple seasons at FSU in the late '70s went 5-6 and then 10-2. Pete Carroll jumped from 6-6 to 11-2 in his second year before winning a couple AP titles and one BCS championship. Nick Saban experienced second year improvements at both LSU and Alabama before subsequently winning his titles.
A few other notable coaches who didn't end up winning national championships at their schools still had some remarkable second year successes. Lou Holtz at South Carolina and George O'Leary at UCF went winless in their first seasons before winning eight games apiece in their next ones. Rich Rodriguez was an awful 3-8 in his inaugural 2002 campaign at West Virginia before jumping up to 9-4 the following season. Dan Hawkins went from 8-4 in his first year to 12-1 in his second at Boise State, and the program has failed to win 10 games just once in the time since.
With that said, not all successful coaches see a big jump in record in their second years. Mike Leach at Texas Tech went 7-6 his first season and 7-5 in the next. Steve Spurrier at South Carolina only improved from 7-5 to 8-5 across his first two seasons, and he went through three six-loss campaigns before the program really took off.
That does not mean their teams didn't improve, though. Merely looking at the record is but one way to compare consecutive teams. For instance there's point differential, which is points scored minus points allowed. Leach's first team finished with a point differential of 52, but his second had a point differential of 121 for a 69-point jump. Spurrier's point differential gain was even larger, increasing 98 points from five to 103.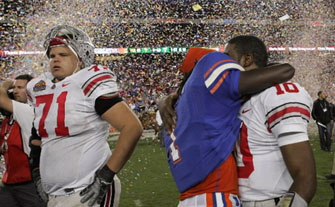 With Meyer having gone undefeated in 2012, his winning percentage can't improve. The other quantifiable categories certainly can go up, though. Ohio State's point differential was 172 this year. In Meyer's second seasons there, Bowling Green's was 186, Utah's was 310, and Florida's was 227. OSU's yardage differential this year was 770. In his second years there, Bowling Green's was 1006, Utah's was 1876, and Florida's was 1969.
Going undefeated once is really hard. Going undefeated two seasons in a row is next to impossible. It does happen, though. Pete Carroll did it two regular seasons consecutively in 2004-05 before losing the Rose Bowl. Tom Osborne pulled it off, going a combined 25-0 in 1994-95. Barry Switzer didn't lose until his third season at Oklahoma, going 21-0-1 in his first two seasons. Frank Leahy went four seasons without losing from 1946-49 at Notre Dame.
While I don't think I'll ever bet that a coach will do two undefeated seasons in a row, I will give Meyer a chance to do it. He's had undefeated regular seasons now at three of his four stops, in 2004, 2009, and 2012. The rest of the Big Ten is in a down cycle. He's known for second year surges, and he just finished coaching his best first-year team yet. It's hard to imagine that a massively successful Ohio State won't be one of 2013's biggest stories.