No need to pinch yourselves – the Buckeyes still went 12-0, Urban Meyer is still your head coach, the Roundball Buckeyes play Duke tonight, Braxton and John Simon won B1G player of the year awards last night, and Urban's assistants are going HAM on the recruiting trail. 
It's a good time to be a Buckeye. 
Coping with the offseason will be the name of the game for today's Skull Session, as "Silly Season" for coaches, conferences, and recruits has begun. 
We'll be getting to offseason football analysis in the upcoming days and weeks, but one thing that occurred to me this morning is that we have five current underclassmen offensive linemen who will undoubtedly make a difference next year: Jacoby Boren, Joey O'Connor, Chase Farris, Taylor Decker and Kyle Dodson. 
O'Connor and Dodson were both four-star recruits that had to redshirt due to injury, while Farris, Boren, and Decker were all backups that saw extremely limited time this season.
With Decker likely to seize Fragel's vacated position, these four touted linemen will likely serve as the primary backups next year to an experienced starting group under the tuskless Ed Warinner.
Just in case you weren't excited enough for the offense next season.  
 TIS THE SEASON FOR SCHADENFREUDE. Though you probably wouldn't be able to tell by talking to an actual Michigan fan, Michigan has been having a rough go of it since their loss in The Game – even in their quarterback recruiting. Great! 
Jamie Samuelsen of the Detroit Free Press asks whether 2012 was a success, failure, or something in-between. He's largely fair in his analysis, taking a wait-and-see approach based upon how 2013 goes. 
What gets me excited is the bolded part below: 
Let's eliminate the two extremes. It clearly was not a rousing success. The Wolverines were embarrassed by Alabama and lost to two of their bitter rivals (Ohio State and Notre Dame)...Michigan football is not back in terms of where most fans think it should be. They lost to Ohio State (and really got outslugged in the second half).
While some analysts want to paint Meyer's spread offense as the less smashmouth of the two approaches to offense, that clearly is not the case. The Buckeyes leaned on Hyde and the base inside-zone run game in the fourth quarter to outmuscle the weaker Michigan defensive line and grind out the victory.
 BOWLING IS STILL FUN TO WATCH. The Buckeyes may not be going bowling this year, but that doesn't mean that there aren't a ton of interesting potential matchups to enjoy. 
In particular, the Fiesta Bowl matchup of Oregon and Kansas State, the possible Rose Bowl between Nebraska and Stanford, Hazell's Kent State against Malzahn's Arkansas State in the GoDaddy.com bowl, and the Wolverines vs. Manziel and Texas A&M all look like high quality bowl matchups.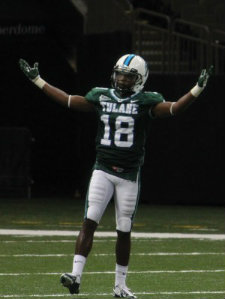 CONFERENCES ARE CHANGING. The Big East added two teams yesterday in East Carolina and Tulane, but I'm not really sure why this is important enough to be my third news item (sorry, @Mengus22). 
However, this news – combined with the B1G's recent additions of Maryland and Rutgers – has some important implications for our understanding of what conferences value in their member schools and how they make strategic decisions. 
In particular, it looks like conference survival is not necessarily dependent upon football success. Besides mere survival of the conference, conferences primarily value member schools that provide 1. Money, 2. Stability, 3. Championship contenders, or 4. Basketball?
Maybe it's actually not even correct that conferences will do anything to survive: 
There have been rumors, and from some decent places, that the BE basketball schools were thinking about voting to dissolve the league...

— David Wunderlich (@Year2) November 27, 2012
...and then form a national basketball conference. If true to any extent, the BE needed to add more football members to block said vote.

— David Wunderlich (@Year2) November 27, 2012
OPEN SEASON FOR COACHES. With a number of high profile vacancies in college football, it's definitely set to be an interesting offseason.
Feldman starts us off by breaking down the top ten possible head coaching candidates, and I'm really surprised Hazell isn't more than an honorable mention. Is anyone else surprised that a school would look seriously at Petrino with all of his baggage? Winning is winning, I guess. 
Forde breaks down the top open coaching destinations, with Purdue coming in sixth ahead of Boston College, Kentucky, and Colorado. Cross Kentucky off as a vacant position, as Mark Stoops has secured the job. 
In what I initially thought was the Internet trolling me, it actually looks like Les Miles was offered a serious amount of money for the Arkansas job. We'll see if this one is actually true or just smoke without a fire. 
Unfortunately, as Ohio State assistants continue to get recognized for being awesome, their names will start to appear on head coaching candidate lists: 
#Buckeyes co-offensive coordinator/offensive line coach Ed Warinner a possible #Purdue target? Hmm. Could be.

— Tom Dienhart (@BTNTomDienhart) November 28, 2012
Southern Miss started an unfortunate precedent for firing first-year coaches when they let Ellis Johnson go today. Could Tim Beckman actually be next? Fowler writes that maybe it's just more expensive to keep a losing coach long term. 
Of course, some are saying that even long-tenured coaches like Mack Brown could get the boot as well.
 B-1-G!! B-1-G!! B-1-G!! The Big Ten took a 4-2 lead over the ACC in the ACC-Big Ten Challenge last night. Indiana beating North Carolina in Bloomington wasn't a surprise. Nor was Michigan topping North Carolina State or Minnesota handing Florida State a home loss.
Nebrasketball beating Wake Forest by 16 in Winston-Salem? That was a surprise. And a welcome one at that.
But wait, it gets better! Nebraska has a veritable round mound of rebound and he's amazing.
Oh, be sure you to check out the shoes Under Armour created for the Northwestern-Maryland clash. You'll trip for days.
 SPARE A LINK? Auburn has one last meltdown... Some recommended reading for the aspiring football strategists in the room... Awesome infographic comparing regional college football fans... NCAA '13 picks Alabama, Nebraska to win conference championship games... Ohio State isn't alone in going undefeated but not playing for a national title... Awesome photos of college football from 100 years ago.