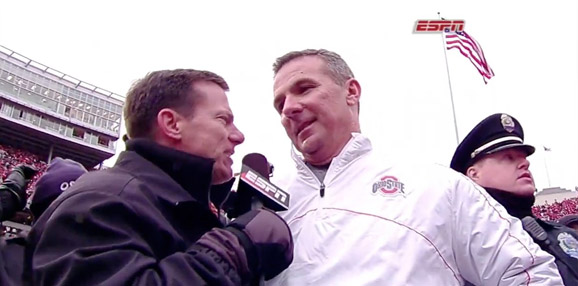 Warning: This page is bandwidth intensive. If you're on a cellular network or slow connection, turn back! Turn back!
From the opening hostilities, to Tressel's hoist to the shoulders, to the Gatorade shower at the end, we have you covered with the GIFs of note from Ohio State's 26-21 win in The Game Saturday.
PREGAME Bradley Roby and Dennis Norfleet are eager to get this hate show going.
PREGAME More hate.
PREGAME Urban Meyer and his Buckeyes take the field.
Q1/Q2 BREAK After honoring the 2002 team, Jim Tressel is hoisted to the shoulders of his players.
Q1/Q2 BREAK The fans show their approval.
Q2|1:37 Answering a long Wolverine touchdown pass, the Buckeyes march down the field, capping it with a Miller to Philly Brown 8-yard touchdown pass to put the good guys up 17-14.
Q2 Michigan defensive coordinator Greg Mattison has an... ahem... interesting set of hand signals.
Q4|4:57 Ohio State safety C.J. Barnett intercepts a Devin Gardner pass to help put the game away.
OT4|1:46 Following a run to help ice the game, Carlos Hyde gives Denard Robinson a taste of his own medicine by eating up the results.
POSTGAME The proverbial Gatorade shower for Urban Meyer.
POSTGAME Michigan coach Brady Hoke escapes without shaking hands with Urban Meyer.
Complete Game Coverage