Six years ago, Ohio State and Michigan entered the final week of the season ranked No. 1 and No. 2. On the eve of the game, as if any more storylines or emotion needed injected into the game, legendary Michigan head coach Bo Schembechler died.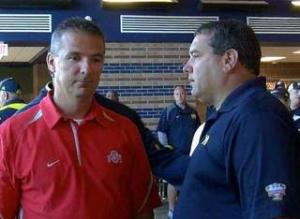 The next day the Buckeyes and Wolverines battled for 60 minutes in one of the rivalry's greatest games. Ohio State prevailed, 42-39, and there were murmurs of a rematch in the national championship game. That vision never came to fruition, but both schools certainly wish it would have, because they each suffered humiliating losses in their bowl games.
January 2007 signaled the beginning of a decline in the Big Ten. For the better part of four months in the fall of 2006, the conference enjoyed arguably its finest stretch. Entering the postseason, Ohio State, Michigan and Wisconsin were 34-2 and ranked in the top five. But those two loses by the league's premier programs sent the Big Ten reeling.
It is still in the process of recovering. And if it does, Ohio State and Michigan will have played the biggest role in its rehabilitation.
The Ohio State-Michigan game has taken the same hit. The Maize and Blue languished through three years of irrelevancy with Rich Rodriguez, which sent the titanic late-November clash down a notch or two.
Coaching Ohio State and Michigan on that November day in 2006 were two men who "got it." Jim Tressel was an Ohio native and assistant at Ohio State under Earle Bruce in the 80s, while Lloyd Carr had been on the staff at Michigan since 1980.
The two have been replaced by near clones when it comes to The Game.
For Urban Meyer, Michigan is That Team Up North.
"I know it, I'm just not going to say it," Meyer said when asked if he knew the name of Ohio State's rival. "If the players say it, you have to do pushups."
Brady Hoke has used similar jabs. In two seasons at Michigan he is yet to refer to the Buckeyes as Ohio State. Instead, it's just plain Ohio.
The two grew up in opposite corners of the state rooting for opposing teams. Meyer idolized Archie Griffin and Woody Hayes, while Hoke chose to be the kid that strayed from the norm.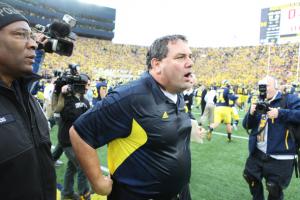 "I had a lot of respect for Coach Hayes and love Coach Hayes," Hoke said. "But I was not a fan of that university in Ohio, because my buddies were. So I had to be different, and I can tell you I became a Michigan fan and fanatical about the University of Michigan."
When Meyer was hired by Ohio State, he put a sign up in the Woody Hayes Athletic Center mocking the majors chosen by Michigan's football players. He didn't stop there, though. All the football schedules throughout the complex were edited to say "That Team Up North" for the Nov. 24th game.
"You hate them, but you respect them," said senior linebacker Zach Boren, whose dad was a linebacker at Michigan. Boren's brother, Justin, played two seasons in Ann Arbor before transferring to Ohio State after Rich Rodriguez was hired.
"You hit so much harder in that game," Boren said. "Afterwards, you're so much more sore than after a normal game because you put your heart and soul on the line."
Meyer was introduced as head coach just days after Michigan broke Ohio State's stranglehold on the rivalry. For seven straight years, the Buckeyes came away from The Game victorious.
The John Cooper era was the low point for Buckeye Nation as they suffered through a 2-10-1 malaise. But it took Tressel just 10 years to cancel out that eight-game difference with a 9-1 record.
Michigan went through its thin years during Rodriguez's three-year tenure. The Wolverines were 15-22 during that stretch and lost to Ohio State all three years by a combined score of 100-24.
Cooper and Rodriguez were both outsiders to their respective programs and were never fully accepted by the fanbases. Each dose of success came with skeptics pointing out the flaws. And the same chorus erupted the week of The Game. They were a combined 2-13-1 against their arch rival, leading many to say they just didn't understand the magnitude of the rivalry.
But when Tressel and Meyer were hired at Ohio State and Hoke at Michigan, legions of fans embraced the decision for the simple fact that they were Ohio guys and a Michigan Man.
It's even trickled down to the players.
"Coach Hoke is building that program to be as good as Ohio State," Boren said. "We're happy for them. We want that rivalry to be back. We want those games to be great games."
That's what the forecast for Saturday is calling for, another fine installment of a timeless rivalry.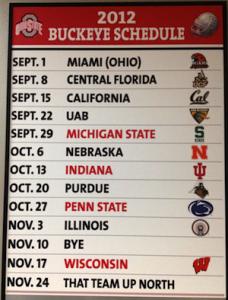 Hoke got his first taste of The Game as a head coach last season and came away with a win. It's something Meyer would like to duplicate in 2012. Throughout his career "rivalry games" have been when Meyer's teams perform their best. He is 21-3 in games defined by bad blood.
In 1986 and '87, Meyer was part of two classic Ohio State-Michigan games. The '86 contest was a winner-take-all affair for the Rose Bowl. In the week leading up to the game, Michigan quarterback Jim Harbaugh guaranteed victory. A few days later he backed his talk up by leading the Wolverines into Ohio Stadium and coming out with a 26-24 win.
The following year included more drama in the buildup to The Game, but this time it was due to Ohio State head coach Earle Bruce getting fired. He still coached that Saturday, and when the team came out on the field, they were wearing "Earle" headbands in support of their ousted coach.
The Buckeyes went on to win, 23-20.
"I happened to be the guy standing at the door (before the team went on the field)," Meyer said. "I was a GA. I opened the tunnel door and (Michigan's) locker room was right across from me. There stood Bo Schembechler with a bunch of big players behind him. Here I am, a guy who grew up with the rivalry, 21 years old, and I'm six feet away from him. I just froze."
Saturday is the 109th renewal of The Game. But none were bigger than Games 66 through 75. That decade-long stretch is known as the Ten-Year War. It started in 1969, when Schembechler, a Hayes protégé, beat an Ohio State team that was thought to be unbeatable. During that span, Ohio State or Michigan represented the Big Ten in the Rose Bowl all 10 years. Schembechler and the Wolverines held a 5-4-1 advantage over Hayes and the Buckeyes.
Due to the current head coaches' intimate history with the rivalry, many are pointing at another prolonged conflict. Some say nothing could ever compare to the halcyon days of Hayes and Schembechler, but history is known to repeat itself.
"It is the most important game on that schedule," Hoke said. "It's almost personal. That last Saturday in November, at 12 o'clock, that ball being kicked off.
"There's nothing like it."