At one point in time, this award was known as the Buckeye NFLer of the Week. Thanks to a typo and the ensuing LOLsession from the commentariat, it was renamed as the Houndie. Same intent, but now with a better name.
The NFL's week six is now in the books and while the vast majority of former Buckeyes found themselves on the losing end of the scoreboard, a handful turned in some pretty solid performances. 
Far from an NFL aficionado, I'll do my best to summarize how the key players fared this past weekend while announcing that beginning next week, the Houndie will be back in good hands as Corey returns from sabbatical. 
He forgot to share his secret sauce for determining a winner so we're playing by my rules today. Actually, I only have one rule and it's that the Houndie winner must play for a winning team unless his name is Antoine Winfield because, pound for pound, he's the baddest Buckeye of them all. 
With that out of the way, let's see how things played out...
Ted Ginn Jr. has fallen on hard times in San Francisco. The burner from Glenville returned two punts for 22 yards in the Niners' 26-3 loss to the Giants. If both nfl.com and espn.com are correct, Teddy Ballgame has yet to record a catch this season (one target) and has exactly one rushing attempt for -3 yards. He fumbled that one and only carry. 
Sticking with special teams, the NUUUUGE improved to 10/11 on field goal tries this year with a 44-yarder in a losing effort that saw the Browns record their first win of the season. Nuge has a season long of 47. Teammate Nate Clements had just one stop in the 34-24 loss. 
A pair of Buckeyes squared off as the Dolphins beat the Rams, 17-14, evening both squads to 3-3. Miami's Brian Hartline has been nursing a quad and was ineffective Sunday, targeted zero times by surprising rookie QB Ryan Tannehill. Despite the donut, Hartline is still 7th in the NFL with 514 receiving yards, though 49% of those came two weeks ago when he blew up for 12 grabs and 253 yards in the desert. 
On the other side of the ball, Rams LB James Laurinaitis recorded a season-low six stops though he still ranks 6th in the league in tackles with 55.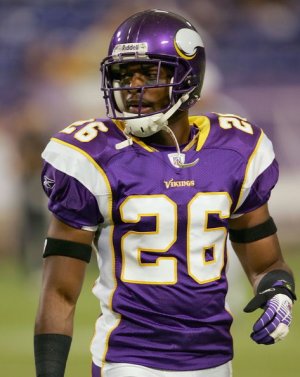 Speaking of former Buckeye defenders having fine seasons, Kurt Coleman continues to make a name for himself in Philly. The crazed shoe-throwing spaz had another eight tackles, 2nd on the team, in a 26-23 overtime loss to Detroit. On the season, Coleman ranks 6th in tackles from the safety position and 40th in the league overall. Not bad for the 244th pick of the 2010 Draft. 
Two other former Buckeye defenders had middling efforts as Donte Whitner recorded five stops in San Francisco's noted blowout loss to the Giants and Bobby Carpenter had two tackles in New England's 24-23 loss to Russell Wilson's Seahawks. 
Still seeking his first career NFL reception, DeVier Posey didn't accomplish that feat but he did recover a blocked punt for first career NFL touchdown in mop-up duty of Houston's loss to Green Bay. Good on DP. Always nice to see a Buckeye in the end zone. 
The man on the end of Holy Buckeye, Michael Jenkins, recorded season highs in both receptions and yards with a six catch, 67-yard performance complete with a touchdown in the Vikes' 38-26 loss to the Washington Redskins. 
With those performances out of the way, this week's Houndie came down to two guys: A.J. Hawk and 'Toine. 
Hawk was a beast in Green Bay's 42-24 pasting of Alex's Houston Texans, tallying 10 tackles and a sack. Hawk's effort moved him up to 11th in the NFL in tackles with 51 and his 10 tackle effort was just one off his season high set three weeks ago in a loss to Seattle. 
Despite Hawk's beastly performance, this week's Houndie still goes to the one and only Antoine Winfield. The 14-year vet out of Akron turned in a gem, leading the Vikings with 10 tackles and three TFL while picking up a pass defensed and an interception of Robert Griffin III. 
The 35-year-old is still one of the best in the business. Through six games, he leads all NFL corners with 44 tackles and ranks 26th overall.