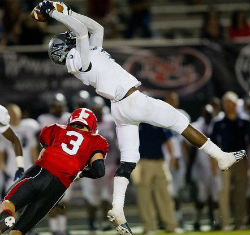 Myles Autry, of Norcross (GA) is a 2014 athlete who has said that Ohio State is his "dream school." Last week, the Buckeyes brought him a little closer to that dream and came through with an offer for the Peach State standout.  
Under Urban Meyer, Ohio State has really hit Georgia hard when it comes to recruiting the class of 2014 and the latest offer is continuing that trend. Autry joins Orlando Brown Jr., Raekwon McMillan, Nick Glass, DeShaun Watson, and Dante Sawyer as prospects from the state laying claim to an offer from the Scarlet and Gray.
Brown Jr., McMillan, and Sawyer have high interest in the Bucks and OSU is in good shape right now, while Glass and Watson have already committed elsewhere, but still say that Ohio State is a possible destination for their services.  
Autry, whose brother plays for Georgia Tech, is a terrific athlete out of the backfield for the number one high school team in the state, and could star at running back for Ohio State if he chooses to venture up to Columbus.
The Bucks are also recruiting 2014 backs Jonathan Haden and Jalen Hurd, and would love to have either or both of those two in addition to Autry, who possibly could play receiver or defensive back at the college level. 
We caught up with Myles to hear his thoughts on snagging the OSU offer, what is going on with his recruitment, when he plans to come to Columbus for a visit, and why he considers the Buckeyes his "dream school".
Keep reading to find out more about one of the nation's top athletes in the recruiting class of 2014, Myles Autry.
Ohio State has just offered you a scholarship.  What are some of the other schools that have offered you so far? 
Florida, Florida State, Miami, Syracuse, Georgia Tech, and Georgia have all offered.  
What was your reaction to the Ohio State offer?
Ohio State is one of the schools that will always contend for a national championship no matter what, so I was thrilled to be recognized by them.  They really are my dream school so it is a blessing.  I appreciate the opportunity they have given me and I really enjoy speaking to the staff.
What makes Ohio State your "dream school"?
I've liked Ohio State ever since I was little.  When they were competing for national championships almost each and every season I picked up on it and they became a favorite of mine.  The teams they had that consisted of players like Troy Smith, Teddy Ginn Jr., and Santonio Holmes really caught my eye.  It was hard not to like them.
What has your contact been like with the staff at OSU?
I really like talking to them.  I got to talk with Coach Meyer recently but mostly it has been with Coach Withers and Coach Pantoni.  Coach Withers came to see my team during the spring and really liked what he saw.  They have some really cool coaches.  He's trying to get me to come up for a game.
Do you have any plans to travel to Columbus for a game? 
I want to get up there for their next home game, I think it's against Purdue.  I'm trying to make that happen.  I'd like to check out the place as soon as possible.  Hopefully it's not the only trip I get to take there this season.  It would be cool to get up there a couple of times.
You have said that OSU is your dream school.  Does that put them at the top of the list or as the favorite at this point?
I really do not have favorites or a top list right now.  I'm trying to stay open minded and consider all schools that have expressed interest in me.  I do love Ohio State, and my brother plays for Georgia Tech, so those two schools will be strong possibilities for me throughout my entire recruitment, no doubt about it.
A handful of other prospects in your class from the state of Georgia have been offered by OSU as well.  Do you stay in contact with any of them?
I know Raekwon McMillan and Nick Glass and I speak to them a bit.  They like OSU as well and will be considering them.  We talked a little about the possibility of playing together before, but nothing serious.
Do you have any idea of when you hope to make a decision on where to attend college?
I am in no hurry really.  I have five official visits my senior year to ensure that I am making the correct decision for myself.  I want to take it seriously, make no mistakes, and set myself up well for my future.  
HIGHLIGHTS: