As usual, Braxton's offense carried the load, racking up 45 points and 578 yards while the special teams once again proved volatile and the defense, hampered by injuries and youth, pretty much embarrassed themselves in a 52-49 win over Indiana in a sparsely populated Horseshoe West.
I'll do my best to not hack off the "a win is a win" crowd but still talk about the team's areas of opportunity while being sure to highlight the positives, because you can't score 52 points and lead by 18 with just over six minutes left without doing some things right. 
Hyde and Go Peak
Carlos Hyde is blowin' up, y'all. 
The junior who some wanted to sweep under the rug – thanks to clouded vision on what Jordan Hall brings and a long-standing crush on Rod Smith despite his inability to hang on to the football – Hyde has evolved into the guy Urban needed to complement Miller, taking at least a bit of the pressure off Braxton to do everything for this offense. 
Now before you get stirred up, that's no hate on Hall. Clearly, he's been hurt but even healthy, he's not the between-the-tackles runner this offense needs to keep defenses honest in the middle, allowing Braxton to more easily exploit the edges. No hate on Smith either but if a guy can't run the ball without putting it on the ground every so often then he can be stapled to the bench as far as I'm concerned.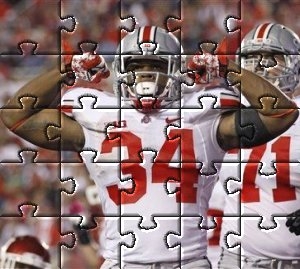 As for Hyde, since returning from an injury that kept him out of the final two non-conf games, he's racked up 345 yards on 5.65 a pop with six total TD, five on the ground. 
Removing Sparty from the three-game equation - his 1st game back that featured just 11 carries - he's put up 296 yards on 50 carries (5.9 ypc) with six total TD, five on the ground. 
Last night, he totaled 183 all-purpose yards, including 156 on the ground (7.1 ypc) with a TD and another 27 through the air, 14 coming on a shovel pass TD from Guiton. 
Though Braxton's carries are still higher than what Urban wants, Hyde is doing his part to try to save Miller's body carrying it 50 times himself over the last two games. 
Beyond the sheer number of carries, Hyde has impressed me with his versatility. Running the ball, he's no longer almost seeking contact. Instead, he's showing a little bit of Beanie as he shuffles down the line laterally looking for a crease when the designed hole isn't there. One particular instance of this occurred on 2nd and 8 of OSU's 2nd possession of the night when he slid down the line to find a seam and peeled off 12 yards when it looked like the play would be stopped for no gain. (Disclaimer: In no way shape or form am I'm saying Hyde is Beanie-esque (for both good and bad reasons) but this evolving piece of his game is in the Beanie mold.)
Another sign of Hyde's emergence is how he approaches the second level. Last year, in the event he got through the line of scrimmage, he tried to live up to the big back expectation and just run over guys. Now, thanks to Urban challenging him to be more elusive, Hyde looks to juke the oncoming tacklers and he's had some impressive results. He showed fine moves on a few big gainers that started between the tackles, including showing some nifty shakes on the 33-yard run just before his one yard plunge made it 45-27 Buckeyes early in the 4th quarter.  
As someone who expected Hyde to become Miller's #1 sidekick - though I thought it would be because he outperformed a healthy Hall - I'm happy to see Hyde take his game to the next level. That said, it's still early in the playing portion of his career so achieving consistency is still an unmet goal. Do you see Hyde continuing to threaten 100 yards rushing weekly? 
Armed and Dangerous
It's no secret that while Braxton should likely find himself as a Heisman finalist as a true sophomore, his campaign is built largely on what he does with his legs, not with his arm.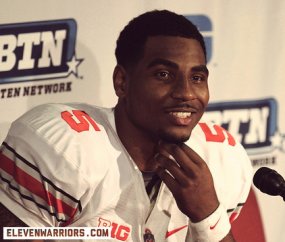 Last week, he didn't get to show much in the passing game, throwing it just 14 times (7/14 127 yards, TD) because Nebraska couldn't stop the run. 
Last night, Miller's aerial statline read just 13/24 (54%) for 211 yards with two TD and a pick, but I thought this was one of his better nights throwing the football. 
On a damp night in Bloomington, only two throws stood out to me as overly poor. 
Obviously, the biggest derp came on the 3rd and goal throw in which he scrambled to his left and tried to force one to Philly. Indiana's Greg Heban had excellent coverage on the play and though Brax did try for the low window, it was ill-advised to say the least. Miller should've just gone down or thrown the ball away but being 3rd down, he likely just tried to make too much happen and got burnt.
The other came early in the 2nd quarter after the Buckeyes, trailing 14-10, had marched from their own 33 to the Indiana 18. Facing 3rd and 6, Braxton looked toward Philly down the right side. Philly had his man beat but the ball was so underthrown the refs initially flagged the IU defender for pass interference as he made contact with a coming-back-to-the-ball Brown. 
The other blemishes on his completion percentage came largely via Devin Smith's three drops, two of which would've gone for touchdowns. 
Braxton lost 37 yards and a TD when Smith dropped a perfectly placed ball on a 1st and 10 post route on OSU's third possession of the night. The ball was thrown nicely between two defenders and hit Smith in stride at about the six but Devin took a peek at the oncoming defender and failed to complete the play. 
Later, with OSU up 38-27 late in the 3rd quarter, Braxton again targeted Smith, this time on what would've been a 35-yard TD strike. Once more, Smith had a step on his man running a basic streak down the right sideline and Braxton dropped the ball just over the defender into - and through - Smith's waiting hands. Excellent throw. Absolute tear drop. 
I thought Braxton also made a few nice throws on the run and also appeared to check down a few times when IU brought pressure, one example coming just before Smith's last TD drop as Miller hit Philly on a nine yard out to convert a 3rd and 5. 
No question he still has work to do and this was Indiana but I was impressed with what I saw from Braxton's right arm last night - certainly more impressed than his statline might indicate. 
Red Zone Blues
After six games of white-hot performance in the red zone, the Buckeye offense finally sputtered once it found its way inside the Indiana 20-yard line. 
Complete Game Coverage
Before last night's game, the Buckeyes were an amazing 22/24 on scoring in the red zone (92%) with 20 of those scores coming by way of TD, meaning the Buckeyes were scoring a TD once inside the red zone a blistering 83% of their trips. 
Facing a porous Indiana defense, the Buckeyes scored just four times in six trips to the red zone, three of those scores coming via touchdowns. 
The two failures came via the aforementioned Braxton INT from the four-yard line and Drew Basil's missed field goal after the Buckeyes had reached the IU 18-yard line trailing 14-10 early in the 2nd quarter. 
The INT was simply a horrible decision on drive that should've resulted in a TD putting the Buckeyes in front 38-17 early in the 3rd quarter. 
As for the missed FG, Basil was lined up directly between the hashes from 35 yards out - the same distance he had converted earlier - and flat out hooked the kick left. 
I'm not down on Basil but he's got to hit 95% of kicks inside 35 yards. Rust could certainly be an issue. Thanks to what has otherwise been an offensive machine inside the red zone, he's attempted just four FGs on the year and the miss was just his third attempt in the last three weeks. 
In reality, the missed FG should've never come to fruition as the 3rd down play preceding his kick was the noted underthrown ball to Philly that if thrown accurately, was an easy touchdown. 
Based on the incredibly efficient red zone track record thus far, hopefully this is just a blip on the radar. 
Silver Bullets?! More Like Silver Bull$#%&
Any talk about the defense should begin fairly by noting the group has endured more than its fair share of injuries. The best pass rusher, Nate Williams, has been in and out of the lineup. The defensive line has also been hampered by Simon's shoulder and Michael Bennett missing weeks with a groin injury. An already unimpressive group of linebackers lost Storm Klein for 2+ games due to suspension and Etienne Sabino is out for a month with a broken fibula. The secondary has seen guys like Travis Howard, Bradley Roby, CJ Barnett and Christian Bryant all miss time due to injury.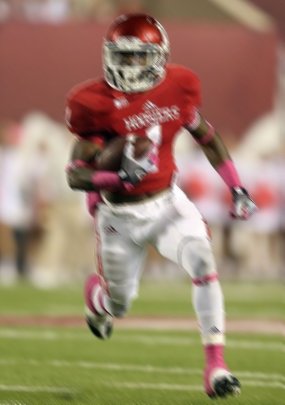 Factor those injuries in with the notion this same defense was ridiculously bad last year and it makes little sense to think they would be able to show much improvement. 
At the same time, most of those injured guys have seen more action than they've missed and coupled with a lack of development of the young guys and a glaring inability to apply the fundamentals of tackling, it's also more than fair that Luke Fickell and the rest of the defensive staff are being called out for leading what feels like the worst Ohio State defense in my 38 years of drawing breath. 
Last night was just the latest embarrassing installment of the OSU defense currently giving up 24.6 points per game through seven games. The group is one of only three B1G outfits giving up over 400 yards of offense per game thanks largely to a pass defense giving up 277 yards per Saturday. 
Against Indiana, the Buckeyes gave up 481 total yards including 331 in a 2nd half that also saw the Hoosiers rack up a mind-boggling 20 1st downs. 
The pass defense surrendered 352 yards as IU quarterbacks found 10 different receivers. Those stats helped IU convert 8/19 3rd downs. 
Another continuing trend, allowing big plays, remained an issue as the Hoosiers had scoring plays of 59 and 76 yards. Stephen Houston raced untouched off the left tackle for the 59-yard TD and Shane Wynn abused Klein (?!) on a crossing route triggering his 76-yard scamper to paydirt. 
The outing was so bad that my twitter was blowing up with folks stating or asking if Fickell survives the offseason. Personally, despite the horrendous defense, I don't see how anyone can say for sure what will happen on that front. No question, Fickell's first year calling the plays has been a flaming turd but again, injuries have been an issue compounded by an already shameful lack of talent at linebacker. On one hand, Fickell looks completely overmatched. On the other, I'm not sure Bill Parcells could get this defense to be better than average. 
No question some of the talent issues fall on Fickell but I think it's just a guess at this point to say whether or not he'll be retained. Hell, he may even choose to leave and Urban won't have to make a decision. A scenario of lesser likelihood is the defense turns things around in the final five games. 
Regardless, I think it's safe to say there will be at least some coaching changes on defense if for no other reason than because Urban kind of had to throw the group together late but whether or not Fickell, Withers or Vrabel, among others survive remains to be seen. Also, I know we all love Coombs' fire but his secondary has been scorched at will this season. 
Still a Year Away
The run to 7-0, fueled largely by the exploits of Braxton Miller and a weak schedule, has many of us dealing in fool's gold.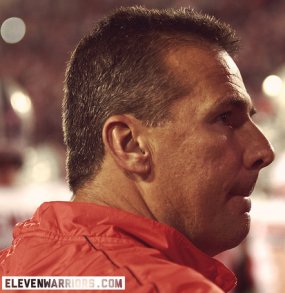 We must keep telling ourselves this is a young team that managed just six wins a season ago and came into the 2012 campaign with tons of questions on the offensive line, in the receiving corps and in the entire back seven of the defense. 
Braxton's growth and Urban's ability to demand more from his players than Fickell could ever dream of extracting has clouded the reality that this team was still supposed to be a year away. 
There are still players to weed out and/or replace with better options and tons of mistakes to correct. If anything, the wins piling up might be hampering this team a bit when it comes to the little things. 
Punts have been blocked and drops have been a recurring theme only outdone by missed tackles, giving up big plays and committing way too many penalties. 
Sometimes young players struggle to correct these things when they don't come with the consequence of losing. 
Think about it: the drops haven't kept OSU from lighting up the scoreboard, missed tackles haven't cost the defense a game yet and the penalties, especially coming from some of the same players, haven't resulted in a lack of playing time from what I can recall. 
Hopefully, all of these correctable fails will sort themselves out with more seasoning, another crop of blue chips, and an increased dedication to perfection before a loss reinforces just how important the details are to winning football games. 
If the Buckeyes can correct these issues in tandem with Braxton's continued evolution, 2013 still has a shot to be magical regardless of how inconsistent the 2012 (and 7-0!) Buckeyes have looked at times.