Ninety-six hours after learning he would move from fullback to linebacker, senior captain Zach Boren led the defense with eight tackles in an overall spotty performance from the Silver Bullets in a 52-49 win over upset-minded Indiana.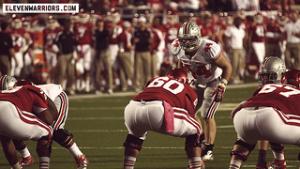 With Etienne Sabino's injury and the uninspiring play from the freshman linebackers, the Ohio State coaching staff believed Boren was the missing piece to the puzzle – or the piece of putty that could slow down the leaks in a punctured defense.
Boren does have past history at defense, having played linebacker and fullback in high school at Pickerington. His father, Mike, was a linebacker at Michigan when Bo Schembechler was the head coach.
Ohio State was in a nickel defense much of the night due to Indiana's spread passing offense, with Boren and Storm Klein alternating at middle linebacker.
Forty-nine points and 481 total yards – 353 through the air – wasn't the display coaches and fans wanted to see one week after surrendering 38 points to Nebraska.
"Spread offenses are really exposing us right now," Ohio State head coach Urban Meyer said. "We have got to get something fixed. We have got to get back to work."
When a team is 7-0, it's hard to find flaws. But the Buckeyes have many and most reside on the defensive side of the ball.
"I'm not sure what my feeling is right now other than anxious to get back home and get to work," Meyer said. "I wish we were in the office right now because we've got to get some things right."
Indiana running back Stephen Houston rattled off large chunks of yardage much of the game. He finished with 91 rushing yards, 37 passing yards and three touchdowns. Houston was not touched on his 59-yard touchdown run in the first quarter.
Most glaring, though, may have been a fourth-quarter meltdown. Ohio State surrendered 22 points and nearly blew an 18-point lead.
"At one point in the game we had them down and we could have finished it," Boren said. "That's kind of been the theme all year. We got a little complacent there at the end, then finally turned it up when it really mattered to recover the onside kick. We'll get better."
Much of the Hoosiers' success on passing came because of the style of offense they run. A spread offense heavy on screens and short passing plays is the exact formula that has plagued Ohio State all season.
"I have to get more involved and find out what the issues are," Meyer said. "I don't think you can pinpoint one thing right now. I have got to find out. I am going to increase my involvement with the defense."
They'll have to if they plan on continuing their dream season. The Big Ten may be mediocre, but Ohio State is capable of losing to almost anyone on the schedule.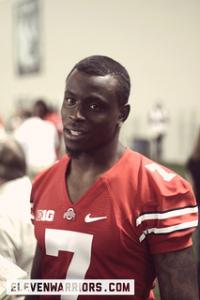 Injury Bug
You would be hard-pressed to find a more injury-prone team than Ohio State. Meyer has seemingly brought a strange hex with him to Columbus. It all started with Jordan Hall's bizarre foot injury in the summer.
Since the regular season began, more than a handful of starters have missed games due to injury, a majority of them multiple.
On Saturday, Sabino was out with a broken fibula, but he was just one of the Buckeyes battling an injury. Defensive end Nathan Williams didn't even travel to Bloomington after suffering from the effects of a concussion he received last week. Williams did not practice any during the week of the Indiana game. It's the second game of the season Williams has sat out. He also missed the Central Florida game because of a sore knee, the same that received microfracture a year ago.
Two piranhas, members of Ohio State's outstanding kickoff coverage unit, were also missing. Najee Murray suffered a knee injury and had season-ending surgery during the week, while Armani Reeves is dealing with an ankle sprain.
During the Indiana game, safety Christian Bryant was saddled with a lower leg bruise. He went to the locker room to get treatment and was replaced by Zach Domicone. Cornerback Travis Howard, who dealt with stingers in previous games this season, had another bout wth the issue on Saturday.
While he was out, Doran Grant was burned on a long pass play and committed a pass interference penalty. That prompted Howard's return. 
Happy Homecoming
The Indiana and Purdue games always carry a little something extra for Rod Smith, a native of Fort Wayne. On Saturday, in front of family and friends, Smith made his first trip to Bloomington a memorable one.
Complete Game Coverage
He finished with 40 yards rushing on six carries, but did have one black eye - a block-in-the-back penalty that brought back a big punt return by Corey Brown in the second quarter.
Meyer has praised Smith the past few weeks for his work ethic both in the classroom and on the football field. In January, following a missed flight for the Gator Bowl, Smith had just about used up his nine lives at Ohio State.
In a meeting with Smith and his father, Meyer was blunt in his future assessment, saying Smith would be better off transferring. But this week Smith told reporters he never even entertained the though of leaving Columbus.
Nine months later, Meyer is glad Smith didn't heed his advice.
Stat of the Game
Since 2005, Urban Meyer-coached teams are 18-0 when they block a punt. They've now blocked 55 kicks in 133 games.