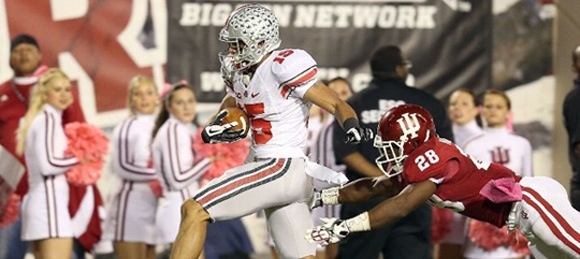 You were ready to file it in the win column. Then things got weird. Let's talk about it. This is your Indiana Debriefing.
Water Cooler Prep (Everything you need to know…in one a few paragraph(s))
This one started off like Ohio State was actually playing Indiana, as the Buckeyes drove 75 yards on their first possession for six. With three minutes left in the opening quarter, the good guys were up 10-0 and everything looked smashing. Unfortunately, on the Hoosiers' next possession Ohio State's wet paper bag D made their presence known, as Indiana's Stephen Houston broke off a 59-yard rush (largely untouched) for a score. Ben Buchanan had his next punt blocked and Indiana quickly punched it in pulling them ahead 14-10 as thousands of fans face-palmed across Ohio. The offense continued to sputter, but a vengeful Travis Howard blocked punt and subsequent Bradley Roby recovery for a TD put the Buckeyes ahead, 17-14. The play woke up the Scarlet and Gray offense, inspiring the unit to score on their next two possessions with a Miller to Devin (hands like a fryin' pan) Smith 60-yard TD and a nifty Braxton 67-yard rush for six to make it 31-17. 
Unfortunately, the Buckeye D wasn't interested in a blowout, giving up a 76-yard TD scamper to Cleveland Glenville product Shane Wynn. On OSU's next possession, a late hit on Braxton took the sophomore out for the series and Kenny ("The Closer" and/or "Kenny G") Guiton came in to do what he does best: marshal the team into the end zone. The Bucks punched in another TD to begin the fourth and it seemed like the rout was on at 45-27….not so much.
The two teams traded scores (shout-out to Devin Smith who atoned for his case of the dropsies with a pretty YAC performance on a 46-yard TD) and it was 52-34. With roughly 4 minutes left in the game this one looked OVA, so much so that the Buckeye D felt it would be a good time to space out and think about cats or whatever. The unit seemingly took the next two possessions off giving up a TD, an onside kick recovery, a TD and a two-point conversion (wow that was as painful to type as it was to watch). It took a (Don't call me) Philly Brown onside kick recovery with a minute left to ice this one for good, and the Buckeyes left Bloomington with 7 wins and 0 losses.
The abridged version: Carlos Hyde is a beast, Braxton Miller is a beast, Devin Smith hates Miller's Heisman campaign (DROPS!), Zach Boren led the team in tackles (?) and this Buckeye D isn't very good (see: Zach Boren led the team in tackles).
Heard at the tailgate (The talk before the game)
"Columbus West! It's gonna be a slaughter."
"WVU lost…#Braxton4Heisman!"
No one: "We'll need to recover an onside kick in the waning seconds to win it."
Heard at the afterparty (The Deets at the end of the game)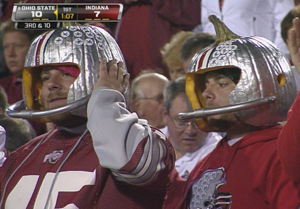 "This defense is AMC's Walking Dead. Everyone. Is. Injured."
"Why didn't anyone tell me Indiana was ranked 26th in the nation in total offense?"
"Maybe that pizza guy was right."
Give that man a buckeye leaf (Player of the game)
Carlos Hyde (yo kids, Hyde yo wives). End of story. His statline: 22 rushes for 156 yards and a score and 2 receptions for 27 yards and a score.
He averaged 7.1 yards per carry. Wow.
Over the last two games he has scored 6—yes 6—TDs and rushed for 296 total yards. Feed. Him. The. Rock.
Weekly Snot Knocker
Not too many mucus looseners in this one, so I guess we'll have to go with this:
In the middle of the third quarter, Braxton barely got rid of the football before being de-cleated by 6'3'', 294 lbs DT Adam Replogle. But, since Braxton's body is made from the same stuff as this guy, he was able to pick himself up from the turf and continue to play Heisman-level football.
Did you see that?! (Play of the game)
Despite the drops, I just can't quit you, Devin Smith.
When you sank into your chair (The moment buckeye football disgraced your family)
This one is twofold. In the third quarter, Braxton threw a #NeverShouldaThrownIt in the red zone that was picked off by CB Greg Heban. Three plays later Indiana's Shane Wynn took it to the house:
Jim Tressel's Least Favorite Moment of the game
Indiana's Isaiah Roundtree blocked Ben Buchanan's punt. Jim was listening to the game via one of these bad boys on his way to pick up some Werther's Originals when he got the news. He snarled in disgust and whispered, "Werther's can wait" under his breath as he turned around to head for home.
What you texted your friend at the end of each quarter
Complete Game Coverage
First Quarter: CATCH THE BALL DEVIN SMITH!
Second Quarter: Bradley Roby for president. Kid is a first rounder!
Third Quarter: Are Braxton Miller and Devin Smith in a fight?
Fourth Quarter: How do you feel about Fickell's job security?
It was over when
Corey Brown fell on Indiana's onside kick with roughly a minute left in the game.
I rewrote this section three times.
It wasn't pretty, but it was a W. Looks like the offense might be tasked with outscoring everyone for the rest of the season #MichiganFlow. This has been your Indiana Debriefing…end transmission.