A week ago, Gene Smith told reporters that the school was changing its scheduling philosophy, cutting down or eliminating MAC and FCS teams because of a need to have a better resume for playoff football.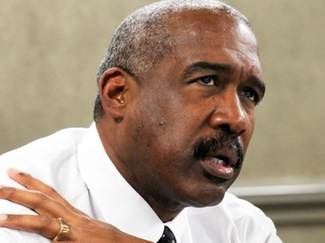 He wasn't kidding.
On Wednesday, the school announced a home-and-home series with the Texas Longhorns.
The two teams will meet in Austin, Texas, in 2022 and then return to do it again in Columbus in 2023. The games will be played Sept. 17, 2022 in Texas Memorial Stadium and Sept. 16, 2023 in Ohio Stadium.
The schools have met three times previously – a home-and-home arrangement in 2005 and 2006, and in the 2009 Fiesta Bowl – with Texas holding a 2-1 edge in wins.
"Playing a program like the University of Texas always creates remarkable experiences for our players and fans," Ohio State Director of Athletics Gene Smith said. "Our last series with the Longhorns contributed to the great history and tradition that Buckeye Nation enjoys."
In 2005, the Longhorns, behind Vince Young's Nintendo skills, rallied for a 25-22 victory in Ohio Stadium, ending Ohio State's 39-game non-conference home winning streak in Ohio Stadium.
The Buckeyes exacted revenge in 2006, battering a young Colt McCoy and riding 239 combined receiving yards from Anthony Gonzalez and Ted Ginn to a 24-7 win in Austin. The win propelled Ohio State to a firm grip on the nation's #1 ranking, which they'd hold for the entire season before the tragedy in the desert.
In the rubber match, Colt McCoy, then a senior, hit Quan Cosby for a 26-yard touchdown strike with 16 seconds remaining to hand the Longhorns a 24-21 win in the 2009 Fiesta Bowl.
Although Ohio State has played Texas three times in the last seven years, by the time this series rolls around, those games will be ancient history. Don't expect these announcements to end anytime soon, either.