Bradley Roby had a prediction early in the week and a vision as "Nebraska Week" came to a conclusion. When the Buckeyes met with reporters on Monday to preview the game, Roby said he was due for an interception. Five games into the season, he had a goose egg next to his name. And his teammates took notice.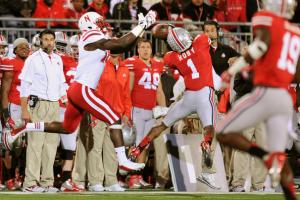 Roby is an All-American candidate and anytime the star of the team is limited, he catches grief.
"I've got to get one this game," Roby said on Monday, mentioning the flak he's caught.
In Ohio State's 63-38 dismantling of Nebraska, Roby did not go home empty-handed. He finished with two interceptions, including one that was returned 41 yards for a touchdown.
He already knew a touchdown was coming. Not based on his prediction, but a dream.
"I dreamed about that," Roby said. "I saw it. My dad texted me and was like, 'I had a dream you had a pick-six today.' I was like, 'Damn, I'm going to get it. I had the same dream.' When stuff like that happens, it's crazy."
Roby said there were a couple routes Martinez liked that he could possibly make a play on. The first one came when Martinez threw to Quincy Enunwa midway through the first quarter along the Ohio State sideline. Roby stepped in front of it and had nothing but green between him and the end zone.
Ohio State had two three-and-outs on offense up to that point. All of a sudden, the Buckeyes had a 7-0 lead.
The second interception came almost 10 minutes before the half with the Buckeyes trailing, 17-14. Nebraska was deep in its own territory when Roby stepped in front of pass attempt and came back eight yards to the Nebraska 20. Ohio State scored two plays later to take its first lead since it was 7-0.
"I just wanted to make plays for my team," Roby said.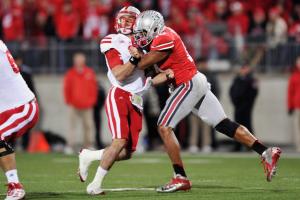 Disappearing Act
It was a year ago when Martinez led the biggest comeback in Nebraska football history, and it came against the Buckeyes. Faced with another huge second-half deficit – 21 in 2011 and 25 in 2012 – Martinez, nicknamed T-Magic, couldn't pull another rabbit out of his hat.
His do-it-all I-Back, Rex Burkhead, was injured on the fourth play of the second half and a run game that had been effective to that point suddenly came to a halt. Martinez also was under heavy pressure much of the day.
He completed 15 of 25 passes for 214 yards, one touchdown and three interceptions to go along with 40 yards rushing and two touchdowns. Entering the game, Martinez was being lauded for his passing consistency, a part of his game that was erratic the past two seasons. But through five games, Martinez was completing almost 68 percent of his passes and had 11 touchdowns versus one interception.
Ohio State scored 14 points off of Martinez's three turnovers. He was also sacked four times. 
"We lost and have to move on from here," he said.
Martinez was coming into the game off another miracle comeback production last week against Wisconsin. The Badgers led, 27-10, in the third quarter before Nebraska stormed back for a 31-27 win. Martinez had 288 total yards in the game and was named Big Ten co-offensive player of the week.
Orhian Johnson had the third interception of the game. It came in the third quarter with the Huskers driving into Ohio State territory. On 1st-and-10 from the OSU 35, Martinez lobbed a horribly thrown ball inside the 10-yard line that Johnson easily picked off. Nebraska never got closer than 25 points the rest of the game.
"Taylor Martinez did a lot of good things offensively, but turning the ball over kills you," Nebraska head coach Bo Pelini said.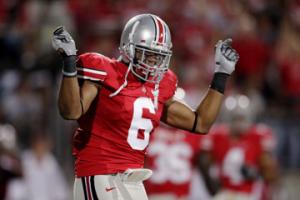 Call the Doctor
Offensively, defensively, it doesn't matter. The Ohio State football team has dealt with a plethora of injuries this season.
Add linebacker and captain Etienne Sabino to the list.
He suffered an apparent leg or foot injury early in the first quarter Saturday night and never returned to the game. He was carted from the sideline to the locker room at one point, returned in his uniform but then came out in the second half wearing sweats.
"When Etienne got hurt, we tried to put it on our back," sophomore linebacker Ryan Shazier said. "We try to do it for our brother because we're here for each other no matter what, and we'll always be there for each other."
Freshmen Cam Williams and Josh Perry saw playing time at linebacker, as did sophomore Curtis Grant. Storm Klein stayed in when Ohio State went to the nickel. Klein had his best game of the season and one of the most productive of his career, making seven tackles, including a sack.
It looked like the linebacking corps would be another man down when Shazier crumped to the field in the first half. He continued to play, finishing with a team-high 11 tackles and a sack, but he had a pronounced limp and held his knee on a few occasions.
"I'm pretty good. I had a bruise on my knee," Shazier said.

Keeping Up with the Jonses
Third-string quarterback Cardale Jones caused a minor controversy on Friday when he tweeted, "Why should we have to go to class if we came here to play FOOTBALL, we ain't come to play SCHOOL classes are POINTLESS."
On Saturday he was not on the sideline, prompting questions about a possible suspension. An Ohio State spokesman said Jones was not permitted to dress for Saturday night's primetime game with Nebraska.
Jones, a 6-foot-5, 235-pound freshman, deleted his account after the mishap. He has not appeared in a game this year, but on Thursday, the day before Jones' tweet, Meyer gave Jones several compliments on his call-in show about the work he's done on the scout team.