Tarboro (NC) DE/LB Tyquan Lewis committed to Ohio State on September 20 over finalists North Carolina and LSU.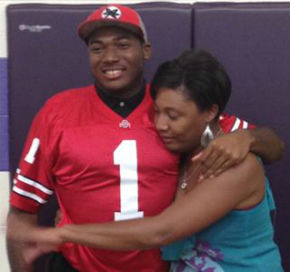 Lewis's pledge to the Buckeyes didn't come as much of a surprise, as things started to trend towards the Scarlet and Gray after two summer visits by the four-star prospect to Columbus.
The first of those visits came in June for one of OSU's Senior Advanced Camps. It was Lewis's first time in Ohio's capital and while he loved what he saw from the campus and the football facilities, this trip's purpose wasn't to get a look at the aesthetics, but rather to turn his uncommittable offer from the coaching staff into a committable one.
The hybrid linebacker-defensive end did just that with an outstanding camp performance that not only "wowed" fellow prospects in attendance, but also the Ohio State coaching staff who made sure Lewis knew he had a spot open at OSU if he wanted to become a Buckeye.
Upon returning home to North Carolina, Lewis continued to stay in touch with the coaching staff, who started to turn up the heat on his recruitment. He was talking to director of player personnel Mark Pantoni daily, while also communicating with Urban Meyer, Everett Withers, and Mike Vrabel on a weekly basis.
Lewis started to realize that Ohio State could be the place for him over the next three to five years, but there was just one hurdle in the way: Tyquan's mom, Tyronda Whitaker.
Whitaker and Lewis have a very close relationship and because of that it was initially expected that Tyquan would be staying close to home for his college football career. Mom was very comfortable with North Carolina and some of the other programs closer to home, but her son came home from his trip to Columbus raving about Ohio State and wanting her to check it out herself.
"Tyquan came home from the June camp very excited about Ohio State. He wanted me to come back with him for their Friday Night Lights camp in July and while I felt it was a long way from home, I owed it to him to give it a chance, as it was his decision to make on where he'd be for the next four years," said Whitaker.
Tyquan and Tyronda did make that trip to OSU in July and while Lewis didn't participate in the camp itself, he and mom got the chance to see the full offering of being a scholar-athlete at The Ohio State University.
After meeting with the coaches, seeing the campus, checking out the facilities, and meeting extensively with academic advisors, Tyronda had a different line of thinking when it came time to depart from OSU as compared to her trip on the way up from North Carolina.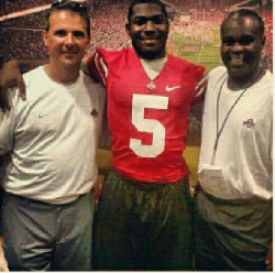 After reminiscing about that ride home, Whitaker said, "On the way back from our trip I was processing what we just experienced and going back over everything at Ohio State. I couldn't find one thing wrong about Ohio State and at that point, I knew I had to give Tyquan my blessing for him to go there."
With mom's blessing in his back pocket, it was time for Lewis to get down to crunch time in terms of making a decision, as his high school season was just around the corner and he didn't want his choice to be a distraction for his team. He originally planned to make a decision before the season, but that got pushed back as he needed more time and wanted to arrange it appropriately with his head coach and the Tarboro administration.
Staffs from around the country, including Ohio State, UNC, LSU, Missouri, Vanderbilt, Auburn, Clemson, and many others continued to recruit Lewis, but in the end nobody pursued the 6-4/220 pass-rushing machine harder than the Buckeyes.
"Tyquan was excited about Ohio State, but you could tell Ohio State was excited about Tyquan too," Whitaker said. "I knew how interested they were when we got an email first thing Monday morning from Mark Pantoni after the Friday Night Lights visit telling us how much they wanted him to be a Buckeye."
Finally, a decision was set for September 20 at Tarboro and when that day came, all the hard work that Urban Meyer and his assistants put in Lewis's recruitment paid off when, alongside his mother, the prospect sporting a wide grin put on an OSU hat and jersey, announcing his intentions to join Buckeye Nation.
Once the choice was made public, you could tell there was a sense of relief in the Lewis camp. About his commitment, Tyquan said, "It's a relief and it feels really good to be a Buckeye."
Tyronda was also happy her son's recruitment was over, saying, "Having the process over feels great. I can see the tension and stressed released from Tyquan. There was a lot of pressure on him and everyone was asking him every day where he was going, so I'm happy he was able to make a decision and get it over with."
While Tyronda would have loved for her son to stay close, she was very comfortable with his decision to play at Ohio State and the coaches and academic support were a big reason why.
Whitaker said the Buckeye staff was "consistent and persistent in their efforts. You can go to the mailbox every day and always count on there being something from Ohio State. Urban Meyer made himself available to me any day of the week and at any time and he followed through on his word, as he was always around to answer any questions I had for him. He makes it a point to have a relationship with his players, and talking to Ryan Stamper and hearing how he talked about Coach Meyer and his relationship with him and seeing how he is now working for him at Ohio State showed me that it was for real and not just words. I feel very comfortable leaving Tyquan with Coach Meyer, Coach Withers, Coach Vrabel, and the entire OSU coaching staff."
As for what made Lewis himself choose the Buckeyes, he kept it a bit more simple, stating "I just felt it was the best fit for me. Having Coach Meyer there and being able to talk to him and hearing what he said about the program and their plans for me, I knew it was the place to be."
Lewis will be enrolling at Ohio State this upcoming January and will get a head start on the other members of his class as he gets to go through winter conditioning and spring practice. While he doesn't know what his major will be in the classroom, he does know what his position on the football field will be, as the coaches have told him he will be playing the Viper position, which is an outside linebacker that plays with his hand down at the line of scrimmage at times.
The four-star talent is not concerned that he will have success in that role, saying, "While I'm a defensive end in high school, I already play some outside linebacker and at times my hand is down from that position. We play kind of a 3-4 system so I play that outside linebacker-defensive end hybrid role already and am very comfortable with it."
Now that a decision has been made and both Tyquan and mom are happy, he can go back to concentrating on his senior season. Tarboro has won three straight state championships and is gunning for a fourth straight, as they have started their year 6-0. Lewis has been a big part of that success and while he didn't know his exact stats, it's safe to say opposing signal callers have spent a lot of time on their backs this year thanks to his efforts.
In addition to terrorizing quarterbacks, Lewis also plans to help his future coaches out on the recruiting trail. While he doesn't know too many 2013 prospects left on OSU's board, he does plan to talk to a friend of his in the 2014 class, WR Braxton Berrios of Raleigh (NC) Leesville Road.
Berrios was also in attendance for FNL and has been in constant contact with Ohio State's coaches. Lewis is one person who doesn't need to be sold on the junior's talents and thinks his buddy can play for the Buckeyes, saying, "Braxton Berrios is someone I will recruit for OSU and he is very good. He is really fast and has the best hands I have ever seen."
Lewis is a great addition to the Ohio State 2013 recruiting class and brings tremendous athleticism and speed to the linebacker position, something clearly needed based on early returns this season. He will be a force rushing the passer behind the great defensive line prospects that the staff has brought in with the 2012 and 2013 classes and it should be a joy to watch him over the next four years.
To cap things off, Lewis had just one thing to say when asked for his message to Buckeye Nation, "O-H".
HIGHLIGHTS: