Nebraska hasn't visited Ohio Stadium since 1956. That could be characterized as a long, long time. But on Monday, Cornhuskers head coach Bo Pelini said it's been that same amount of time – "a long, long time" – since he's been to the Horseshoe. A two-year starter at free safety and senior captain, Pelini's roots in Ohio run deep.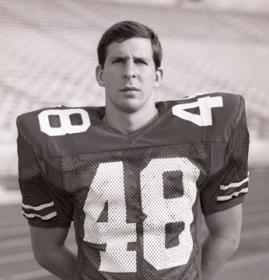 He graduated from football power Cardinal Mooney in Youngstown before traversing west to Columbus and has recruited the state as a coach.
"Ohio State is very popular throughout the state," Pelini said.
He played under Earle Bruce and John Cooper at Ohio State. Pelini received the Bo Rein Award his senior season, which goes to the team's most inspirational player, and was a three-time Academic All-Big Ten selection.
During his freshman year, Pelini was involved in one of the Buckeyes' most infamous plays. Ohio State hosted Iowa the week before the Michigan game in 1987. Trailing 29-27 late in the fourth quarter, Iowa faced 4th-and-23 at the Ohio State 29-yard line. It looked like an impossible situation for the Hawkeyes, but they completed a long pass and Pelini missed a tackle at the one-yard line as Iowa scored the game-winning touchdown.
Bruce and his staff – graduate assistant Urban Meyer included – were fired the next week.
Meyer and the then-freshman Pelini struck up a relationship and have stayed in touch through the years that have seen each become successful head coaches.
"We're both northeast Ohio guys," Meyer said. "Have a really good relationship with Bo. Lot of respect for him as a player.  He was a redshirt freshman, I believe, when Coach Bruce was the coach here in 1912 or something like that. It was 1986, I believe, '87 was when Bo came in. But I got along with him great. We've coached against each other a couple of times when I was at Florida and he was at LSU. Very good coach."
Despite his connections to Ohio State and the state of Ohio, Pelini has been downplaying the storylines, much like he did last season when Ohio State traveled to Lincoln.
"I'm in a different time in my life and a different place," he said. "I have a job to do and that's all I'm concerned with.
"I have pride in where I went to school and my career there. But that has nothing to do with Saturday. It doesn't really make any difference what happened in 1986-1990. That's a different time in my life."
In last season's game, Ohio State had a 27-6 lead in the third quarter. Then Braxton Miller left the game with a leg injury and Nebraska reeled off 28 unanswered points to shock the Buckeyes. It was the largest lead Ohio State had ever given up.
The game is at night and a hue of red will overwhelm the stadium once again. But Ohio State gets to enjoy all the advantages of playing in its home stadium.
"It's a great venue," Pelini said. "It's a great environment with great tradition. It will be a great place for our kids to play and a great experience."
Return to Normalcy
Luke Fickell is doing the same thing he was doing a year ago at this time: preparing for Nebraska. But in 2011, he was the interim head coach of 3-2 Ohio State. Now Fickell is back in his defensive coordinator position and the Buckeyes are 5-0.
What a difference a year makes.
The Ohio State football program was still reeling midway through the season last year. Jim Tressel and Terrelle Pryor were long gone, but issues kept cropping up. Player suspensions became what seemed like a weekly occurrence and possible NCAA sanctions were the 3,000-pound elephant in the room. 
For more than a decade, Fickell was an understudy waiting for the opportunity to become a head coach. It finally came, but no one – not even Fickell – imagined it would come at his alma mater.
Facing unimaginable circumstances, Fickell led Ohio State to a 6-7 record in a year that redefined controversy.
"'You can't get some of those experiences just reading about it or seeing it or trying to study it," Fickell said. "To actually do it is invaluable."
After Urban Meyer was hired the week after Ohio State's first loss to Michigan since 2003, he decided to retain Fickell. He gave him the title of co-defensive coordinator and linebackers coach. Meyer also brought in Everett Withers, who was in a similar interim head coaching position as Fickell last season at North Carolina, to help out as the other defensive coordinator.
Through five games, Fickell and Withers have Ohio State ranked in the top half of all defensive statistical categories. The Buckeyes have tended to be a bend-but-don't-break unit, but just turned in their finest performance of the season, holding Le'Veon Bell to 45 rushing yards on 17 carries.
Ohio State is 5-0 and ranked 12th in the nation with a night game in Ohio Stadium versus Nebraska on tap.
Prepping the Buckeye defense for the Cornhuskers is just fine with Fickell. He's spent virtually his entire life in Columbus, Ohio, and in the shadow of the Horseshoe. Coaching at Ohio State, even if it isn't the head job, is just fine.
"It was a great experience," Fickell said. "You learn a lot about yourself, you learn a lot about others and you know who really has your back and how people react and respond in situations.
"There's no doubt, you can't get that experience anyplace else."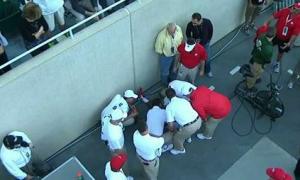 Rest Easy
The 12-to-15 carry range for Miller was breached again in Ohio State's 17-16 win at Michigan State, and Miller was hit many more times than just on his 23 carries. But he gained 136 yards and Ohio State won.
Production and Ws. That's what Meyer is seeking, and Miller has given him both.
"Without Braxton Miller, I know we aren't 5-0," Meyer said.
Twice against Michigan State, Miller went down and did not get up until trainers worked on him. He was hit late out of bounds on one and careened into an equipment box. The other time Miller came when his knee buckled.
Sunday was a day to recoup.
"He didn't do much (Sunday)", Meyer said. "He's a little sore."
It's tough to avoid when your quarterback doubles as a running back, but Miller's body took several shots that didn't have to be administered.
"Eight times he shouldn't have been hit," Meyer said. "He's scrambling around, throw the ball away, find a receiver or give the ball. So we're going to go try to win a game, and Braxton's our quarterback and our best player – the guy with the ball in his hands. (Hits are) always a big concern when any time you have your quarterback involved, he's a gifted guy. He's going to help us win."
Meyer said it should be a normal week of practice for his star quarterback. If needed, though, Meyer isn't opposed to letting Miller take fewer reps while allowing his body to refresh.
"Braxton doesn't need a lot of conditioning," Meyer said. "His stamina's pretty good. You just need to get him healthy."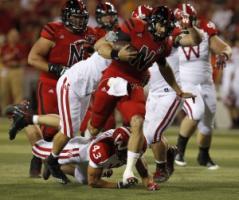 Good Crop of Cornhuskers
Miller had 315 total yards against Michigan State, but three turnovers took some luster away. Nebraska quarterback Taylor Martinez had 288 total yards and zero turnovers, as the Cornhuskers overcame a 17-point second-half deficit to beat Wisconsin, 30-27, Saturday night. It earned him co-offensive player of the week in the Big Ten.
Northwestern quarterback Kain Colter also won the award.
Martinez threw for 181 yards and two touchdowns and rushed for 107 yards and a score in the thrilling win over the Badgers.
And he wasn't the only Nebraska player honored by the conference this week. Punter/kicker Brett Maher was named special teams player of the week.
Maher kicked the game-tying field goal and game-winning field goal against Wisconsin. He made three of four field goal attempts and also averaged 46.7 yards on three punts, pinning one at the 10-yard line. It forced Wisconsin to have to go 90 yards on its potential game-winning drive.