Four games into the season Ohio State was an enigma. But after Saturday's 17-16 win at Michigan State, the mystery is starting to be pulled away. The offense is a lot of Braxton Miller with some running backs and wide receivers sprinkled in, and the defense, when needed, comes through.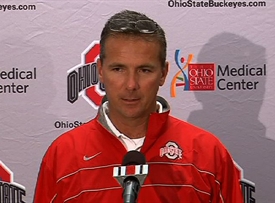 Miller has taken his play to heights predicted when he committed to Ohio State out of Huber Heights Wayne. With a buttoned-down approach on offense a season ago, however, the then-true freshman couldn't unveil his full skillset. Urban Meyer has since helped turn the athletic sophomore into a bona fide Heisman Trophy contender.
Perhaps the biggest story on offense, though, even with Miller's emergence, are the wide receivers. Corey Brown and Devin Smith have combined to catch 51 passes for 668 yards and five touchdowns – numbers that make last season's receiving stats even more laughable.
Week Six – the midway point because of a postseason ban – brings another marquee game, this time in primetime at Ohio Stadium. Nebraska enters the Horseshoe for the first time since 1956. Along come Taylor Martinez, Rex Burkhead and a solid group of wide receivers. It could be the biggest challenge remaining for the Ohio State defense.
Win Saturday and 12-0 not only becomes realistic but probable. That is not even in Meyer's realm of thinking – not yet anyway. Reviewing the Michigan State game film raised some red flags for Meyer and his staff. It's back to a grinding work week for the Buckeyes.
The entire offensive line was named champions and players of the game for Michigan State. Other champs on offense: Zach Boren and Jeff Heuerman.
Zach Boren graded out 93 percent. Meyer said Boren's leadership was instrumental in the win. He called it "legendary."
Defensive champions: Etienne Sabino (defensive player of the game), Johnathan Hankins, Bradley Roby, Travis Howard, Ryan Shazier and John Simon.
Meyer said Shazier played his best game of the year, while Fickell told Meyer it was Sabino's best game in five years as a Buckeye.
Roby is also the special teams player of the game.
Meyer said OSU improved in all areas as a team. He said he was concerned about that after the UAB game.
"It was the best team effort of the year – by far." –Meyer
"Without Braxton Miller, I know we aren't 5-0." -Meyer.
Jordan Hall's injury is a partial tear of the PCL. He is doubtful for Nebraska. Meyer said it's time to roll for Rod Smith and Bri'onte Dunn.
Five games into the season, Meyer said it's obvious the offense still isn't what he wants it to be. Sometimes they have to ham and egg it, but so far it's resulted in wins.
When Ohio State got the ball on the final possession against MSU, Meyer figured OSU would have to punt. The O-Line and Carlos Hyde proved him wrong.
Meyer says tomorrow's practice will be one of the toughest Tuesdays of the season. It's always hard coming off of big wins.
Meyer and Pelini were at Ohio State together in the 1980s. They're both from NE Ohio. Meyer said they have a great relationship.
Keith Mumphrey's touchdown catch and run on Saturday saw five different Buckeyes miss a tackle, some of which made poor attempts at stripping the ball.  Meyer is not a fan of stripping the football. He said if you're going to attempt it, get your nose (helmet) on the ball - not your hands.
With a night game and a big-time opponent, Meyer expects an electric crowd Saturday night.
Meyer said Reid Fragel was a tight end playing offensive line the first three games. He's proven the past two that he's now an O-Lineman.
Meyer said Zach Smith runs the punt-block team in addition to the wide receivers.
"We finally got a freaking blocked punt. Hopefully we smell blood in the water." -Meyer
Meyer said it sounds corny, but the team came together over the past week.
"Break a tackle, Philly." -Meyer on Corey Brown's 12 receptions for 84 yards.
Ohio State isn't a great team yet, according to Meyer, but he believes they are on the verge of something big.
"I shouldn't do that." -Meyer on his animated reaction after Hyde's punt penalty. Meyer said it was the correct call.
Offensive line coach Ed Warinner said he was confident that Ohio State could pick up a first down on its final possession.
Warinner said the offensive line has gained confidence and when you gain confidence you get momentum.
Wide receivers and offensive line, two areas of concern before the season, have progressed immensely.
Warinner said four starting O-Linemen were in the WHAC at 6:30 a.m. today wanting to watch film. "That tells me they're all-in."
The Michigan State win – and season in general – has acted as a validation for everything the staff has asked of the team, Warinner said.
Defensive line coach Mike Vrabel said Braxton Miller's injury at Nebraska last season had an effect on the defense.
Vrabel said a lot of things go on under a pile. Said it's more understandable when there's a fumble, but said poking eyes is not condoned.
Despite not practicing much, Vrabel said Nathan Williams has been great.
Vrabel said Taylor Martinez's many skills pose problems for opposing defenses. He said Martinez can read defenses and will be a huge challenge. Martinez was co-Big Ten offensive player of the week.
The most important thing for defenses against Martinez is patience, Vrabel said.
Michael Bennett was rusty on Saturday. It's different from doing it in practice and taking it to the field on Saturdays, Vrabel said.