The high level of play from Braxton Miller is becoming a weekly occurrence, but so too are unwanted issues. The defense is having its share of troubles and the inconsistencies on offense are common.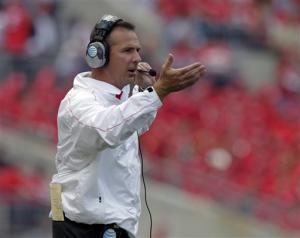 The past and present said Alabama-Birmingham was a bad team. There was no wiggle room. After Ohio State's shoddy performance, formulating an opinion on the Buckeyes has become a challenge.
Even at 4-0 with a 29-15 win over UAB in the back pocket, expectations have taken a shot. Talk of 12-0, even with a bad Big Ten, has come to a standstill. The first road and conference game is six days away for Ohio State. Flushing Saturday's performance from the brain will be a prerequisite to prepare for Michigan State.
A simple sentence from the man in charge defines Ohio State four weeks into the season. 
"It's glaringly obvious we've got to get a lot better or we won't win next week," head coach Urban Meyer said. 
After another lackluster performance from the defense, the head coach and defensive leader, John Simon, let their feelings be known.
"I think we seem like a very passive team," Meyer said. "We're on defense, we give up little screens, little bubbles. They didn't score a touchdown on our defense, but we gave up a lot of yardage. That hurts. I'm pained watching it."
"This is The Ohio State University and right now I don't think we're matching those expectations," Simon said.
Co-defensive coordinator Everett Withers sang a different tune, though.
"We gave up 15 points," he said. "That's all I give a s--- about."
One of the main issues on defense again was missed tackles. The display last week left coaches, players and fans exasperated. But it looked like the Buckeyes had even more missed tackles against UAB. Meyer said no team in America practices tackling more than the Buckeyes. They'll get plenty of opportunities this week to correct those mistakes.
"Tuesday and Wednesday we'll tackle again," Meyer said. "I saw some signs. We're facing a 250-pound back coming in next week. I still see guys flailing across and missing tackles. Far too many third down conversions on defense."
Simon said converging on the ball, meaning all 11 players, can help with the missed tackles. If one guy misses, another guy should be there to clean up the mess.
"We need to make sure we're flying around every play," he said. "That's the important thing about being a Silver Bullet. We need to have 11 bullets flying to the ball and making hits on the ball carrier. Effort is not the problem. We just need to sure up a little technique."
Nathan Williams expanded on that line of thinking. 
"We need to fix a lot of things," he said. "Tackling and stupid penalties are the main concerns. I think we just need to have a great week of practice and understand the game plan going in. We'll need to execute the best we ever have so far."
While uneven play has contributed to the Buckeyes' defensive struggles, another culprit has been a rash of injuries. Downed Buckeyes have also hampered the special teams at times. Meyer didn't use it as an excuse, just a reality.
"We have a depth issue here at Ohio State right now, severe," he said. "Whenever true freshmen are forced, I think we had six on our kickoff unit, true freshmen starting on kickoff. I hope we don't have to do that very often. But it is what it is. We have to keep continue to develop these guys because those freshmen are not freshmen anymore. They're sophomores. They're second-year players because they've been in the mix right now."
Ohio State's coaches and players harped on playing all four quarters consistently against UAB. It was something neither side of the ball had accomplished through the first three weeks.
"I really had confidence this was going to be a Ohio State-looking team," Meyer said. "And it wasn't."
Question: Urban, are you happy with the progress from Game 1 through Game 4?
Answer: No.
One piece of the offense that should return is Carlos Hyde. The running back has missed nearly three games due to a sprained MCL.
"I think we'll get Carlos Hyde back (this week)," Meyer said.
Miller's speed has been very familiar to the rest of the country. What they may not have known is he can also make guys miss with one move of his body.
"He's got great acceleration, but he's got an uncanny ability to make guys miss," Meyer said. "So he's without question one of the best athletes in college football."
Miller commented on the same topic.
"I never practice what I'm going to do one-on-one," he said. "My feet just move."
As the season progressed, more plays are instituted into the offense and Miller gains more responsibilities. On Saturday, he earned more freedom at making changes at the line of scrimmage.
"We gave him the keys to the offense a little bit today," Meyer said. "He did good. It was very minimal, but it was a great first step for him."
Master motivator is a title Meyer has rightly earned throughout his career. He's also shown skill at bringing his team down to earth after sloppy wins, but then lifting them up and giving them the bounce to put it in the back of their minds.
"The guys enjoyed a win in there, singing the fight song," Meyer said. "We're 4-0. And, boy, we've got a big one coming up this week. They realize that. I'm loving coaching this team. I love working with them."
Corey "Philly" Brown had a productive day at receiver. He would have liked a touchdown and maybe more yards, but that was far from his mind after the game. The team's overall play is what he was concentrating on, and it needs to improve.
"We're winning games right now, but we're not winning them like we're supposed to," Brown said. "We're not playing our game. We're messing ourselves up. We've got penalties that are killing drives."
The first (and third) quarter was another killer today. Ohio State got behind 6-0, and soon after the beginning of the second quarter, the Buckeyes trailed 9-0. It's an unwanted trend for the men in Scarlet and Gray.
"We came out slow today – it was obvious," Brown said. "We prepared well throughout the week and our main focus is to come out strong. I don't know what it was about today, but I know this week we'll get it fixed."
Offensive lineman Jack Mewhort put it even more bluntly.
"We've got a lot of improving to do, there's no doubt about that," he said. "I think we've been barely scraping by. We know we have to improve – myself and the offensive line are included in that. We need to execute better. The schemes are there, but it's about us doing everything right and not making mental mistakes."
Doran Grant earned his first career start on Saturday with an injury to fellow cornerback Bradley Roby. Grant knew midway through the week that he'd be starting. Still, it didn't elicit many nerves.
"Honestly, I was more excited than nervous," Grant said. "I was a little nervous, but I was more excited to finally feel I was part of the team."
Complete Game Coverage
Grant made his presence known, causing a fumble and recovering it and sealing the victory with a late interception.
Jordan Hall had a career day rushing the football, gaining 104 yards on 17 carries. He added 21 yards on two receptions. But after a day that provided him confidence and relief after a serious foot injury in July, Hall was already turning the page.
"Michigan State is where my focus is," he said.
Michigan native Johnathan Hankins said he'd have friends and family in East Lansing next week. Some of those friends will be on the opposite sideline. Before the game, though, comes practice, and the Buckeyes have plenty to shore up.
"Right now, this is not a good effort," Hankins said. "We were talking in the locker room and we need to get prepared for Michigan State and that's where our focus is right now."
UAB heard all week how they had no chance at beating Ohio State. The Blazers went into Columbia, S.C., last week and were run off the field. The plan of attack was executed much better against the Buckeyes. 
"Our game plan for the day was to attack the quarterback and stop him because he is mainly their offense," UAB safety Calvin Jones said. "We did that in the beginning and I don't believe he had any yards in the first quarter. Ohio State kept progressing and we kept fighting against them. It's a great experience to go against a double threat quarterback and it will definitely help us out in our conference because I don't think we will see anyone as good as him, so it was a nice experience."