It's been a tough year for Ohio State running backs.
First, Jordan Hall suffered a serious foot injury over the summer, a week before the start of the season Bri'onte Dunn had a legal mishap that ultimately resulted in dismissed charges, and then Carlos Hyde hurt his MCL in the season's second game against Central Florida.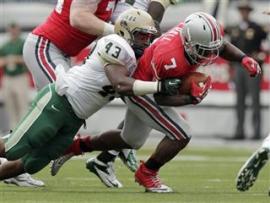 Saturday's 29-15 victory over Alabama-Birmingham didn't have many positives. But for the running game it could've represented a return to normalcy. For the first time all season, a tailback surpassed the century mark. Hall gained a career-high 104 yards on 17 carries.
It was Hall's second game of the season, but the senior captain looked much more sound this week, though he did admit he isn't 100 percent healthy yet.
"I feel a little more comfortable," Hall said. "I did some of the cuts I didn't make last week. Right now, I feel all right, but we'll see how I feel tomorrow."
Hall also had two receptions for 21 yards.
"It was nice to have him back," co-offensive coordinator Ed Warinner said. "There was a little rust last week. This week, he took another step and I like his progress."
It wasn't just Hall that lifted the run game. Sophomore Rod Smith contributed 24 yards and a touchdown on six carries. He also had one reception for seven yards. It was one of the best games of Smith's young career.
The fact that he even carried the ball came as somewhat of a surprise. Hall was the only running back to touch the ball last week in a close win over California.
"I had to show them I could do it in practice," Smith said. "My number was called today and they gave me an opportunity. I think I did a good job."
The situation in the backfield is about to be better for the Buckeyes. Following the game, head coach Urban Meyer again said Hyde should be available when Ohio State travels to Michigan State.
Hall and Hyde have not been on the field at the same time this season. It's something that could add a spark to the Buckeyes' offense, especially if they are in the backfield together.
"That day will be nice," Warinner said. "Right now, we have to move forward. Hopefully this will be the week but we will have to see how time heals."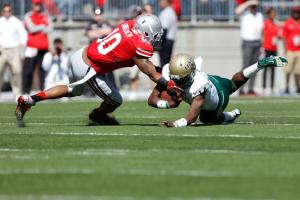 MIXED EMOTIONS
Ohio State's defense has been porous at times this season, and the same problems that plagued them the first three games showed up again Saturday: missed tackles, big plays, failure to get off the field on third downs and costly penalties.
Co-defensive coordinator Everett Withers wasn't interested in those issues, though. There was a number on the coach's mind.
"I think we gave up 15 points. That's all I give a s--- about," Withers said with a wry smile.
A special teams touchdown and three field goals was all UAB could muster. The Blazers did produce 403 offensive yards, but never seriously threatened to score a touchdown. 
As the Big Ten schedule looms, though, opponents are more likely to take advantage of Ohio State's defensive mistakes.
"There are definitely things we need to shore up," defensive end John Simon said. "I think our tackling got a little better, but there were still a few missed tackles here and there. We're excited for the next challenge. The grind is going to start to begin with the start of the Big Ten season. It's always going to be a grind to get through a tough season. We have a tough opponent next week in Michigan State, so we're going to have to get ready for it."
Ohio State's defense was supposed to be a strength this season. Through four games, it hasn't lived up to that reputation, with noticeable holes at each position. It's been bend-but-don't-break. So far, it hasn't broken, but it's not a recipe ripe for success.
"Our expectations are high here at Ohio State, and that's what we're going to keep striving for," Withers said.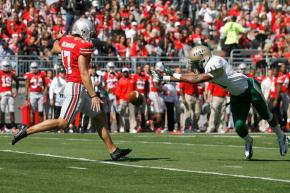 NOTHING SPECIAL
A couple weeks ago, Meyer was asked if he would ever consider firing an assistant coach in the middle of the season. After Ohio State's shaky special teams showing on Saturday, fans and message board posters might be calling for the coach's head.
Well, the special teams coach is Urban Meyer.
UAB scored its lone touchdown of the game on a blocked punt, the Buckeyes ran into the Blazers' punter to extend a UAB possession and UAB successfully recovered an onside kick to begin the second half.
All three are correctable mistakes, but they still drive coaches crazy.
The punt block came on an uneven formation by Ohio State. It resulted in Zach Boren, who was an up-man to the left of the punter, having multiple UAB defenders barreling down on him. It ended in disaster. Ben Buchanan wasn't even able to put a foot on the football.
"It's nonsense," Meyer said. "Just a flat missed assignment. We're playing a lot of
young players. Injuries are kind of forcing some guys in.
Complete Game Coverage
"C.J. Barnett and (Bradley) Roby obviously didn't play. They're big special teams performers for us. You get a true freshman in there, we have a missed assignment. Just flat bust."
Buchanan did end up having a solid day, despite the bad beginning. He pinned three punts inside the 20-yard line and averaged over 42 yards per boot.
Ohio State only had four guys upfront on kick returns and only two of them stood 10 yards from the kicker. UAB took notice and came out of the locker room with a surprise onside kick, which was recovered easily by the Blazers.
"You have to react, watch the ball kicked and go," Meyer said. "We work and talk about this, about expect the unexpected, especially in this kind of game where the team has nothing to lose. And we didn't get it done. So we've got a long way to go."
In this upcoming Saturday's game at Michigan State, an evenly matched opponent, special teams could loom large.