The Good. The Bad. The Ugly.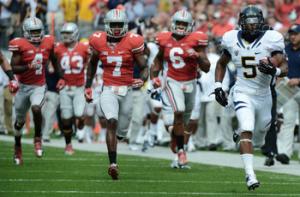 It was all there for 105,232 in Ohio Stadium to see on Saturday during Ohio State's 35-28 victory over California. 
Braxton Miller's game-winning 72-yard touchdown pass to a wide-open Devin Smith provided the Scarlet and Gray-clad fans with unbridled enthusiasm. Ohio State's 11 penalties – five personal fouls – for 101 yards did not make head coach Urban Meyer happy. But the 512 yards surrendered by the defense, the most against the Buckeyes in any game in seven seasons and most at home since 1999, was the knockout punch.
The sky is not falling and there is no reason for panic in Columbus. Still, despite a 3-0 record, Ohio State is a flawed team. During the unmemorable 2011 season, Ohio State's defense was not an Ohio State defense, as Meyer so eloquently puts it. And the stats back him up. The Buckeyes finished in the top five in total defense four times during Jim Tressel's 10 years as head coach, including first in 2007.
They ranked 19th a season ago, but the mistakes were glaring. Missed tackles, big plays, suspect play at linebacker, etc. All of those things made an appearance against Cal.
"That's not acceptable," Meyer said. "That is the most alarming thing. I've watched (Ohio State) for a long time, and I can't remember a defense that's given up this many (big plays). We've got to stop or we'll lose the game."
It's a statement that no doubt could prove prophetic, because of Ohio State's seven loses in 2011, more than half can in some way be attributed to defensive breakdowns.  On Saturday, one look at the box score revealed all the gory details.
Cal's third-string running back, Brendan Bigelow, cruised to 160 yards and two touchdowns on just four carries. His 81-yard touchdown run was the longest rush by an opponent in Ohio Stadium history. The Bears had six plays that gained 25 or more yards and four of 30 or more.
"It was bad," Meyer said. "Forty percent of their yardage at the end of the day, half of it was on six plays. Two of them the guy was down. I mean, put him on the ground instead of strip the ball. That goes down to fundamentals, and how do you improve that? You work really hard on Tuesdays and Wednesdays."
That means another dreaded Tuesday practice. It's bad regardless of the previous week's result, but when you add in a poor Saturday performance, Bloody Tuesday becomes that much worse.
After a close win over Central Florida a week ago, a game in which Ohio State's lack of pressure on the quarterback stuck out, the following Tuesday's practice was "awful," according to Meyer. The players come to expect the horrible conditioning drills and hard hitting, but it doesn't make it any easier.
"You get what you emphasize," Meyer said. "I know we tackled more than anybody, but obviously it's not getting the job done, so we have to tackle more. Instead of one day a week, we'll probably have to go two now. It's all about fundamentals technique.
"We make a huge emphasis on stripping the ball. If you watch one of those tackles, it looked like the guy was going after the ball instead of wrapping him up. So we've addressed that and we'll have more conversations about that."
To say the Buckeyes didn't meet expectations because they were favored by more than two touchdowns would be incorrect. When a reporter brought up the subject, Meyer did not take kindly to his line of questioning. Sure, Ohio State has areas that need corrected and apparent weaknesses were highlighted. But talking down the opponent is not in Meyer's interests.
"They've got some very good players," he said of Cal. "Probably as good of players as we've got. Be careful. Everybody has opinions, but that's not an educated opinion because some bookie said we should beat a team because they lost some game. That's not what college football is.
"There are a lot of teams that you watch every Saturday night, and boy, what's wrong with them? It's college football. There are some scholarship athletes on the other side that play very well at times and get coached very well at times."
The Bears executed a game plan almost flawlessly, which kept them in the game and contributed to a near upset. But the Buckeyes' hamstrung themselves in many facets on defense. Already this season, Ohio State's opponents have reeled off gains of 20 or more yards 13 times.
Against Cal, the Buckeyes were able to pressure the quarterback, sacking Zach Maynard six times after recording three combined in the first two games.
The boost in production came due to scheme changes – the Buckeyes rang up a handful of blitzes – and good, old-fashioned motivation. For two weeks, they heard from fans and coaches about diminished skills. The defensive line was held aloft all spring and summer, being paraded around as one of the nation's best units. After finally proving itself, defensive lineman Johnathan Hankins wore a sense of relief on his face. 
"It's good," said Hankins, who was Ohio State's defensive player of the game for the second straight week. "There was definitely a focus. (Defensive line) coach (Mike Vrabel) challenged us to hit the quarterback, and I feel like we did that pretty well.
"In practice we just focused on getting off the ball, and I feel like with Coach Vrabel staying on us, I feel like we got off the ball."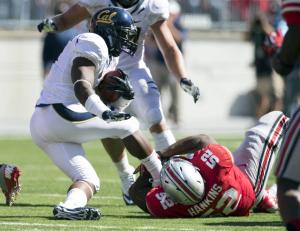 While the front four delivered for the most part – Cal had 224 rushing yards – the seven remaining pieces to the defense had its struggles, especially the linebackers and safeties. Ryan Shazier finished with 13 tackles and a sack, but Curtis Grant and Storm Klein were overmatched.
The defense eventually went to the nickel. Christian Bryant secured the game-clinching interception, but he and fellow safety CJ Barnett had difficulties of their own. On Bigelow's second touchdown Bryant missed a tackle that would have prevented the score.
"Bad tackling," Meyer said. "That's all I know is bad tackling. We've got to get that figured out. It's time to play Ohio State defense and that wasn't Ohio State defense.
"Five hundred twelve yards. That's terrible."
Said Bryant: "People take for granted somebody already making the play. Everybody's not flying to the ball. Like Coach Meyer said, we're going to work on tackling all week."
How satisfied was co-defensive coordinator/linebackers coach Luke Fickell with the effort? Enough to toss and turn in bed. It was more nightmare than good night's sleep.
"Believe me, I laid awake Saturday night watching that thing while everybody else in the house slept," Fickell said. "I couldn't pinpoint one exact thing."
Fickell did come to one conclusion: it wasn't a lack of effort. The Buckeyes harassed Maynard and the rest of the Cal offense all game. They were in position to make plays, but the missed tackles played a big part in the Bears' 512 yards and 28 points.
"Are we fundamentally sound in what we're doing? No," Fickell said. "When a guy slips out the back side for 81 yards, there's nothing fundamentally sound about it. Did three guys have him? Yeah, but we've got to make sure we continue to stress the things that we're supposed to do on those plays.
"The two things that I see is we've got to make the ball go east and west, and then we've got to have leverage on the football."
Rest assured, the Buckeye scout team will double as tackling dummies this week.