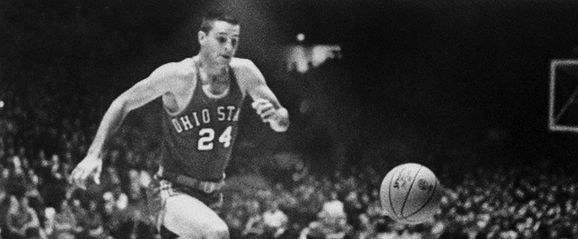 Last night, Ohio State inducted 12 former Buckeyes into the Athletics Hall of Fame. The group will be honored at halftime of today's game against Cal and although some of the names are familiar, others may not be. The 12 and their accomplishments:
Louise Bond-Williams / Fencing, 2002-04: Three-time All-American in sabre; Member of the Great Britain Olympic team for the London 2012 games.
Pete Cusick / Football, 1972-74: First Team All-American and team captain as defensive tackle; Helped lead the Buckeyes to three-consecutive Big Ten championships.
Jessica Davenport / Women's Basketball, 2004-07: Three-time All-American and Big Ten Player of the Year; 2nd overall selection in the 2007 WNBA draft.
George Downes / Wrestling, 1938-40: Became Ohio State's first national champion when he won at heavyweight in 1940.
Ray Griffin / Football, 1974-77: Archie's younger brother earned First Team All-American honors as a team captain in 1977; Helped lead Buckeyes to four-straight B1G championships.
Joseph Gailus / Football, 1931-33: Two-time All-American in 1932 and 1933 and served as a co-captain with Sid Gillman his senior season.
Rex Holman / Wrestling, 1992-93: Two-time All-American that went undefeated on his way to the 190-pound championship in 1993.
Bobby Knight / Basketball, 1960-62: Reserve member of the 1960 NCAA championship team; Finished 41-year NCAA coaching career with 902 victories, second only to Duke's Mike Krzyzewski, a former Knight player; Coached three Indiana teams to national championships.
Keturah Lofton / Track, 2002-04, 2006: Former walk-on earned All-American honors three times; Big Ten Medal of Honor winner.
Richard "Dick" Schafrath / Football, 1956-58: Team captain and three-year starter; Member of '57 national championship team; Never lost to Michigan; Played in seven NFL Pro Bowls.
Jim Stone / Women's Volleyball Coach, 1982-2007: Compiled a 531-294 record, including a 297-177 Big Ten mark; Won three B1G championships; Coached 19 All-Americans.
Mike Vrabel / Football, 1993-96: Two-time All-American and B1G Defensive Lineman of the Year; Holds the school record for career sacks (36) and twice set the single-season TFL record; Three-time Super Bowl winner with the New England Patriots. 
Anyone that's played high school sports knows just how difficult it can be to continue playing at the next level. To do that, and to be good enough to get inducted into the Athletics Hall of Fame for the greatest university on the planet is something very few have the honor of experiencing. Congratulations to the athletes and their families on this amazing accomplishment.
The game kicks off at noon today – we'll be live-blogging it up starting at 11:45am – but in other games, the Big Ten has a nice chance to rebound from last weekend's disaster as all 12 teams will be playing at home. The marquee is tonight's matchup between Notre Dame and Michigan State in East Lansing, but you may also want to tune in for Boston College at Northwestern later this afternoon. You know, for the Bollman.
Nationally, Alabama visits Arkansas, which would be a great game if we had a time machine and used it to go back a year to urge Bobby Petrino into marriage counseling, but we don't, so expect a John L. Smith moment or two today.
Miami (Ohio) visits Boise State, which will be useful in telling us how good (or bad) the team that Ohio State hung 56 on in the opener really is.
Florida visits Tennessee in a meeting of teams that are ranked but maybe shouldn't be. USC is at Stanford, the only Pac-12 team that Trojan quarterback Matt Barkley has yet to beat and the BYU and Utah square off in the Holy War later this evening.
The full lineup of today's games of note:
| Time | GAME | TV | INTERNET | FAVORITE |
| --- | --- | --- | --- | --- |
| 12:00pm | Arkansas State at Nebraska | ESPN2 (HD) | WatchESPN | NEB (-22.5) |
| 12:00pm | Charleston Southern at Illinois | BTN (HD) | BTN2GO | -- |
| 12:00pm | Eastern Michigan at Purdue | BTN (HD) | BTN2GO | PUR (-24) |
| 12:00pm | #16 TCU at Kansas | FX (HD) |   | TCU (-21) |
| 12:00pm | #14 Virginia Tech at Pittsburgh | ESPNU (HD) | WatchESPN | VT (-11) |
| 12:00pm | Wake Forest at #6 Florida State | ESPN (HD) | WatchESPN | FSU (-27.5) |
| 12:00pm | Western Michigan at Minnesota | BTN (HD) | BTN2GO | MINN (-3) |
| 12:21pm | ULM at Auburn | ESPN Regional |   | AUB (-15.5) |
| 3:30pm | #1 Alabama at Arkansas | CBS (HD) |   | BAMA (-20) |
| 3:30pm | Boston College at Northwestern | BTN (HD) | BTN2GO | NU (-3.5) |
| 3:30pm | Navy at Penn State | ABC/ESPN2 (HD) (Map) | WatchESPN | PSU (-7) |
| 3:30pm | Northern Iowa at Iowa | BTN (HD) | BTN2GO | -- |
| 3:30pm | UMass at #21 Michigan | BTN (HD) | BTN2GO | UM (-45.5) |
| 4:00pm | Miami (Ohio) at Boise State | NBCSN (HD) |   | BSU (-21) |
| 6:00pm | #17 Florida at #24 Tennessee | ESPN (HD) | WatchESPN | TENN (-3) |
| 7:00pm | Arizona State at Missouri | ESPN2 (HD) | WatchESPN | MIZZ (-3.5) |
| 7:30pm | #3 USC at #22 Stanford | FOX (HD) |   | USC (-9) |
| 8:00pm | Ball State at Indiana | BTN (HD) | BTN2GO | IU (-2.5) |
| 8:00pm | #18 Notre Dame at #8 Michigan State | ABC (HD) |   | MSU (-5.5) |
| 8:00pm | Utah State at Wisconsin | BTN (HD) | BTN2GO | WISC (-14) |
| 9:15pm | #15 Texas at Ole Miss | ESPN (HD) | WatchESPN | UT (-10) |
| 10:00pm | BYU at Utah | ESPN2 (HD) | WatchESPN | BYU (-3.5) |