Ohio State took care of Central Florida last week and is focused on California this coming weekend, but the Buckeye coaching staff has also been turning up the heat when it comes to doing work on the recruiting trail.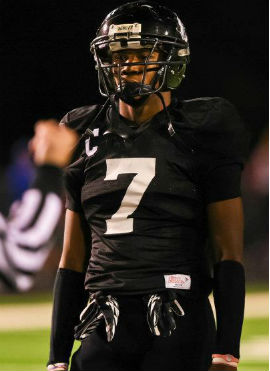 The 2013 class is all but wrapped up, with a few more prospects on the board, as the class currently sits at 16 members. The final group is expected to number between 20-22 come Signing Day in February, and with things slowing down for the class, it appears that number will likely be right around that mark.
On the contrary, things are just starting to get going when it comes to 2014, as the contact period for the class began on September 1. Ohio State has been sending out mail daily and been on the phone with prospects across the country as much as they can, in order to try to bring the nation's top players to Columbus.
In this week's recruiting notebook we check in on the latest rumblings, see how Buckeye commits and prospects performed in last week's games, and take a look at who is coming to town this weekend to see Ohio State play the Golden Bears.
Join us after the jump to get the latest scoop on the recruiting trail in this week's edition of the 11W Recruiting Notebook.
The Buzz
The buzz hasn't been as loud this past week versus weeks prior, but there is big news when it comes to one of Ohio State's biggest targets remaining for 2013.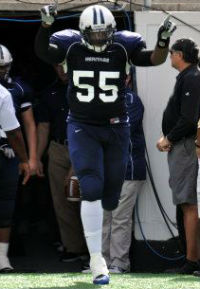 Rossville (GA) Ridgeland S Vonn Bell is a five-star prospect many fans are familiar with at this point, and last we told you he was down to a list of his top seven schools.
That changed this week, as 247's Charles Power caught up with the super prospect and is reporting that Bell is down to a top three of Ohio State, Tennessee, and Alabama in no order.
Bell visited Tuscaloosa last week for the Tide's game against Western Kentucky and enjoyed his experience. He will head to Rocky Top this week to see Tennessee take on Florida, in what could be a huge showing for Derek Dooley's newly ranked squad. Ohio State will get their crack at Bell when he comes up on October 6 to take in the Nebraska game, which is slated for a night tilt on ABC/ESPN.
The weekend will serve as a huge recruiting tool for the Buckeyes, but no player may get more attention than Bell, who the staff really wants. The 6-0/190 prospect is a big time game changer who fits well into what Urban Meyer views as an elite athlete, and it is great news that OSU is in his top three at this point.
Expect the red carpet to be rolled out when Bell comes to town.
In other news, it appears the staff would still like to at least entertain the idea of adding another offensive lineman to a group that currently includes Evan Lisle and Tim Gardner. Dorian Johnson has been offered and is the name most fans know, but Urban Meyer recently called a prospect that many fans are not aware of.
The OSU head man was on the phone with former Florida commit Roderick Johnson earlier this week, and the 6-5/315 lineman from Delray Beach (FL) American Heritage is at least listening to what the Buckeyes have to say.
It is unknown if Johnson will even get an offer from the Buckeyes at this point, but the fact that Meyer is personally calling an offensive lineman right now means it is likely the staff would like to add another one to their 2013 class.
One of the bigger enigmas in the 2013 recruiting class is WR Shelton Gibson of Cleveland Heights.
The 5-11/175 speedster is high on Ohio State and the Buckeyes are high on him, but why hasn't a commitment happened then? The plan was originally for Gibson to make his intentions public back in June, but that never happened, leading many to speculate that one of the two sides had cooled.
That is in fact not the case and OSU is still the favorite to land Gibson, but the star prospect needs to take care of some things off the field first. Word is that his grades may end up being OK, but it is his test score that needs to come up. If Gibson can get that done, he will likely be a Buckeye. If not, it seems like junior college or prep school could be in the cards.
To see why Zach Smith is so high on Gibson, check out his film through three games this season:
High School Football Recap
It was another exciting week in high school football across the country and it's time to take a look to see how the Buckeye prospects performed last weekend.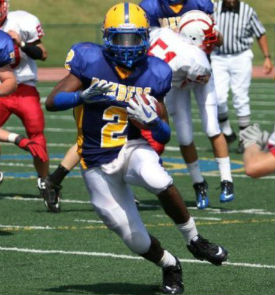 QB JT Barrett helped his team to a late 21-15 win over Denton (TX) Ryan, going 4/7 for 84 yards and a score through the air, while also adding 97 rushing yards and a touchdown on the ground.
Ezekiel Elliott continues his tear through Missouri football, this week carrying the ball 9 times for 104 yards and 4 scores, while also hauling in a catch for 11 yards in a 59-28 win over St. Louis (MO) Priory.
Taivon Jacobs keeps silencing the doubters and had another stand out game in a 56-0 win over Oxon Hill (MD). In limited action, Jacobs caught a 45-yard pass for a score and also returned an interception 50 yards for a touchdown.
Darron Lee helped New Albany to a win over Columbus DeSales by a score of 56-22. The electric athlete scored on a rushing touchdown and also returned a punt for a score in the game.
Jalin Marshall and Middletown fell to Cincinnati Winton Woods, 51-13, and Marshall was actually held in check throughout the game. "Mr. Excitement" was 4/7 passing for 70 yards with a touchdown and interception, but had just 77 yards on 24 carries en route to defeat.
Tracy Sprinkle continued his fine season, but Elyria stumbled to its first loss of the season by the score of 37-27 to Midview. Sprinkle returned a blocked punt for a score to bring his team within striking distance of a victory, but the Pioneers didn't have enough and fell short when the gun sounded.
Week 4 Games to take note of include:
Lakewood (OH) St. Edwards at Cincinnati Elder (Solomon Warfield, Devin Pike)
Akron (OH) St. Vincent-St. Mary at Youngstown Cardinal Mooney (Dante Booker Jr., Courtney Love, Marcus McWilson)
Timber Creek (NJ) at Voorhees (NJ) Eastern Regional (Greg Webb, Eli Woodard)
Ramsey (NJ) Don Bosco Prep at Fort Lauderdale (FL) St. Thomas Aquinas [Friday, 8 PM EST, ESPN] (Alquadin Muhammad, Joey Bosa)
Visiting This Weekend
The Buckeyes hosted a slew of players once again last week for the game against UCF. The list included OL Kyle Trout, QB Joey Duckworth, DB Marcus Whitfield, OL Nathaniel Devers, and others. You can see the updated, full list of season visitors here.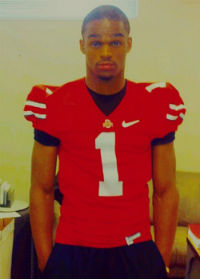 This week there will once again be a talented roster of players coming to Columbus to see the Bucks take on the Golden Bears and the list is a bit more enticing for recruitniks this weekend.
Leading the pack are Buckeye commits and the future "No Fly Zone" in Eli Woodard and Cameron Burrows. As mentioned previously, these two are natural leaders in this class and will continue to help make uncommitted prospects feel comfortable while on campus. 
Other 2013 prospects that are on slate to attend include WR Shelton Gibson, WR Zach Yousey, and OL Kyle Meadows.
Gibson said he was "trying to make it down" for the game on Saturday, but whether he comes or not, the status quo will not change. Gibson still has work to do in the classroom and on test scores before any type of decision can be made, but getting him in the Horseshoe on game day can only help solidify OSU's spot as #1 on this list if all academic hurdles are cleared.
Yousey, of Harvest Prep in Columbus, is a bit of a sleeper prospect and currently has a lot of MAC offers, but a bunch of Big Ten interest. It seems like he is a back-up plan for Ohio State at this point, but the fact that he was invited to this weekend's game by Urban Meyer should definitely not be ignored. I don't expect an offer to go out here, but Yousey is definitely a player who would jump at the chance to be a Buckeye.
It's interesting that Meadows, who claims offers from Florida State, Illinois, Kentucky, and West Virginia, has not made a decision yet, and it makes you wonder if something off the field is preventing that or if he is just waiting to get offers he really wants. The Buckeyes have expressed interest, but have passed after seeing him live in camp, so I don't think an offer would come unless they strike out on Dorian Johnson and Roderick Johnson and are truly desperate for another offensive lineman in this class. We will catch up with Meadows after his visit to see what the staff had to say.
As for 2014, prospects expected to be in attendance include RB Mikel Horton, WR Thaddeus Snodgrass, WR Dominique Booth, and ATH Devon Rogers.
Horton may be Ohio's best running back in the class of 2014 and is cut in the mold of a traditional Buckeye runner. That may go against him in the new offensive system, as it appears the Lakota West product may be better suited for an offense like Michigan State's, who he says he currently favors. I think Ohio State likes the idea of having a guy like Horton on the team, but you can't fit a square peg in round holes, so keep an eye on how this one develops. Carlos Hyde's ability to have success in this offense could help both in Horton's decision regarding OSU and the staff's decision in offering.
Snodgrass once again gave us the run around and didn't make it out to last week's game, but maintains he will be in the 'Shoe this weekend. We are skeptical until we see him on the sidelines, so stay tuned, as we will definitely catch up with him whenever he makes it to Columbus.
Booth will make the trip to Columbus to not only check out the Buckeyes, but also the Golden Bears, a team of which he is a legacy. The Indianapolis (IN) Pike star currently holds 13 offers, including one from Cal, but the Buckeyes are not among that list. That could change this weekend as Mike Vrabel has told the receiver that the staff thinks very highly of his ability.
Finally, Rogers is an athlete from Hilliard Darby that can play either receiver or defensive back. He has been to OSU numerous times this summer for camp and the staff is keeping in constant touch with him. Right now it looks like he is a guy who will land with a program like an Illinois, but if he has a good junior season and summer camp circuit, the possibility to move up to the next tier of football teams may present itself, as he is a high character kid who is very athletic and has strong work habits. I think right now Rogers is someone the staff can afford to slow play throughout this season and see how things play out.