In the 1970s, the wishbone offense was the big football craze. It evolved to the option, Steve Spurrier's Fun-N-Gun passing game and, eventually, the spread for the current generation.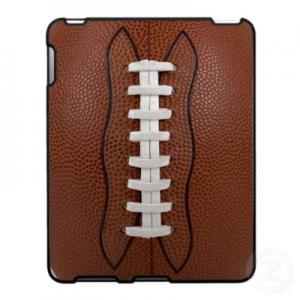 But there's a new fad taking over. It's not a sparkly high-tech offense or defense. It is high tech, though. When Steve Jobs introduced the iPad in 2010, college and NFL locker rooms were probably near the bottom of the list of places he assumed you could find one. But that is exactly the location you can find hundreds of the tablet computers two years later.
For Ohio State student-athletes, obtaining an iPad became a whole lot easier in May, when the university announced a $400,000 Digital First Program that will outfit every student-athlete – yes, all 1,100 from each of the Buckeyes' 36 varsity sports – with the tablet by 2014. Five hundred iPads were distributed this fall.
"The use of iPads will allow us to find creative and innovative ways to enhance our tutoring and mentoring services for student-athletes," Dr. David Graham, Ohio State assistant provost for student-athlete success, said. "The iPads will be preloaded with athletics department materials currently provided to student-athletes in paper or book form and will be available to students throughout their academic careers."
During the 2011-12 academic year, Ohio State produced a school-record 548 scholar athletes (3.0 grade-point average or better). To build upon that academic achievement, the belief among university and athletic department leaders is that through technology, the educational experience will be transformed.
Ohio State's academic success has coincided with its best finishes athletically. The Buckeyes placed second in the 2010-11 Directors' Cup standings, the best finish in school history, and followed it up with a fourth-place finish this past year.
With the introduction of the iPads, the university ensures that it remains on the cutting edge of a technology heyday. It's a practice Ohio State has prided itself on for more than a decade. Eleven years ago they began providing laptops to student-athletes on a checkout basis.
As new technologies evolve and emerge on a near daily basis, the rate to keep up for institutions of higher learning is almost impossible.
The iPads contain a vast amount of apps, information and possibilities, all at the student-athletes' fingertips. Among them are e-textbooks, library databases and study tools.
"The student scholastic experience at Ohio State increasingly embraces technological innovations," Dr. John Bruno, faculty athletics representative, said. "The state-of-the-art initiative of providing our student-athletes with iPads is consistent with this trend and, with the academic apps available, will allow our student-athletes to continue to keep pace with our student body."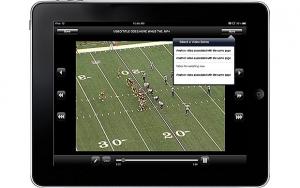 An area where the devices will come in extra useful is when teams leave Columbus. Athletic Director Gene Smith told Eleven Warriors there is distance learning and team travel programming provided to act as a classroom away from home. Already, freshman volleyball player Katie Mitchell said iPads have been "a huge help on the road."
Tutors and academic assist personnel will still travel with teams, but the amount of materials that have to go on the road will shrink considerably because of the iPads.
"Our primary goal is to help our student-athletes graduate, and we are always looking for different tools to assist them towards that goal," Smith said. "We want to be current and responsive to what they use and need. Technology is critical in learning today. The iPad program allows for digital technology to be used to enhance learning."
For football players there is even more: game film and the almighty playbook.
Mere hours after his first start at right tackle, Reid Fragel was lounging in his apartment Saturday night. Bored, he figured he would do something more productive, so he pulled out his iPad.
Less than two hours after the conclusion of the Buckeyes' 56-10 victory over Miami (Ohio), Fragel, a senior, was re-watching the game. He retraced those steps again Sunday morning, only this time Fragel watched Central Florida's season-opener at Akron.
"I just wanted to look at a couple of things, so I was able to pull up my iPad," Fragel said. "That was pretty neat. It's the whole game. Then they also have cut-ups of blitz packages, different looks on defense and stuff like that."
The implementation of iPads has also allowed players to spend less time in the cavernous Woody Hayes Athletic Center and more time focusing on academics. Because of the change to semesters, the 2012 season marks the first year Ohio State started school before football games began.
"I just come in here more so I can get with our whole defense and watch it together," junior safety Christian Bryant said.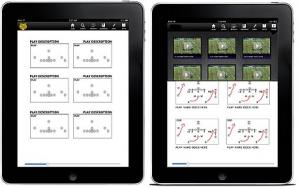 In the old days – the DVD era, which lasted from 1995-2011 – the video staff would distribute over 100 discs to coaches and players. Everyone was free to watch on a computer at home or at the WHAC. 
There wasn't a great deal of inconvenience involved, though it may seem that way based on the advances made in a small time period, but the new-age technology and ease makes everything smoother for all involved.
Instead of burning countless DVDs, one click of a mouse sends out an untold amount of information to every member of the football team, staff included. The data can also be uploaded to iPhones.
"Athletically, what they need is always with them," Smith said. "We can download videos, stats, schedules, reminders, etc. to their iPads. It is truly a tool to help teach and organize."
Players receive football information based on their position. With it comes film from Ohio State's practice, previous games and opponents' previous games. It is broken up by down and distance, and there are also techniques pertaining to their position.
Another feature that players may or may not like: they, along with their coaches, can send messages to other people in the Ohio State iPad network. Coaches are also able to insert messages into the game film to explain why a play excelled or went awry.
"No doubt it's helped us," Fragel said. "You can carry your iPad and iPhone and you can load up film. It's a lot easier access. You don't have to drive to the Woody. Wherever you're at, if you're home or somewhere else, you can just pull it up on your phone."
The use of iPads isn't limited to Ohio State or even college athletics. The NFL has also dipped its toes into murky waters. No longer are three-ring binders all the rage. Instead, 20 of the league's 32 teams have shifted to iPad playbooks.
"It enables players and coaches to do more, just like in the corporate world," Chad Brown, director of business development for DragonFly Athletics, a designer of playbook apps for seven NFL franchises, recently told the Toronto Star. "You can do more from your house, from Starbucks, from your hotel. It helps centralize everyday workflow, whether you're a coach or a player."
In the collegiate ranks, Stanford uses a fully digital playbook, citing money as being the biggest reason behind the change.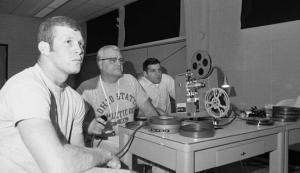 Meyer, who gives off the vibe of a hip 48-year-old, is not shy about his use of technology. He texts his daughters more than a dozen times a day, and some reports would lead you to believe he sends more than a dozen per hour. He also owns an iPod.
If Meyer utilizes all the high-tech goodies the team gets, then he expects his players to do the same. So when a question was posed to him Monday about UCF, he anticipated his players were already aware of the challenge that lies ahead.
"To say that we don't have a lot of respect for Central Florida would be nonsense," Meyer said. "The good thing is nowadays our players have already seen film, so they have a touch of what's going on with all these iPads floating around here. They have plenty of film to watch."
Meyer's coaching idol, Woody Hayes, was famous for watching film on a projector for hours on end, often times falling asleep at his desk as the film continued to roll. It's also the same way Earle Bruce, the man who first brought Meyer to Ohio State, scouted the 1987 Michigan Wolverines the week he was unceremoniously fired. Bruce devised a game plan that week that was responsible for one of the Buckeyes' most memorable victories in "The Game."
For John Simon, however, there is no iPad to be seen. If Meyer is to find one area to criticize Simon, it's his lack of affection toward technological innovation.
"We have some old-school guys," defensive line coach Mike Vrabel said. "John Simon likes to come in and have a notebook in front of him and have a game plan in front of him.
"We have some new-age tech guys, and they have the iPads and go home and work on it. So I think it works both ways. I don't think the old-school, film and paper game plan is going to give way to the iPad. But overall, I think it enhances preparation."
Dating back to the first time he walked on a practice field in Ashtabula at Saint John High School, Meyer's been a stickler when it comes to preparation and efficiency. With the most up-to-date technology available to himself, his staff and the team, the revitalization of the Ohio State football program could be sped up.
As Fragel aptly put it, "It's great."