Game One of the Urban Meyer Era may have started slowly but the Buckeyes eventually woke up, scoring 35 unanswered points en route to a 56-10 win over the Miami RedHawks in an ultra-steamy 'Shoe.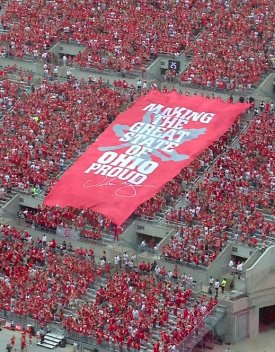 Reading your comments and scanning the internets, it looks like some have fallen into the trap of making too much of the first game of the season.
As virtually any coach will tell you, teams make their biggest improvement from game one to game two and it's a safe bet the upgraded coaching staff will fight and scratch to avoid any plateau in performance throughout the season.
That said, I saw a young team that churned out plenty of things to be excited about, like Braxton's stutter step and Devin Smith's ability to jump and palm a spiraling football, while also showing some things that made my eyes bleed ever so slightly like blown coverages in the secondary and Braxton apparently working on his off-speed pitches, notably the curve and slider. 
And how about some of those true freshmen that saw the field? 
With that, let's dive into the first Five Things of the 2012 campaign..
folks best prepare for the evil empire
Already blown away by how Urban put his unique stamp on the program before an actual game had been played, I continue to be amazed at just how much Meyer's arrival means to the program. 
I had the utmost respect for Tress when he was running things but I think we all grew tired of defending Tresselball to the haters, press conferences full of empty words and the astounding disregard for building an elite coaching staff. But, the bottom line was that he usually won.
With Meyer at the controls, it's so much easier to be a fan for a multitude of reasons, virtually all of them centered on aggressively seizing the moment with a confident – bordering on arrogant – swagger focused on kicking somebody's ass.
A few that stuck out to me yesterday include:
Urban's staff. You see those guys flying around almost as fast as the players? Coombs was flying around like a crazed hyena delivering chest bumps and haymakers to the chest after big plays. That stuff is infectious and I absolutely believe it helps recruiting. Kids crave that cocky intensity.
Trying to score for 60 minutes. Tress hung 50+ on Northwestern a few times and topped the mark against Minnesota, Kent State and San Jose State but it was typically an accident. Yesterday's 56 was no accident. Urban dialed up five pass plays out of eight total snaps on the 4th quarter TD drive, making it 49-10, and four more pass plays (2 passes, 1 sack, 1 scramble) on the next possession, a 14-play drive capped by Bri'onte Dunn's first TD as a Buckeye.
Obviously, Tressel 'got it' too but I loved seeing/hearing Urban visibly moved by the various traditions. He gushed about the Skull Session. He talked at length about how he was touched by the traditional Hang On Sloopy before the start of the 4th quarter, and just how special it was to sing Carmen Ohio with his players. He kept going back to how he's a graduate of the university and that he has a deep love for his players. That type of stuff has to be incredibly sticky when it comes to getting current kids to fully buy in to the program and with convincing recruits just how lucky they'd be to one day call themselves Buckeyes.
late arrival
After hearing and seeing such intensity with all things OSU football since Meyer took over, I think everyone expected the team to come out with their hair on fire and damn near sacrifice the RedHawks' captains during the coin toss but for whatever reason, the Buckeyes came out as sloppy as Kirstie Alley.
The first quarter produced just 43 yards on 15 plays with Braxton hitting on just 1/7 for a mere five yards. Meanwhile, the Bullets were blowing coverages as Zac Dysert threw for 165 yards and a 3-0 lead that could've been larger if his receivers weren't so MAC-ish.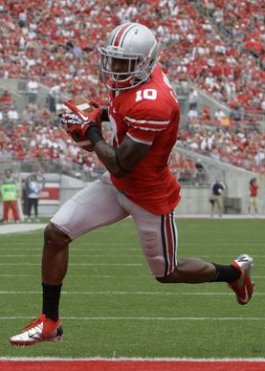 After four empty possessions, and a sideline strategy chat between Meyer and Miller, the Buckeye offense finally got revved up, scoring TDs on three straight drives and reaching the one-yard line on another before Carlos Hyde was stuffed just before intermission.
The 10-minute stretch saw the Buckeyes turn a 3-0 hole into a 21-3 lead via a smorgasbord of big plays. Of the combined 20 snaps, eight went for at least 12 yards, at the hands of five different players.
Miller settled in connecting on 6/7 tosses for 111 yards, including two TD strikes, and he added a nifty 33-yard run to set up Hyde's scoring plunge to cap the 1st half scoring.
The offense showed it could both score quickly and sustain a drive as they took just four plays and 63 seconds to go 83 yards for the first TD (Smith's insane catch), with the next drive taking 2:22 and seven snaps to travel 57 yards, capped by a Brax TD toss to Philly. Finally, on the third drive, OSU marched 73 yards in 3:57, taking nine plays before Hyde's trip to paydirt.
It was great to see the much maligned WR corps figure large in the big play burst. Philly hauled in a 38-yarder from Brax on the play just before Smith made his 23-yard circus catch. Stoneburner showed up with a 19-yard catch and run shortly before Philly's five-yard TD catch on a Brax rollout near the goal line, and Evan Spencer did a great job high-pointing the football on a 44-yard snag that should've set up a TD if not for the aforementioned FAIL to cash in from the one-yard line at the end of the half.
hyde and go peak
I've been predicting this for months so hopefully that isn't causing me to overinflate the point but I don't see any other Buckeye besides Carlos Hyde emerging as the #2 offensive weapon, with Jordan Hall possibly 2A.
He didn't make it to 100 yards yesterday but he did tote it 17 times for 82 yards, a healthy if not spectacular 4.8 yards per carry.
Clearly, Braxton's early struggles loomed large in keeping the Buckeyes scoreless for the 1st quarter, but I think the fact the Miami defense made the decision to overplay Hyde on the read plays also hurt Ohio State's offensive flow.
For me, it's no coincidence that as soon as Hyde found some room to run, the Buckeyes started marching down the field with relative ease.
He exploded for 16 yards on 1st down to start Ohio State's first TD drive and added runs of seven and 11 yards on the ensuing possession culminated with Philly's short TD grab.
He scored his first TD of the season on the next drive, carrying it the final nine yards on two determined carries. His final score of the day came on a carry around left tackle as he shed an ankle biter, showing good balance on his way to the endzone.
Hyde and Hall figure to make an excellent tandem but with how Hyde's power offsets the shifty styles of both Hall and Miller, I'm excited to see Hyde be that guy you need in a rugged B1G game to churn out tough yards and force a defense to respect the middle, allowing guys like Hall and Braxton to exploit the edges.
an enigmatic box of bullets
No question the defense had their hands full early as Zac Dysert was finding plenty of open receivers including a few on busted plays that gashed the OSU defense.
The first occurred on 3rd and 5 from the Miami 36 as Travis Howard and Christian Bryant were in the neighborhood of a blown assignment, allowing Nick Harwell to get loose for a 42-yard strike. The catch gave Miami the ball at the OSU 22 but Kaleb Patterson's missed FGA kept the game scoreless.
On the next possession, on 2nd and 10 from the Miami 32, Dysert found Dawan Scott on a short crossing route that turned into a 58-yard catch and run. In zone, Bryant was sucked up just a bit to the right of the play and Sabino looked late in sliding to his right, allowing a seam Dysert exploited. At that point, it was up to CJ Barnett to make the stop and he simply whiffed in space, allowing Scott to run free before Roby caught him from behind at the OSU 10.
Of any play on the afternoon, this one was a microcosm of last year. Bryant looked to play it too aggressively, Sabino was slow to cover his turf in coverage and a safety missed a tackle in the open field – definitely déjà vu all over again. 
There were some other low points in coverage but at the same time, the Bullets also had their share of highlights, particularly at the hands of Howard (!) and Roby.
Roby was spectacular at times recording six stops and two pass breakups, one almost an interception via a Willie Mays-esque grab of a Dysert throw near the sideline. He made the sensational grab, but he just needed about three more inches of sideline to get his right foot down. Special play. I see why he always says he should be playing both ways for this team.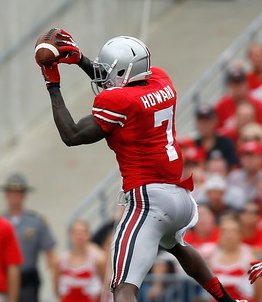 Howard, in desperate need of a bounce-back season, had two picks. One set up a Hyde TD run and the other killed a drive that had reached the OSU 41. For one game, he looked significantly improved. Let's hope it continues.
Continuing in the secondary, Barnett had two stops but had the big whiff and also dropped an interception. Bryant played with his usual fire and recorded five stops while Pittsburgh Brown saw time at Star, adding three tackles.
Shazier led the team in tackles with eight while Sabino added five in what I felt, on the surface, was a fairly meh performance outside of the big hit on Cruse that was ruled a personal foul. Curtis Grant had three stops though I barely remember seeing him on the field as Fickell loaded up with DBs to contend with Miami's aerial attack.
The defensive line seems to have caught the most flak for Dysert's 31/53 for 303 yards performance.  Personally, I'm conflicted. While it was far from an "A" performance, the RedHawk staff did a nice job of dialing up three step drops and rollouts to help the offensive line negate Ohio State's huge physical edge in the trenches.
Simon and Hankins combined for just five stops but I thought Nathan Williams did a great job – much better than I could've expected – playing roughly 20 snaps and making a key stop in coverage on a 3rd and short play just before the Ohio State offense experienced its 2nd quarter explosion.
Spence and Washington saw plenty of action, each recording a sack, and Tommy Schutt added three stops.
Many times, Ohio State chose to rush just three guys and unless that's three Lawrence Taylors, it's going to be difficult to get pressure. Plus, Dysert is a fine player with a chance to make a living on Sunday.
Bottom line, I realize Miami receivers dropped a ton of balls but the Bullets did manage to hold them to 5/19 on 3rd down, limited the RedHawks to -1 yards rushing and picked off Dysert twice with Barnett dropping a third.
There's obvious room for improvement but there were enough bright spots for me to be optimistic at this point.
still just scratching the surface
Braxton's complete stat line read 14/24 passing for 207 yards and 2 TDs with another 161 yards rushing (school record for a QB) on 17 carries and a score. That's 368 yards of total offense and it still feels like the kid is just barely reaching medium-rare status on his way to well done.
He struggled early, missing on six of first seven throws and seemingly refusing to pitch the ball on the sprint option or give it to the tailback in the read option, even though it looked like there were some opportunities for the option runner to bite off a sizeable gain.
Once he and Urban talked about some plays Miller wanted to run, the kid fell into a groove that devastated the RedHawk defense. On the first scoring drive, he lofted a perfectly placed teardrop to Philly on 2nd and 4 for 38 yards and on the next play, he found Smith for the 23-yard score. The ball was a little high to Smith but the attempted placement was correct – put it up there where only Smith could high point it and see what happens on 1st and 10.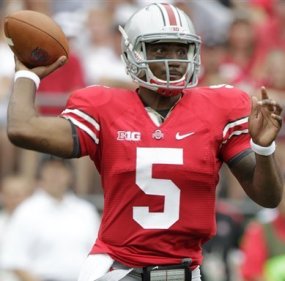 On the next drive, he hit Philly in stride on a 12-yard slant and again showed nice touch letting Stoneburner run under a 19-yard go route up the right sideline. Finally, on 3rd and goal from the five, he rolled out and hit Philly in the chest for an easy six.
On the two drives combined, Braxton was 5/5 for 99 yards and a pair of TDs.
Leading 14-3 and taking possession at his own 27, Miller promptly led the Buckeyes on another TD drive. On 3rd and 8, he unleashed a laser over the middle to Philly for 12 yards. A truly great throw that was set up at the line with Philly and Brax giving each other hand signals before Philly broke off a curl just past the sticks.
Two plays later, he went all Jekyll and Hyde. Not feeling the pressure even though it was coming right up the middle as Hyde picked up the blitzing LB, Miller didn't step up and over in the pocket allowing the LB to jar the ball loose. Miller pounced on his own fumble but should have felt the need to move in the pocket just a foot or two. On the next snap, Miller took a QB draw for 33 yards to the Miami nine-yard line, setting up Hyde's TD burst.
The final drive of the half saw more ups and downs. On 2nd and 12 he again hit Philly with a bullet for 12 yards but two plays later, he lost his mind stammering in the collapsing pocket before eventually attempting a pass while falling on his back. He was flagged for intentional grounding but was lucky because it looked a whole lot like a backwards pass that Miami jumped on.
So what's he do on 2nd and 21? He takes a QB keeper and weaves his way for a 23-yard first down.
A few plays later, however, he again struggled with consistency throwing the ball. On back-to-back attempts from the 40-yard line, Braxton came with a knucklecurve to Spencer that was so underthrown it ended up in double coverage down around the five-yard line. Now looking at 2nd and 10, he threw low and way behind a curling Michael Thomas.
Complete Game Coverage
He did manage to find Spencer for 44 yards on 3rd and 15, giving OSU the ball at the one-yard line.
All in all, for a true sophomore in a new offense, you'd be crazy not to be excited about what the kid brings to the table. The good news is that the players and coaches all say he was throwing the ball in practice significantly better than he did yesterday and it's not like he was awful throwing it.
The country better look out if Miller does show steady improvement in the passing game, complementing what is already a devastating ability to rush the ball.